On 6/19/2014, the SPDR Gold Shares ETF (NYSEARCA:GLD) and the iShares Silver Trust ETF (NYSEARCA:SLV) have broken out simultaneously above their 200-day simple moving average in the highest trading volumes since last September.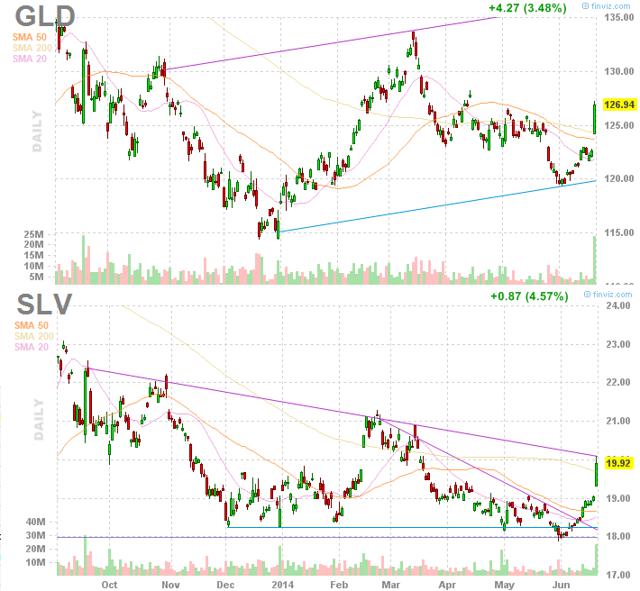 Apart from the geopolitical unrest and European monetary policy that may continue to fuel a rally for a while, the fundamental picture remains unclear: inflation stays low and production cost is immaterial to predicting short-term and even mid-term prices. The concentration of future contracts in gold and silver by a few major players is still high. In this context, any fundamental or technical analysis is questionable. Prices might be manipulated or not; it might be a good time to invest in precious metals or not. However, there is no bad time to buy reasonable amounts as an insurance.
This article aims to show investors where they can find the best value for their money. The next table shows discounts, premiums, and real metal allocated for some Canadian funds on 6/19/2014. They are an alternative to GLD and SLV.
Data: 6/19/2014 on close

Tickers

+Premium -Discount

Annual Fees

% of NAV in bullion*

Central Fund of Canada

NYSE: (NYSEMKT:CEF)

TSX: CEF.A

-2.2%

-2.2%

0.45%

99.3% (gold 58.4%, silver 40.9%)

Central Gold Trust

NYSE: (NYSEMKT:GTU)

TSX: GTU.UN

-1.1%

-2.5%

0.35%

97.8%

Silver Bullion Trust

OTC: (OTC:SVRZF)

TSX: SBT.UN

N/A

-4.6%

0.4%

98.6%

Sprott Physical Gold Trust

NYSE: (NYSEARCA:PHYS)

TSX: PHY.U

-0.62%

0.35%

99.4%

Sprott Physical Silver Trust

NYSE: (NYSEARCA:PSLV)

TSX: PHS.U

+1.86%

0.45%

99.5%

Sprott Physical Platinum & Palladium Trust

NYSE: (NYSEARCA:SPPP)

TSX: PPT.U

+1.73%

0.5%

99.6%
*complement is in certificates and cash assets.
CEF and GTU discounts have shrunk, but still provide a 2% security margin (CEF discount 5 weeks ago was -5%). SBT looks more attractive, but it is better to trade it in Toronto in Canadian dollars. It is absolutely illiquid in the US market, and also in its US dollar version in Canada. Sprott funds are less attractive.
Disclosure: The author is long CEF. The author wrote this article themselves, and it expresses their own opinions. The author is not receiving compensation for it (other than from Seeking Alpha). The author has no business relationship with any company whose stock is mentioned in this article.