A week ago, the weekly ETF Pullback model I introduced on Seeking Alpha a couple of months ago moved from a primarily fixed-income orientation to what I saw an opportunistic way to flex some cyclical muscle mainly through real estate and a dash of preferred stock. This week, the portfolio has shifted around a bit but with essentially the same orientation.
Here are the current ETFs:
Here's last week's list:
As I said last week, I don't expect to be in any of these ETFs long enough to enjoy the overall good yield produced by this portfolio. Instead, last week's holdings as well as the ones I'm rotating into this week continue to serve primarily as a play on the economy. The main variation (besides a switch from Indonesia to Malaysia) is an increased tendency to stick our heads into the mouth of the economic lion. We went from two REIT-oriented ETFs to three. And in terms of preferred stock, we went from general exposure to a financial sector focus. Two years ago, I thought it might take till Y2.1K before I'd consider doing that!
I guess we can actually make a subjective case for that.
Although the REITs are all general real estate (shopping center, offices, apartments, storage, etc.), we might still look to the S&P/Case-Shiller Home Price Indices as a broad barometer of the sentimental heart of real estate: single family homes.
Figure 1
click to enlarge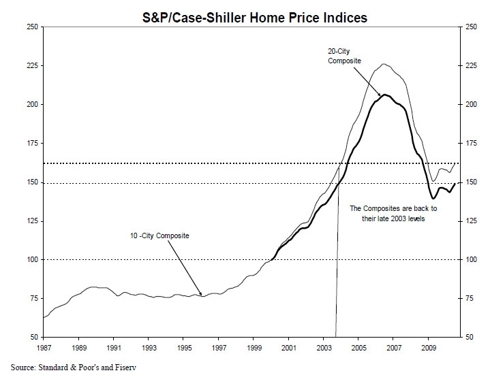 We're seeing some ups and downs with a general tendency to rise off the bottom. Note, too, that the index is based on two-month old (i.e. late-July) data and even those transactions reflect prices agreed to and handshakes that occurred several months before that. With unemployment still high, housing remains at risk, but for now, it looks like we're no longer in free fall and we have been seeing tendencies in Washington and in the banking sector to improvise ways to avoid a reprise of 2008.
It's worth repeating that none of the ETFs in this week's list are direct plays on single-family housing. But we're at the point now where the factor most likely to drive housing, the general economy, also serves as a key driver for other kinds of real estate as well as the general health (and ability to pay preferred dividends) of firms in the finance sector.
We could debate on and on whether the economy really is on the mend, but actually, that's not necessary. That's the beauty of one-week rebalancing. All I need is for most investors to think the economy is on the mend for another week. Next Thursday, I'll re-run the model and refresh the portfolio. This is a nice change of pace for someone like me, whose roots lie in fundamental investing.
APPENDIX
To create this model, I started with a very broad-based ETF screen I created in StockScreen123.com.
Eliminate ETFs for which volume averaged less than 10,000 shares over the past five trading days

Eliminate HOLDRs (I don't want to be bothered with the need to trade in multiples of 100 shares)

Eliminate leveraged and short ETFs (I think of these as hedging tools rather than standard ETF investments of even trading vehicles)
Then I sorted the results and select the top 5 ETFs based on the StockScreen123 ETF Rotation - Basic ranking system, which is based on the following factors:
120-day share price percent change - higher is better (15%)

1-Year Sharpe Ratio - higher is better (15%)

5-day share price percent change - lower is better (70%)
The idea of using weakness as a bullish indicator is certainly not new. But often, it's an add-on to other factors that, on the whole, emphasize strength. Here, the weakness factor is dominant, with a 70 percent weighting.
This model is designed to be re-run every week with the list being refreshed accordingly. I trade through FolioInvesting.com, where I pay a flat annual fee rather than a per-trade commission, so I don't care about the fact that turnover form week to week is often 80%-100%. If you want to follow an approach like this but do have to worry about commissions, the strategy tests reasonably well with three ETFs, or even with one. (Cutting the number of ETFs is far preferable to extending the holding period.)
Figure 2 shows the result of a StockScreen123 backtest of the strategy from 3/31/01 through 7/22/10.
Figure 2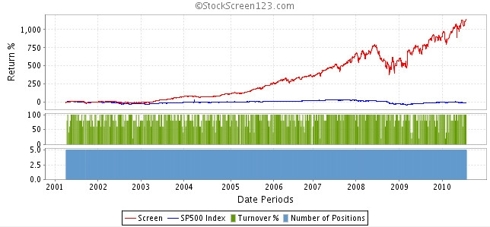 Figure 3 covers the past five years, a very challenging market environment that witnessed the fizzling of many strategies that had succeeded for a long time.
Figure 3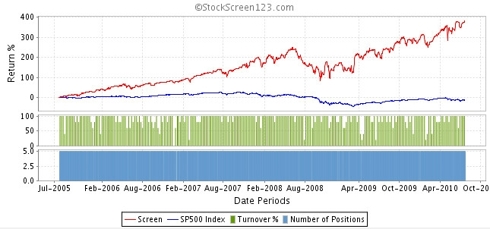 Disclosure: Long EWM, ICF, PGF, REZ, PSK