I have published two previous articles on Coach (NYSE:COH): Coach is not fashionable enough for your portfolio, which was published prior to their last earnings release, and Hard times are not over for Coach, published shortly after earnings. In both these articles, I argued that the lack of a foreseeable bottom in the North America business would hurt the share price, and advised selling. The chart below shows the relative performance following my first article on 4/24 -- COH dropped almost 29% and is trailing the S&P 500 by 33 percentage points.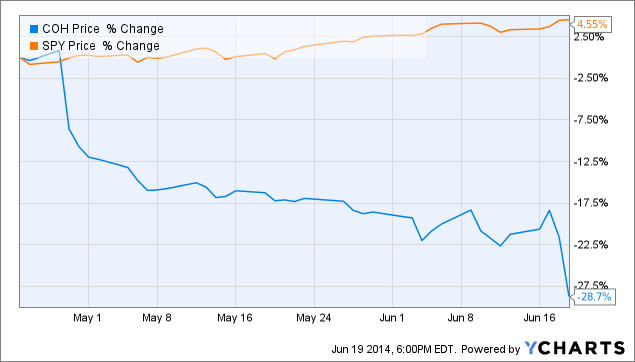 My second article was published on 5/22 and advised that there was downside left in the share price even after the drop. Since then, COH has dropped 18.8% and is down 23 points relative to the S&P.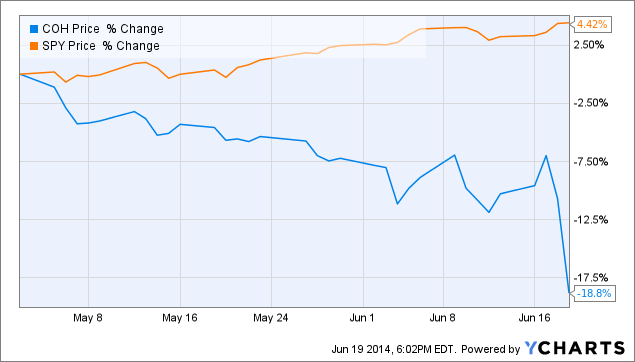 The bulk of that drop took place today, when Coach communicated that North America revenues would decline in the low double digits for FY15, with comps declining in the high teens. The company also announced that it was closing 70 underperforming stores in the US, reducing its store count by more than 20%. Unfortunately, the US performance is exactly what I had predicted. The market seems to have finally caught on that Coach's problems are not a single-year fix. The brand has been tarnished in the US, and Coach will need to urgently reinvigorate it while at the same time growing and accelerating its presence internationally.
After the current price drop, I decided to update my valuation model for Coach to see if it has finally dropped to a level that would be compelling enough to start a position. I had dropped my valuation estimates from $44 to $37 in my second article following the earnings release, and the current price is at $35.6, which piqued my interest. My analysis shows that while Coach is much more reasonably priced now, there could be some pain left yet.
Valuation update
I am reducing my estimates of revenue growth to -10% for the current fiscal year, as a result of the updated guidance for North America sales. From next year on, I assume that the fall collection from Stuart Vevers will be successful in turning the tide in North America, and forecast comps to grow 1%. I have also reduced store count to reflect the updated guidance around store closures.
I believe Coach will continue to expand internationally, and model 2% comp growth on international sales. By 2020, the size of the international business is almost comparable to the North American business.
I believe gross margins will take a hit this year and have modeled them coming in at 67%, almost 6 percentage points below last year's levels. I did model an increase in gross margins going forward, reaching around the 70% mark three years from now. Operating margins are forecast to decline over 10 percentage points from last year as the company is forced to spend more on sales and marketing.
My valuation results in a fair market value of $34, which is 5% below today's prices. This suggests that Coach is coming close to being fairly valued, but is not there yet. The complete valuation model is attached below.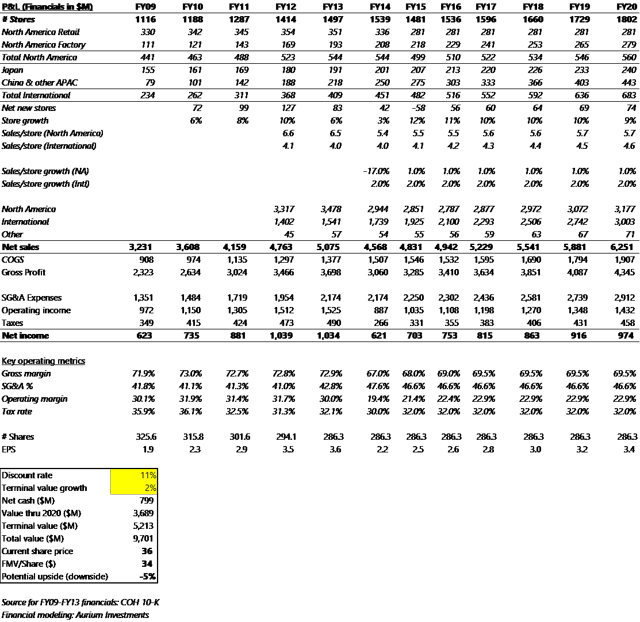 Summary
I do believe my valuation model for Coach is a balance of optimism and reality. It assumes that the company stops the bleeding in the US, but that recovery is slow and steady rather than a bounce back. There could be a surprise to the upside if the fall collection is wildly successful and draws customers back to stores. I am also assuming that Coach is able to gain back some of its gross margin in future years -- if the new product lines are not successful, there could be some further downside from here.
To summarize, I feel Coach is close to bottoming out but not quite there yet. Investors more optimistic than I am can consider jumping in, as the stock now offers an attractive dividend yield of 3.4%. I am short $25 and $30 puts on Coach, and will be long if the stock declines to those levels. I would stay away... for now.
Disclosure: The author has no positions in any stocks mentioned, and no plans to initiate any positions within the next 72 hours. The author wrote this article themselves, and it expresses their own opinions. The author is not receiving compensation for it (other than from Seeking Alpha). The author has no business relationship with any company whose stock is mentioned in this article.
Additional disclosure: I am short COH $25 and $30 puts.