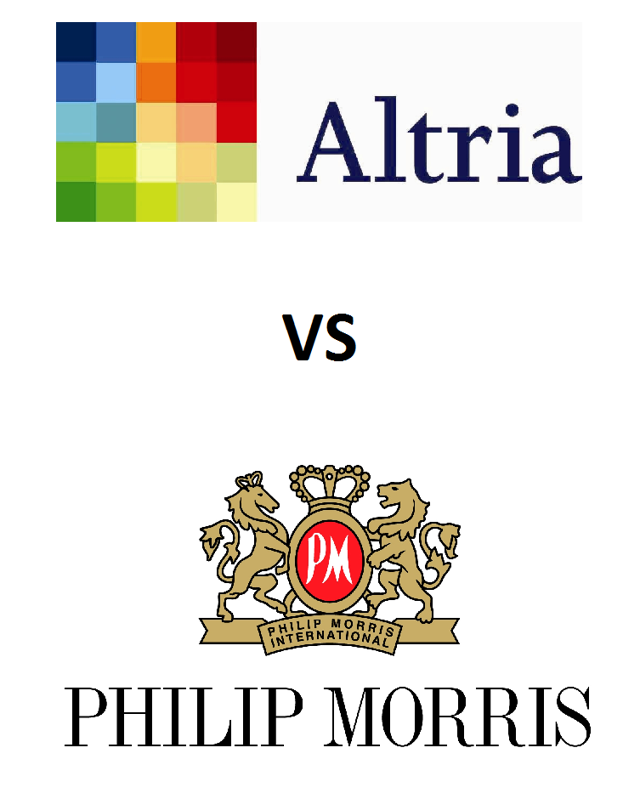 In 2008, Altria Group (NYSE:MO) spun-off Philip Morris International (NYSE:PM), breaking up the world's largest cigarette company. If Altria and Philip Morris were still one company, it would be about twice as large as its nearest competitor (British American Tobacco -- BTI). Further, the combined company would be one of the 20 largest businesses in the world based on market capitalization.
The 2008 spin-off split the company geographically. Altria sells tobacco products and alcohol inside the US, while Philip Morris sells tobacco products outside the US. Which of these two companies offers shareholders the best overall return?
Valuation
· Altria has a P/E ratio of 19.61 and a dividend yield of 4.53%.
· Philip Morris International has a P/E ratio of 17.45 and a dividend yield of 4.18%.
Philip Morris International is slightly cheaper than Altria based on P/E ratio. This simple metric does not portray the bigger picture, however.
Altria owns 27% of SAB Miller. The SAB Miller company is worth about $93 billion based on current valuations. Altria's 27% share of SAB Miller is worth approximately $25 billion. Over the last 5 years, earnings from Altria's share of SAB Miller has made up about 14% of profits before taxes.
Reducing the company's profits 14%, and subtracting SAB Miller's equity value of $25 billion would give Altria a P/E ratio of 15.95, which is less than Philip Morris' P/E ratio.
Breaking Altria and Philip Morris down into components, it is clear that Altria's cigarette business is cheaper than Philip Morris' cigarette business, net of SAB Miller. Both businesses have a reasonable P/E ratio and a very high dividend yield.
Growth
Altria
Altria has been able to grow cigarette sales over the last several years despite an overall decline in the cigarette industry. The company has managed this impressive feat by stealing market share from competitors.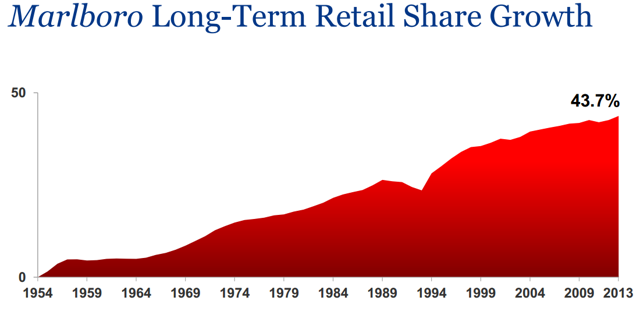 Source: Altria Annual Shareholder Meeting Presentation
Altria's future rests in the company's ability to adapt and expand into the e-vapor category while maximizing cash flows from the company's flagship cigarette brands. Altria has entered the e-vapor market through the company's NuMark division and flagship MarkTen brand.
The company is growing in this category through acquisitions as well. Altria recently acquired Green Smoke for $110 million. The acquisition gives Altria a management team experienced in e-vapor, as well as a brand that achieved $40 million in revenue in 2013. To date, Green Smoke has sold over 28 million products. The Green Smoke acquisition gives Altria additional experience in the e-vapor business going forward.
Source: Altria Press Release
Altria has partnered with Philip Morris International to distribute e-vapor products internationally. This announcement shows that Altria will once again split its international sales from domestic sales with Philip Morris International.
Source: Altria Press Release
The licensing deal benefits Altria by giving the company access to Philip Morris International's global distribution and market penetration. The deal benefits Philip Morris International by giving the company products to market internationally in the e-vapor category. The licensing deal will also allow Altria to sell Philip Morris International's developmental heated cigarette products in the US. This new technology will heat tobacco without burning it, reducing carcinogens for a healthier smoking alternative.
Philip Morris International
In addition to the recent announcement of the licensing deal for international sales between Altria and Philip Morris International for e-vapor products, the company has a long growth runway ahead if it is able to continue growing market share of cigarettes globally while increasing prices.
Philip Morris International had solid results for the first quarter of 2014. The company managed to increase global market share (excluding the US and China) from 9.1% to 9.2%. Further, market share increased in 3 out of 4 reportable segments.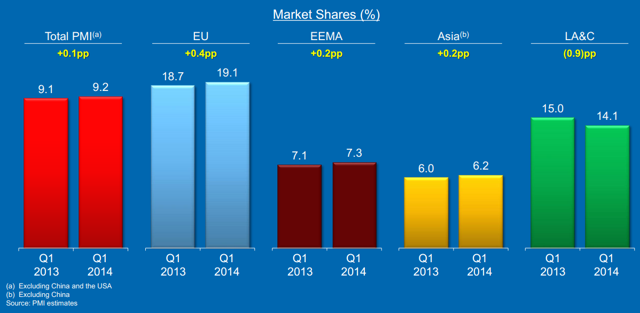 Source: 2014 Annual Shareholder Meeting
The adverse impact of rising taxes on cigarettes is well documented. Increasing taxes gives Philip Morris the ability to raise prices slightly more than tax increases and increase margins while simultaneously offsetting adverse impacts of taxes. The company plans to increase cigarette prices in this manner by 1% to 3% per year. Demand for cigarettes is relatively inelastic due to their addictive nature; rising prices do not greatly impact sales (within reason, of course).
Shareholder Return
Altria Group's goal is to maintain a long-term average earnings per share growth rate of between 7% and 9%. The company achieved this goal of late, with a 7.8% EPS CAGR since 2011. Further, the company pays a dividend yield north of 4%. Shareholders of Altria can expect a CAGR of between 11% and 13% going forward.
Similarly, Philip Morris' goal is to maintain a long-term average earnings per share growth rate of between 6% and 8%. Philip Morris has greatly exceeded this goal, growing dividends by about 10% per year since 2008. Overall, shareholders can expect a CAGR of between 10% and 12% going forward from earnings per share growth (6% to 8%) and dividends (4%).
Both of these businesses offer shareholders very attractive long-term growth rates that are well in excess of market averages.
Comparison 1: Dividend History
Altria Group has increased its dividend for 39 consecutive years. Counting its history with Altria, Philip Morris International has the same 39 consecutive years of dividend increases. Both businesses have increased dividends each year since the 2008 spin-off.
Why it matters: The Dividend Aristocrats (stocks with 25-plus years of rising dividends) have outperformed the S&P 500 over the last 10 years by 2.88 percentage points per year.
Source: S&P 500 Dividend Aristocrats Factsheet, February 28 2014, page 2
Comparison 2: Dividend Yield
Altria Group has a dividend yield of 4.53% vs. 4.18% for Philip Morris International. Both businesses have a very high dividend yield considering the low interest rate environment of today. Altria wins this round, as its dividend yield is higher than Philip Morris' dividend yield.
Why it Matters: Stocks with higher dividend yields have historically outperformed stocks with lower dividend yields. The highest-yielding quintile of stocks outperformed the lowest-yielding quintile by 1.76 percentage points per year from 1928 to 2013.
Source: Dividends: A Review of Historical Returns
Comparison 3: Payout Ratio
Philip Morris International has a payout ratio of 71% vs. 87% for Altria. Both businesses' high payout ratios have not impacted the ability of either to grow earnings per share. The ability of a business to grow substantially while simultaneously dispersing the bulk of earnings to shareholders is exceptionally rare and very valuable. Philip Morris outranks Altria based on payout ratio, as the company has a bit more room to increase dividends than Altria does.
Why it Matters: High-yield, low-payout ratio stocks outperformed high-yield, high-payout ratio stocks by 8.2 percentage points per year from 1990 to 2006.
Source: High Yield, Low Payout by Barefoot, Patel, & Yao, page 3
Comparison 4: Growth Rate
The biggest difference between these two businesses is revenue per share growth rate over the last 5 years. Philip Morris International has grown revenue per share at 8.63% per year, while Altria has grown revenues by only 2.43% a year.
Why it Matters: Growing dividend stocks have outperformed stocks with unchanging dividends by 2.4 percentage points per year from 1972 to 2013.
Source: Rising Dividends Fund, Oppenheimer, page 4
Comparison 5: Volatility
Altria Group has a long-term standard deviation of 20% vs. 24% for Philip Morris International. Philip Morris International's higher standard deviation results from its exposure to more volatile international and developing markets. Altria Group wins this round with its significantly lower standard deviation.
Why it Matters: The S&P Low Volatility index outperformed the S&P 500 by 2 percentage points per year for the 20-year period ending September 30th, 2011.
Source: Low & Slow Could Win the Race, page 3
Conclusion
Altria and Philip Morris are two of the best-run businesses in the world. They return the bulk of earnings to shareholders and still expect solid growth. Philip Morris is one of the top stocks to buy based on the 8 Rules of Dividend Investing. Altria ranks highly as well, but has not been able to grow revenue per share at a fast rate over the last several years. Going forward, both of these businesses expect significant earnings per share and dividend growth. Neither is overpriced at this time, and both are attractive considering today's low interest rate environment.
Disclosure: The author has no positions in any stocks mentioned, and no plans to initiate any positions within the next 72 hours. The author wrote this article themselves, and it expresses their own opinions. The author is not receiving compensation for it (other than from Seeking Alpha). The author has no business relationship with any company whose stock is mentioned in this article.