Chicago Bridge and Iron (NYSE:CBI) is a "soft" buy at the current levels. The 127-pg analysis of a possible $1.5 billion accounting overstatement is very controversial and a fight that should be played out by accountants. However, I have been a shareholder of CBI for 17 years and have grown to respect management's ability to generate outsized shareholder gains. In addition, CBI was included in my books published in 2001 and 2002, along with being the subject of at least six articles on SA dating back to Feb 2010. At each juncture, just when I think the stock has way outdone itself - again- management finds ways to keep growing.
What does CBI do anyway? It is an energy infrastructure construction company. The following slide from its investor presentation outlines its end-user markets.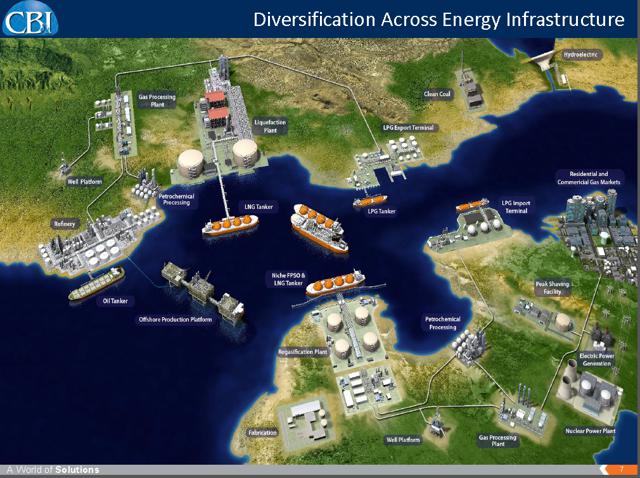 I do not believe this is another Sino-Forest (which I also owned until their own short sellers report, and sold before the big collapse into the land of bankrupt Chinese flim-flam companies). Taking a line from Lloyd Bentsen, with a bit of poetic license, "CBI, you are no Sino-Forest."
Reviewing CBI's history, as told by various graphs, tells an interesting story, starting with a 15-yr Earnings and Price Correlation offered by fastgraphs.com. With "normal" PE rations in the 19 range, the current 14 PE seems a bit cheap.
Earnings and Price Correlated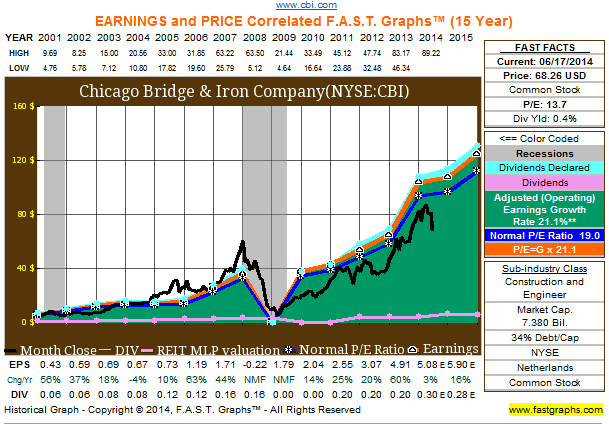 With a average adjusted operating earnings growth rate of 21%, the current estimated future growth rate of 18% is in line with CBI's history. Based on this future rate, and including a pause in EPS this year, it would seem CBI offers the potential for rosy future returns. The following graph is also courtesy of fastgraph.com.
Estimated Future Return Potential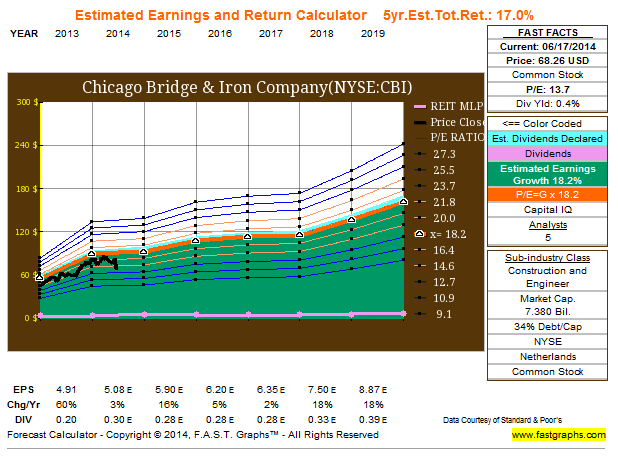 As shown in the graph below, management has done a good job of managing shares outstanding. Even with its spectacular growth, since 2003 shareholders have been diluted by only 16%. This dilution was recent and in connection with the Shaw acquisition.
The second line of the following graph indicates the amount of cash on the balance sheet. While investors could salivate at both the amount and dramatic rise in the firms' cash balance, it is the nature of their business. Being in the construction and engineering business with long lead times, it is very common to request a deposit against contracts to be delivered in the future. The dramatic drop in the recession of 2008/2009 is indicative of this as contract awards shrunk substantially. As the company worked through their deposits on hand and wrote few replacement contracts, their cash balance shrunk. Likewise, as contract awards regained their strength in 2010, so did the company's cash balance.
Cash and Shares Outstanding: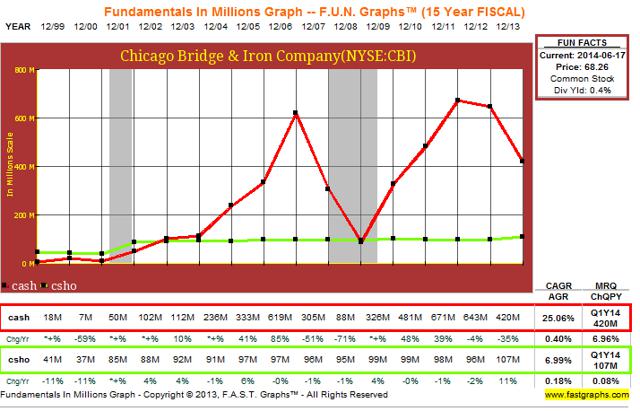 The following graphs outlines Return on Equity ROE and Return on Invested Capital ROIC. As shown, during the non-recessionary years, CBI generates hefty ROE usually about 20% and ROIC in the mid-to high-teens. The most recent decline in ROIC includes an additional $1.6 billion in debt from the acquisition of Shaw. This added debt also shows up in the next graph of long-term debt on the balance sheet.
ROE and ROIC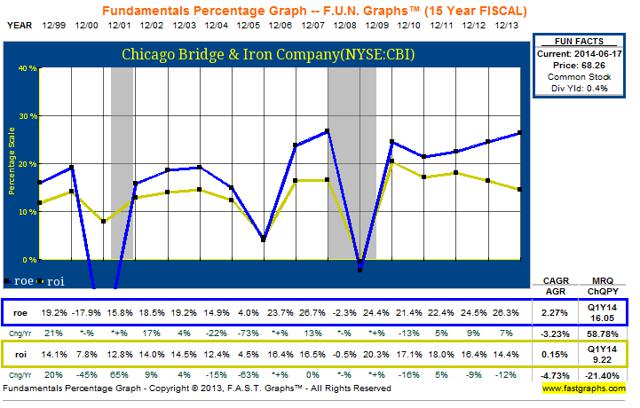 Long-Term Debt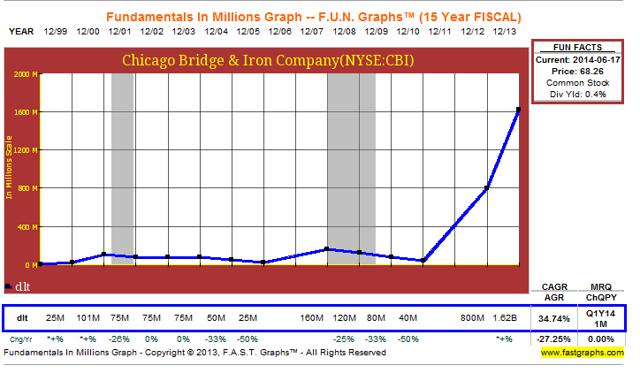 Since 2009, CBI's beta has been a minimum of 2.2 - not for the faint of heart. Being in the cyclical construction business, CBI's short-term fortunes are directly tied to the capital expenditure budgets of large multi-national public and sovereign oil companies. As the demand for larger and more complex oil infrastructure increases, so does CBI's business. During recessions, the price of oil usually drops and capex budgets are slashed, showing up as a slowing business environment for CBI. The cyclicality of both the economy and oil prices leads to higher volatility in CBI share price and a higher beta.
Technically, CBI share price has taken a huge hit. The Point and Figure chart is bearish and their charts are calling for a potential $50 price target. The stock needs to trade back above $81 to confirm its next leg up. The real strength will come with a price rising above $83. A consolidation around current pricing should be expected as this new tug of war between CBI believers and doubters plays out.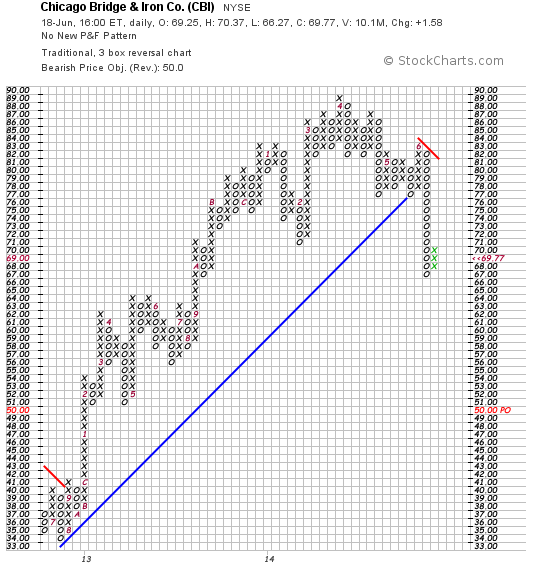 Insiders have been selling stock all year. According to finziv.com, management has sold 398,000 shares since Jan 2014, with the acquisition of 82,000 shares by option exercise at prices ranging from $13 to $33. Over the past year, CEO Asherman has been selling about 75,000 shares a quarter and his total shares have decreased from 536,000 to 487,000. Below is a listing of SEC Form 4 filings since Jan 2014:

I do find management's response a bit lacking to the accusation of accounting hanky-panky. Below is their response as taken from their press release:
CB&I has reviewed the report and strongly disagrees with its assumptions and conclusions.

Notably, the report warns readers to assume that the short-selling firm and/or its affiliates hold short positions in CB&I common stock and that they stand to realize significant gains in the event that CB&I's stock price declines. CB&I believes that this conflict of interest should cause the report and its conclusions to be viewed skeptically.

"CB&I's management team operates our company with the absolute highest ethics and integrity, and we take great issue with erroneous claims such as these," said Philip K. Asherman, CB&I's President and Chief Executive Officer.

CB&I's second quarter financial results are scheduled to be released in late July 2014. The company is confirming today that it expects to report results consistent with the ranges of its current guidance for the year.
I agree with those calling for more clarity from management concerning this controversy.
Warren Buffett's purchase of 8.8% of the company last year adds a bit of support for the current management team. In reality, one of the new guys over at BRK has been credited with the investment. One would assume with Buffett's history of investing, CBI's management passed the pre-investment due diligence.
CBI has a history of acquiring and integrating companies. Since its founding in 1889, the company has completed 11 major acquisitions. As most investors know, the proof of acquisitions is in the integration. I will side with management's ability to continue its history of successful integration. A review of CBI's corporate history can be found here and here, and make for an interesting reading.
The crux of the accounting accusation is summarized quite well by SA author Research and Value in a comment on another SA article concerning CBI. His summary is below:
I read the PP article, and then I also downloaded full report from their website. I have to say that it appears that it is a solid research. What the short sellers are trying to say, if I understand it correctly, is that non-cash reserve is being released through, to gross profit which highly distorts the profitability picture of the company. The reserve they are saying has been created by post acquisition adjustments to the purchase price by 1) increasing the value Shaw's CIP liability, because apparently the acquired contracts are not going well, 2) as the liability is increased they are also increasing Goodwill account. As Goodwill = Purchase price - (assets - liabilities), you get INCREASED Goodwill as liabilities are increased (assuming though, that you are ALLOWED to make purchase price adjustment according to GAAP, which PP also appears to doubt in this case). Regardless whether it is allowed or not, if what PP says is true the profitability picture appears to be significantly distorted.

It appears that you basically get an oxymoron: Goodwill is increased as the value of the acquired business deteriorates. I agree with roojoo, it would be welcome to see someone refute the points they are making.
I will give management the benefit of the doubt on this controversy. However, even based on its recent slide, share prices are marginally in a value buy range. It seems until further notice, management will not offer a reply to these accusations, which I believe is a mistake. Nibbling here for speculative buyers, who are also nimble enough to jump out if the accusations prove to have merit, seems the most prudent call. Long-term value investors need to hold off until this is resolved and there is additional clarity. While in hindsight the current drop in price may prove to be a gift from heaven, conservative investors should wait for either a substantially better price point or a resolution of this controversy.
I also believe that much like the 2008 profit disaster concerning the LNG project in England, this too shall eventually pass.
Author's Note: Please review important disclaimer in author's profile.
Disclosure: The author is long CBI. The author wrote this article themselves, and it expresses their own opinions. The author is not receiving compensation for it (other than from Seeking Alpha). The author has no business relationship with any company whose stock is mentioned in this article.