In case you missed it, Simon Property Group (NYSE:SPG) recently completed the spinoff of Washington Prime Group, Inc. (NYSE:WPG), a newly-formed entity that holds interest in 98 retail assets formerly owned by SPG. As the deal was structured, every 2 shares of SPG common stock SPG shareholders received 1 WPG common share through a special dividend. Since May 29th WPG has been trading in the open market.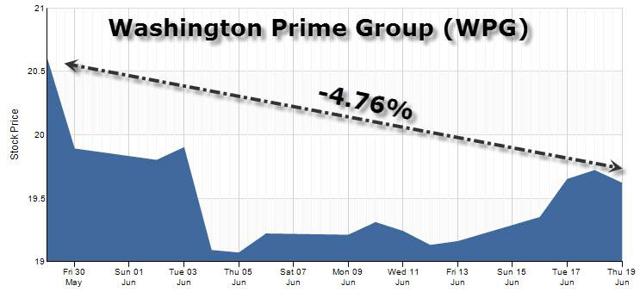 It seems that the REIT spinoff strategy has become more of a trend lately as a number of REITs such as Ashford Hospitality Trust (NYSE:AHT) and Vornado Realty (NYSE:VNO) have chosen to create popular vehicles in which assets are pruned-off and portfolios are repositioned to produce the most opportune investment entities.
In the case of SPG, the mall giant's board opted not to sell-off the strip centers and smaller malls to the highest bidder, partly because a sale would be a taxable event for shareholders. Instead the spinoff isn't taxable and shareholders now have stock in the new company and a chance to share in any growth. Since the spinoff (May 29th) SPG shares are up 1.2%.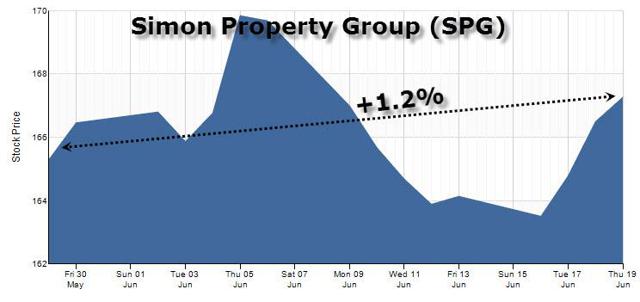 Will Health Care Be Next?
It seems that one of the primary reasons that SPG decided to spinoff its strip center assets was because it was becoming increasingly difficult for the massive $84 billion (total capitalization) mall gorilla to grow. That's what happens with many REITs that grow to such a large scale that they are limited with organic growth opportunities and they are forced to either invest in sub-par deals, expand into other sectors (i.e. outlet centers for SPG), or prune assets.
Many are familiar with the dilemma now facing American Realty Capital Properties (ARCP). This Net Lease REIT grew from around $200 million in assets in 2011 to over $20.5 billion today. In order to feed the engine, ARCP must acquire assets in order to maintain its appetite for income. In an effort to continue to move the growth needle, ARCP has announced (and closed) a number of transformational deals, the latest of which involves a portfolio or $1.5 billion of properties leased to Red Lobster. ARCP shares have fallen by over 12% over the last 90 days as the market is confused with ARCP's growth strategy and the company's expensive cost of capital. As I explained in a recent article:
Given the extraordinary pace in which ARCP has announced these transactions, it's clear that the market is confused. On one hand, you see a company that is becoming more focused by selling off non-core assets (the shopping center portfolio); however, on the other hand you see a company that is issuing high cost equity ($12.00) to acquire sub-investment grade leased assets (Red Lobster).
In terms of "forced growth" we are seeing that same issue in Healthcare. Recently Ventas announced that it was buying American Realty Healthcare Trust (NASDAQ:HCT) in a transaction valued at $2.6 billion (cash and stock). Under the terms of the deal shareholders in HCT have the option to receive 0.1688 Ventas shares, based on a negotiated price of $67.13, or $11.33 for each of their shares in HCT.
As one of you know, I'm Long VTR based upon the company's very consistent track record for growth. Unlike ARCP, a company that has snowballed in a few short years, VTR has managed accomplished its growth strategy with a prudent strategy emphasized by increased cash flow and dividend safety. As Debra Cafaro, the company's CEO, explained in a recent NAREIT interview:
We really pride ourselves on being able to consistently grow through all kinds of environments.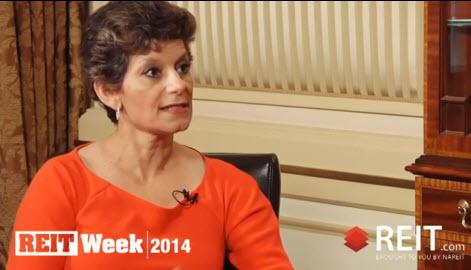 The bigger question that Ventas and the other 2 dominating Healthcare REITs, HCP, Inc. (NYSE:HCP) and Health Care REIT (NYSE:HCN), face is growth. It's true that the health care property sector remains highly fragmented; however, is it possible that at some point will growth be sacrificed by operation acumen? Does it make sense at some point for the larger Healthcare REITs spinoff into smaller entities like Washington Prime Group?
Is HCP a Merger Target?
I have been following HCP, Inc. for a few years and last year after the former CEO was fired I sold my shares. Then back in April (2014) I decided it was time to revisit the stock with the new CEO (Laurelee E. Martin) in place. I concluded as follows:
Doesn't it seem odd that HCP is trading at one of the lowest valuations on the above list when you also consider the fact that HCP has the second-best track record of paying dividends of any REIT in the world?
It's true, HCP is still trading at one of the lowest valuations in the sector with a Price to Funds from Operations (P/FFO) multiple of 13.4x.

Conversely, HCP is paying out an attractive dividend yield of 5.36%, higher than HCN (5.05%) and VTR (4.52%).

As a prospective (or current) investor in HCP, the dividend track record is the most compelling metric. Since 2010 the company has increase its FAD per share by an average of 7.2% per year. In 2014 HCP is expected to generate $2.50 per share in FAD and payout $2.18 per share in dividends.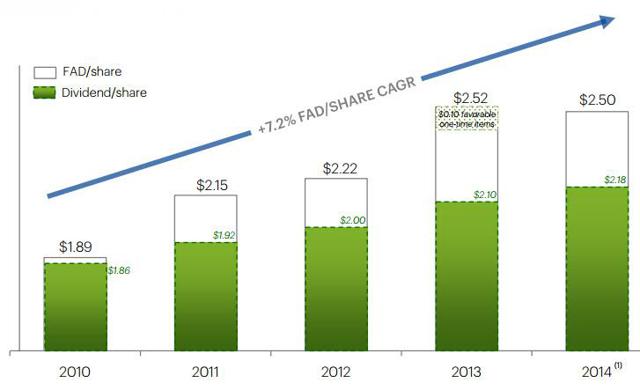 When translating that to longer-term performance, HCP is in a class of S&P 500 companies such as 3M (NYSE:MMM), Coca-Cola (NYSE:KO), Exxon (NYSE:XOM), Johnson & Johnson (NYSE:JNJ), Procter & Gamble (NYSE:PG), and Wal-Mart (NYSE:WMT). Only 11% of S&P 500 companies have a similar track record of paying and increasing annual dividends every year for at least 25 years in a row (or more).

Much like VTR and HCN, HCP operates a diversified platform that includes 5 core sub-sectors: Life Science (VTR doesn't own any), Medical Office, Post-acute (Skilled Nursing), Senior Housing, and Hospital. Because of its diverse business structure, HCP benefits from recurring same-store growth anchored by contractual rent increases. Here's a snapshot of HCP's consistent same-store NOI growth:

As you can see below, HCP generates the growth from a balanced mix of operating segments: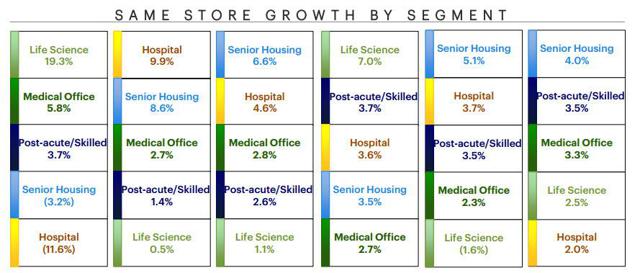 This FAST Graph below depicts HCP as a very consistent company that generates reliable and predictable income: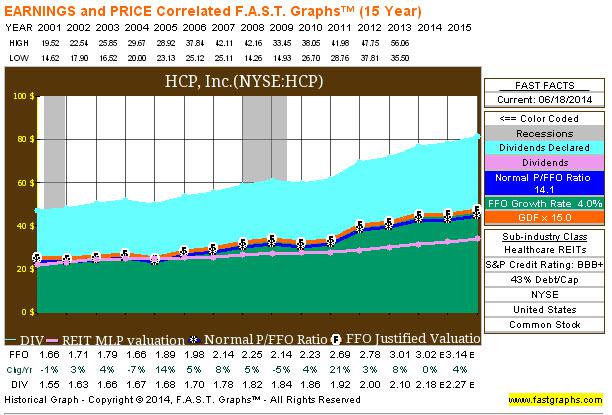 With the price line (black line) included, we can now see that HCP is still trading at fair value, perhaps one of the best buys in the Healthcare sector today. I'm not calling HCP a bargain but when you consider the extraordinary dividend history, I would argue that a value investor would accumulate shares in this blue chip and forget about it (BUY at current price of $40.66).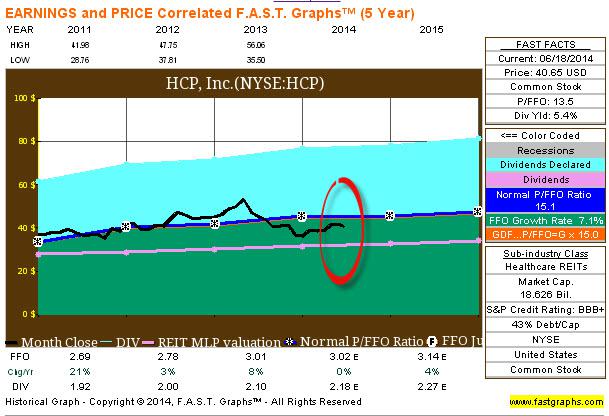 HCP is the only REIT that has a BBB+ or higher rating, a similar track record of paying out increasing dividends consistently, and a dividend yield of over 5.3%.

As I weigh the landscape today, it's intriguing that the Healthcare REIT sector is undergoing enormous expansion and at some point, I believe that one of the large diversified REITs will merge with another. For reasons mentioned above, HCP appears to be ripe for a merger and VTR seems to be the best strategic partner. It's clear that VTR has the cost of capital advantage and an even better operational acumen. Looking further ahead, it seems that at some point the feeding frenzy will slow down and maybe they will learn a lesson from the big Mall REIT: Simon Says Health Care Spinoff May Be Next.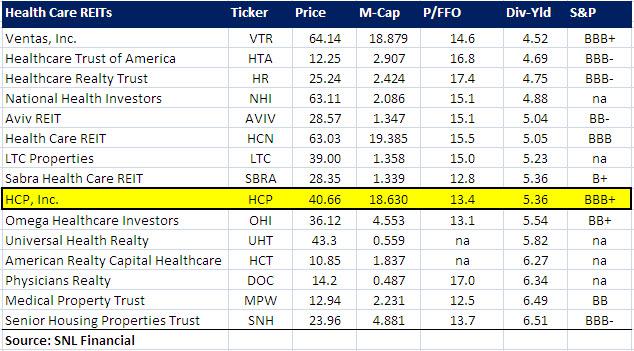 For more information on my REIT portfolio, check out my monthly REIT newsletter HERE.
Sources: SNL Financial.
REITs mentioned: (NYSE:NHI), (NASDAQ:SBRA), (NYSE:HR), (NYSE:HTA), (NYSE:LTC), (NYSE:UHT), (NYSE:AVIV), (NYSE:OHI), (NYSE:MPW), (NYSE:DOC), and (NYSE:SNH).
Disclaimer: This article is intended to provide information to interested parties. As I have no knowledge of individual investor circumstances, goals, and/or portfolio concentration or diversification, readers are expected to complete their own due diligence before purchasing any stocks mentioned or recommended.
Disclosure: The author is long O, DLR, VTR, HTA, STAG, UMH, CSG, GPT, ARCP, ROIC, HCN, OHI, LXP, KIM, WPC, DOC, UDF. The author wrote this article themselves, and it expresses their own opinions. The author is not receiving compensation for it (other than from Seeking Alpha). The author has no business relationship with any company whose stock is mentioned in this article.