The world, no matter what anyone says, is all about energy. For now and into the foreseeable future, that energy is supplied by non-renewable sources, like oil and coal, and natural gas. At some point far down the road, the world will turn more towards renewables, but for now it is on a smallish scale.
That being said, I want the largest players in the entire energy sector in my retirement portfolio. While Exxon Mobil (NYSE:XOM) is the big dog, Chevron (NYSE:CVX) has outperformed XOM over the last 5 years or so on both capital appreciation and dividend payment levels.
Let's Look At Chevron
While many investors feel that CVX is a better stock than XOM, I think having both is warranted in this gigantic sector. There are some things that overlap but there is nothing wrong with having a big chunk of 2 players that seemingly have enormous reach in the energy business.
CVX is no slouch, that is for sure. Naysayers will point to a little less stellar balance sheet, but this company is a cash machine of virtually unequalled proportions. To me, keeping the cash flow coming in the way CVX does, not only will sustain continued dividend growth, but also pay the debt the company has taken on in the last few years.
This chart taken from Chevron's annual report, shows both the increased debt levels, as well as the cash flow: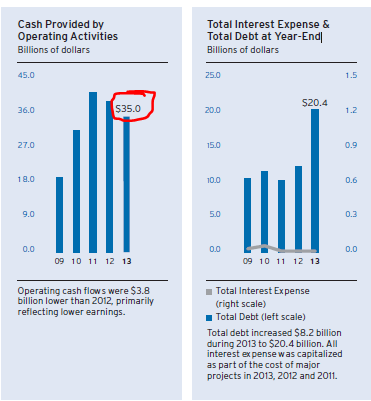 To be candid, I would like to see the debt begin to recede, and that should be able to be achieved by cutting expenses as well as reducing the share buyback plan for at least 12 months.
In July 2010, the Board of Directors approved an ongoing share repurchase program with no set term or monetary limits. The company expects to repurchase between $500 million and $2 billion of its common shares per quarter, at prevailing prices, as permitted by securities laws and other legal requirements and subject to market conditions and other factors. During 2013, the company purchased 41.6 million common shares for $5.0 billion. From the inception of the program through 2013, the company had purchased 139.3 million shares for $15.0 billion.
Maybe a nice big chunk of that $15 billion could go towards reducing debt, although at today's interest rates, it might not be such a terrible thing to have low cost debt on the books when it is thrown into the growth of the business. In addition to that, even though cash from operations declined, the overall income part of the balance sheet remains stellar and growing.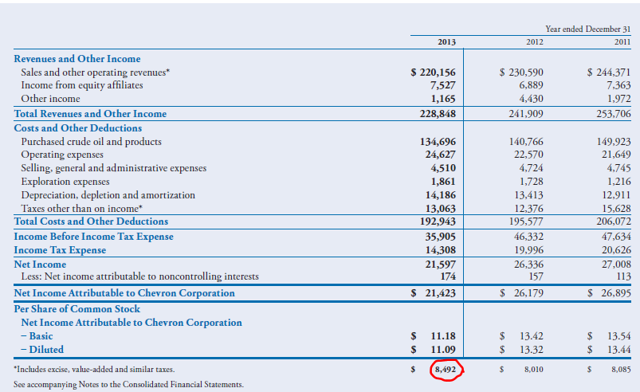 Now combine these details with the share price action, and the dividend payments: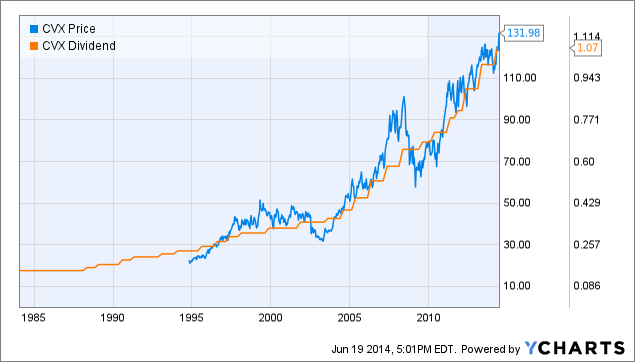 It does not get much better than this chart folks. Is there a reason NOT to own CVX in any sort of retirement portfolio? Oh, and yes, CVX raised its quarterly dividend by a lofty 7% to $1.07 quarterly per share just recently as well.
This chart from the most recent shareholder presentation clearly shows why, for a dividend growth investor, CVX is among the elite.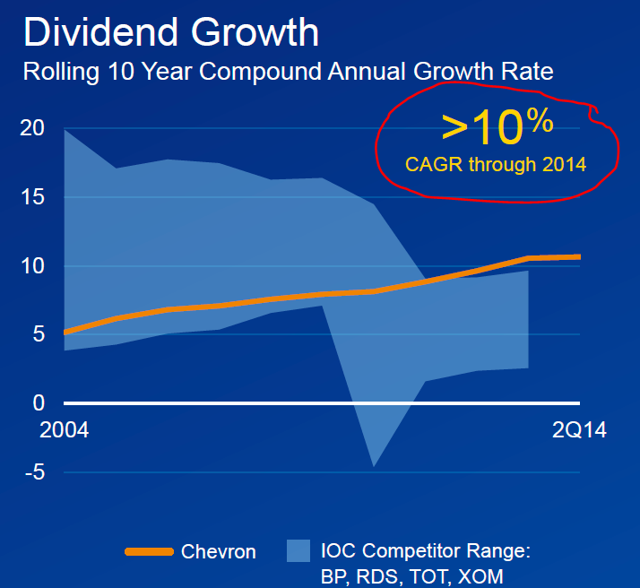 Actually, the two main goals of the company are to grow the business, and reward shareholders.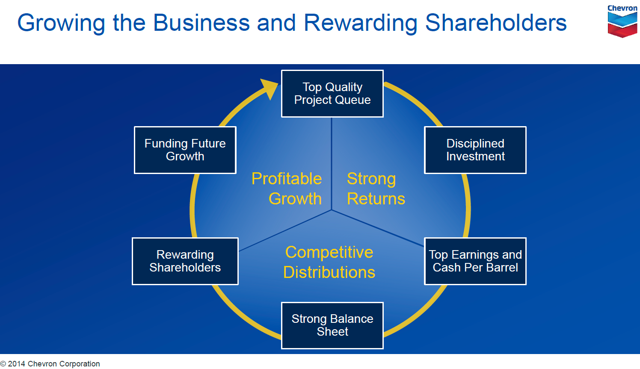 Simply for these reasons, owning shares of CVX is a no brainer in my opinion...even at the current share price as long as you are in it for the long haul. Not to say that traders cannot make some money, but I want this stock for the long term, until something dramatic happens, which more than likely won't. To give some further insight, the future for growth, especially in terms of cash flow, is estimated to be enormous in the years ahead.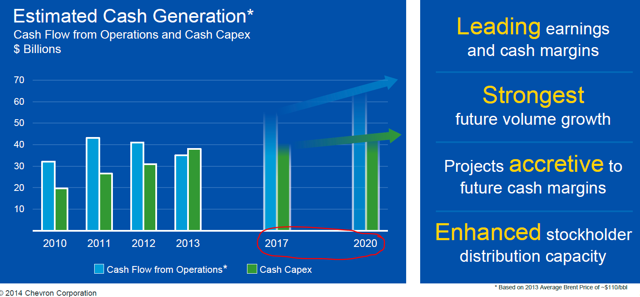 The World Is Chevron's Playground
Having an enormous global footprint is essential in the energy business as well, and CVX has the world covered as per this chart, showing where investment dollars are going.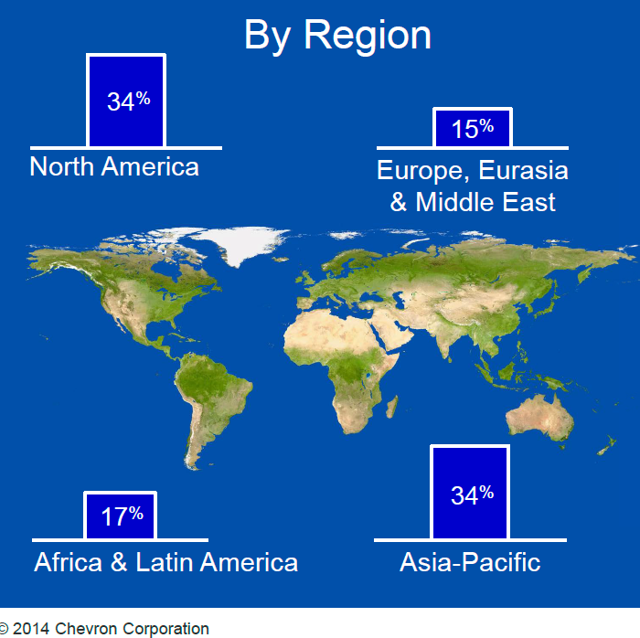 Along with an enormous global footprint is the diversity of energy products that the company is heavily invested in. Not just for today, but for the future as well.
This brief overview is right from the company website: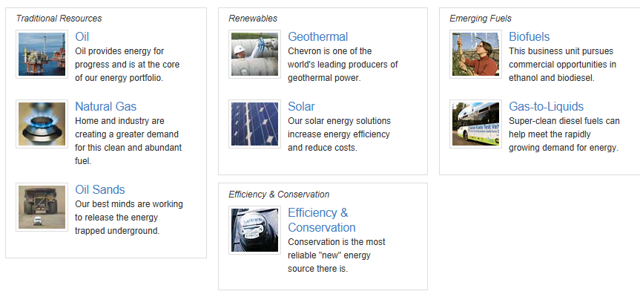 The action is everywhere, in all forms, and Chevron is in everything. I want to own a company like this, for as long as I can.
The Basics
Let's take a look at some of the basic fundamentals of CVX that any prudent investor would.
A very low forward PE of just 11.75 even at today's share price.
An enterprise value of about $250 billion.
A rather minimal premium to book value at 1.60.
65% of all outstanding shares are held by institutions.
The dividend payout ratio is only 39%, which tells me that the company can afford to keep giving us raises.
A current dividend yield of 3.40% which is not far from being a full 1% higher than the XOM yield of 2.70%.
Let me put it this way: I cannot find any reason not to own this stock right now, can you?
There Are Always Risks Of Course:
Government regulations could go against the oil and gas industry.
Dollars being invested for seeking new sources of fossil fuels could disappear if the results turn out to be far less than expected.
Doing business in regions of the world where the political climate can turn against the company is always a factor.
The price of fuel either drops precipitously to make the cost for retrieving it a much higher ratio, or it rises so quickly that demand dries up, and an over supply drives income down.
We are always looking for the least risky investments for our dollars, and I believe that the energy sector with the world's largest players, gives me the ingredients I look for in any retirement portfolio.
CVX fits the bill in every category for me.
Disclaimer: The opinions of this author are not recommendations to either buy or sell any security. Please remember to do your own research prior to making any investment decision.
Disclosure: The author is long XOM, CVX. The author wrote this article themselves, and it expresses their own opinions. The author is not receiving compensation for it (other than from Seeking Alpha). The author has no business relationship with any company whose stock is mentioned in this article.