By Stuart McPhee
Gold for Friday, June 20, 2014
Over the last 12 hours or so, gold has enjoyed a stunning surge higher to break through some key levels along its way to reaching a two-month high just above $1320. Just prior to the surge gold was able to move back through the key $1275 level for the first time in two weeks, however resistance at that level kicked in and halted any rise for a few days. Over that last week gold did very well to repair some damage and return to the key $1275 level, then it has continued the momentum pushing a higher to its recent high. After moving so little for an extended period, gold dropped sharply a few weeks ago from above the well established support level at $1275 as it completely shattered this level falling to a four-month low around $1240. It remained around support at $1240 for several days before its recent rally higher. The $1275 level is now playing a role again as it provided limited resistance at the end of last week.
Prior to the strong fall a few weeks ago gold had remain fixated on the $1293 level and had done very little as volatility has dried up completely resulting in gold moving very little. It pushed down towards $1280 before slingshotting back and also had an excursion above $1300 for a short period before moving quickly back to the $1293 area again. Over the last few weeks gold has eased back from around $1315 to establish its recent narrow trading range below $1295 before its recent slump.
Over the last few months the $1275 level has established itself as a level of support and on several occasions has propped up the price of gold after reasonable falls. Throughout the second half of March gold fell heavily from resistance around $1400 back down to a several week low near support at $1275. Both these levels remain relevant as $1275 continues to offer support and the $1400 level is likely to play a role again should gold move up higher. Through the first couple of months of this year, gold moved very well from a longer-term support level around $1200 up towards a six-month high near $1400 before returning to its present trading levels closer to $1300.
Gold settled at a two-month high on Thursday as a drop in the dollar and a lack of commitment by the U.S. Federal Reserve to raise interest rates sent metal investors rushing to buy back their bearish bets. The rally in bullion marked its biggest one-day gain in eight months. Silver jumped as much as 5 percent, while platinum and palladium also climbed as new hurdles emerged to settling South Africa's mining strike. Gold was boosted by the U.S. dollar index's tumble a day after the Fed signaled it will stick with a near-zero interest rate policy to support the economy, disappointing traders who had bet on hints of policy tightening.
(Daily chart / 4 hourly chart below)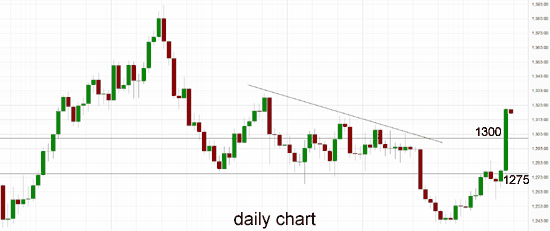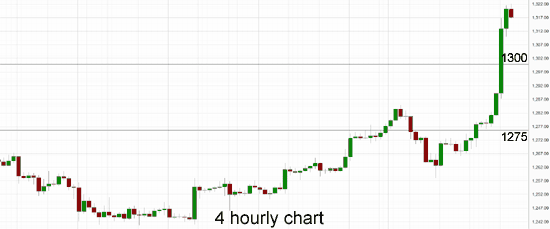 Gold June 20 at 00:50 GMT 1315.9 H: 1322.1 L: 1315.9
Gold Technical
| | | | | | |
| --- | --- | --- | --- | --- | --- |
| S3 | S2 | S1 | R1 | R2 | R3 |
| 1240 | - | - | 1315 | 1330 | - |
During the early hours of the Asian trading session on Friday, gold is just starting to ease back a little from above $1320 after its stunning surge higher in the last 12 hours or so. Current range: trading just below $1320 around $1316.
Further levels in both directions:
• Below: 1240.
• Above: 1275, 1315 and 1330.
OANDA's Open Position Ratios
(Shows the ratio of long vs. short positions held for gold among all OANDA clients. The left percentage (blue) shows long positions; the right percentage (orange) shows short positions.)
The long position ratio for gold has moved back below 60% for the first time in a while as gold has surged higher to a two-month high above $1320. The trader sentiment remains in favour of long positions.
Economic Releases
08:00 EU Current Account (Apr)
08:30 UK Public Borrowing (PSNB ex interventions) (May)
12:30 CA CPI (May)
12:30 CA Retail Sales (Apr)
14:00 EU Flash Consumer Sentiment (Jun)
*All release times are GMT