By Kenny Fisher
EUR/USD is firm on Friday, as the pair is back above the 1.36 line, after some gains earlier in the week. On the release front, German PPI posted its third consecutive decline, as eurozone inflation indicators continue to falter. There was better news from the eurozone Current Account, which improved in May. Although US markets are open on Friday, there are no releases on the schedule, so traders should be prepared for a quiet day from the pair.
Eurozone inflation rates continued to look dismal in May, as German PPI posted another decline, coming in at -0.2%. The manufacturing inflation index has failed to post a gain in 2014, pointing to weakness in the German manufacturing sector. The ECB lowered rates earlier in the month, declaring that the moves were intended to bolster weak growth and inflation levels in the region. However, we'll have to wait for the June inflation data to see if the ECB's moves push inflation to higher levels. If not, the euro could lose ground against the dollar. Earlier in the week, German ZEW Economic Sentiment lost ground, although somewhat surprisingly, the same eurozone indicator showed improvement. We'll get a look at Eurozone Consumer Confidence later on Friday. The markets are expecting another weak reading in May.
On Wednesday, the Federal Reserve continued to taper its QE program, reducing the scheme by $10 billion, to $35 billion/month. If all goes as planned, the Fed could wind up QE in the Fall. The Fed also hinted that interest rates will continue to stay low for the foreseeable future, which likely means that we won't see any rate hikes before the first quarter of 2015. With regard to economic activity, the Fed noted that the recovery is continuing, but it reduced its forecast of economic growth to 2.1-2.3%, down from an earlier forecast of around 2.9 percent. The bottom line? There were no dramatic items in the Fed statement, with one analyst describing current Fed policy as "steady as she goes". The US dollar has responded with losses against its major rivals, and the euro has added about 70 points this week and pushed across the 1.36 line.
EUR/USD for Friday, June 20, 2014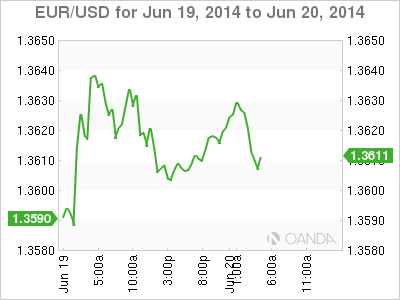 EUR/USD June 20 at 8:45 GMT
EUR/USD 1.3609 H: 1.3634 L: 1.3605
EUR/USD Technical
| | | | | | |
| --- | --- | --- | --- | --- | --- |
| S3 | S2 | S1 | R1 | R2 | R3 |
| 1.3346 | 1.3487 | 1.3585 | 1.3649 | 1.3786 | 1.3893 |
EUR/USD has taken a breather on Friday, and is not showing much movement. The pair touched a high of 1.3634 late in the Asian session, but has retracted closer to the 1.36 level.
1.3585 is providing weak support, and could break if the US dollar shows any strength. 1.3487 is stronger, and has remained intact since early February.
On the upside, 1.3649 is an immediate resistance line. There is stronger resistance at 1.3786.
Current range: 1.3585 to 1.3649
Further levels in both directions:
Below: 1.3585, 1.3487, 1.3346 and 1.3219
Above: 1.3649, 1.3786, 1.3893 and 1.4000
OANDA's Open Positions Ratio
EUR/USD ratio is unchanged on Friday. This is consistent with the lack of movement exhibited by the pair. The ratio is close to an even split of short and long positions, indicative of a lack of trader bias as to the future movement of EUR/USD.
EUR/USD is listless on Friday. The pair is unchanged in the European session.
EUR/USD Fundamentals
6:00 German PPI. Estimate +0.2%. Actual -0.2%.
8:00 Eurozone Current Account. Estimate 19.4B. Actual 21.5B.
All Day - ECOFIN Meetings.
14:00 Eurozone Consumer Confidence. Estimate -6 points.
*Key releases are highlighted in bold
*All release times are GMT