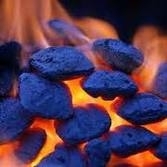 India, Asia's third largest economy is bracing itself for a huge import of coal in order to fulfill a part of its ever increasing energy requirements as the country plans to add a capacity of 100,000 MW of power during 2012-17. India faces peak hour power shortage of nearly 14 % as of today and sector firms have lined up to raise funds as they expand generation and transmission capacity to satisfy a rapidly urbanizing population and rising industrialization.
India's government has meanwhile promised to modernize its ports to accommodate larger vessels and make transporting iron ore and coal to roads and railways more efficient. Coal powers 75 percent of India's electricity, but local output lags swelling demand. Imports are expected to grow to 100 million MT in 2011/12 from 80 million MT now.
Coal is a complex natural resource that is primarily used to fuel power or cement plants, two commodities that are expected to see increases in demand as global populations increase and per-capita income in developing nations increase.
In fact last month, India's Adani Enterprises agreed to invest $1.65 billion in an Indonesian coal port and railway project, and acquired stake in Australian miner Linc Energy's Galilee project for $2.7 billion.
Increased demand for coal is already being seen in China, which accounts for nearly half of global coal demand and being used for power generation and metallurgical coal to produce steel. Now with an increase in demand in neighboring India, the two Asian neighbors can consume a lot of coal put together to fulfill their economic dreams of industrialization and growth.
Meanwhile Coal India, the world's largest coal producer, plans to launch a public offer of its shares next month, the biggest ever in the country. The company made a net profit of 98.294 billion rupees ($2.17 billion) in 2009/10 ended in March on revenues of 525.922 billion rupees.
In 2010/11, India's coal demand is seen at 656.31 million MT, while indigenous availability is estimated at 572.37 million MT.
Coal: Global Price Brief:
Coal stockpiles at U.S. power plants rose just 0.6 percent this week but remained 20.5 percent smaller than a year ago while Coal shipments from Australia's Newcastle port, the world's largest coal export terminal, rose 14 percent in the past week, despite a brief closure on Sunday due to protests at the port. Australia's thermal coal prices, a benchmark for Asia, closed at $94.89 per MT last week, slipping from $97.07 a week earlier. China's benchmark thermal coal prices at Qinhuangdao port stayed flat at about $114 PMT, but dropping stock levels were lifting expectations that buyers may start importing coal again.
Coal ETFs Options:
Although a recent drop in the natural gas prices has had some short term impact on the prices of coal exchange traded funds, but an increased demand from Power hungry India, the world's second largest populous nation is set to trigger a rally in the coal ETFs in the coming weeks. Some of the options for investing in Coal ETFs include:
1: Market Vectors Coal ETF (NYSEArca: KOL): The Index provides exposure to publicly traded companies worldwide that derive greater than 50% of their revenues from the coal industry. As such, the Fund is subject to the risks of investing in this sector.
KOL Top Ten Holdings
1. Peabody Energy Corporation (BTU): 7.81%
2. China Shenhua Energy Company Limited (01088): 7.74%
3. Alpha Natural Resources Inc (New) (ANR): 7.59%
4. China Coal Energy Co. Ltd. (01898): 7.50%
5. Consol Energy, Inc. (NYSE:CNX): 6.72%
6. Yanzhou Coal Mining Company Limited (01171): 5.73%
7. Joy Global, Inc. (JOYG): 4.51%
8. Bucyrus International, Inc. A (NASDAQ:BUCY): 4.43%
9. Arch Coal, Inc. (ACI): 4.29%
10. PT Bumi Resources TBK: 4.26%
Expense Ratio: 0.62%
2: PowerShares Global Coal Portfolio (NASDAQ: PKOL): The Index is designed to measure the overall performance of globally traded securities of the largest and most liquid companies involved in the exploration for, and mining of coal, as well as other related activities in the coal industry.
PKOL Top Ten Holdings
1. Peabody Energy Corporation (BTU): 8.78%
2. Cameco (NYSE:CCJ): 7.93%
3. China Shenhua Energy Company Limited (01088): 7.42%
4. Consol Energy, Inc. (CNX): 6.54%
5. Inner Mongolia Yitai Coal Company Limited (900948): 6.27%
6. Coal & Allied Industries Limited (NYSE:CNA): 4.32%
7. Alpha Natural Resources Inc (New) (ANR): 4.06%
8. Adaro Energy Tbk: 4.02%
9. PT Indo Tambangraya Megah: 4.01%
10. China Coal Energy Co. Ltd. (01898): 3.92%
Expense Ratio: 0.75%
Disclosure: No positions