Lakes Entertainment (LACO) is a rather simple investment opportunity. Basically, adding up all the assets using conservative assumptions leads us to a value which significantly exceeds the market capitalization the stock trades at.
Lakes Entertainment's main assets are:
Net cash (excluding short and long-term debt) and short-term investments;
Non-operating land;
Dania receivable;
10% of Rock Ohio, which controls 80% of a number of casinos;
The Rocky Gap casino and resort;
A receivable from the Jamul Tribe.
Using conservative assumptions, these are the values for each of these assets:
Net cash
LACO has $36.6 million in cash, $48.4 million in short-term investments, and it carries $1.3 million in short-term debt and $10 million in long-term debt. This gives it net cash of $73.7 million.
Non-operating land
LACO carries a portion of land in its books that's close to a proposed Jamul Indian casino. This land is carried at $1.1 million in the books, but has been optioned by Penn National for a price of $5.5 million, with the option being exercisable within 10 days of the Jamul Indian casino opening. This opening is slated for late 2015.
We could thus consider that this land is worth between $1.1 million and $5.5 million.
Dania receivable
The company has restructured a $4 million loan which it had written down to zero into a 5% ownership on Dania Entertainment Holdings, and has sold this ownership stake for $2.6 million.
10% of Rock Ohio
LACO holds a 10% interest on Rock Ohio Ventures, which then controls 80% of several different casinos and gambling venues: the Horseshoe Casino Cleveland in Cleveland, Ohio; the Horseshoe Casino Cincinnati in Cincinnati, Ohio; the Thistledown Racino in North Randall, Ohio; and Turfway Park, a thoroughbred horseracing track located in Florence, Kentucky.
These casinos produced $617.8 million in net revenues (net of winnings) during the first 9 months of 2013, which puts them on track to have net revenues of around $823.7 million for an entire year.
If we take the Market Vectors Gaming ETF (NYSEARCA:BJK) as a proxy for the sector, we can see that it's trading at a price/sales of 2.45 times. Being very conservative and considering a price/sales of 1 times would give the Rock Ohio Ventures asset a valuation of 10% x 80% x $823.7 = $65.9 million. This asset is carried on the books for its original $21 million investment.
The Rocky Gap casino and resort
LACO also operates the Rocky Gap casino directly. This generated $47.8 million in revenues over the last year. Considering the same conservative 1 times/sales valuation as we used for Rock Ohio Ventures, this would give the Rocky Gap casino and resort a value of $47.8 million.
A receivable from the Jamul Tribe
There's further optionality in a $60 million receivable from the Jamul Tribe. This receivable has been written down to zero, but recent agreements between Penn National and the Jamul Tribe have revived the proposed casino. The casino is now expected to open during late 2015.
If the casino operates, LACO stands a chance of receiving its $60 million plus 4.25% interest. Even ignoring the 4.25% interest, this has a value between $0 and $60 million and gives LACO some optionality (along with the value of the associated land).
Sum of the parts
Given the values stated above, which include the debt LACO carries, I arrive at the following value for LACO: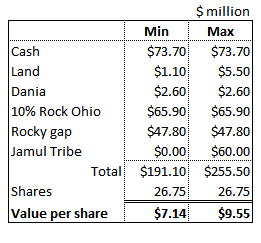 Hence, there's between $7.14 and $9.55 in value per share even using very conservative assumptions for the valuation of the casino and casino investment (Rock Ohio). There's also some optionality in the land and the Jamul Tribe receivable, which isn't reflected in the balance sheet and might produce positive news flow if and when payments resume. The Jamul Tribe casino is scheduled to open in late 2015.
These values represent upside of 50-100% from where LACO presently trades ($4.76).
Besides realizing the optionality on the Jamul Tribe receivable and land, another possible catalyst could be a Rock Ohio Ventures IPO or merger. Given Rock Ohio's indebtedness, this might be an attractive solution.
That said, while there is value and possible catalysts, there's no immediately predictable catalyst that's about to happen, so there's the risk the stock might represent dead money for a while.
Disclosure: The author has no positions in any stocks mentioned, but may initiate a long position in LACO over the next 72 hours. The author wrote this article themselves, and it expresses their own opinions. The author is not receiving compensation for it (other than from Seeking Alpha). The author has no business relationship with any company whose stock is mentioned in this article.