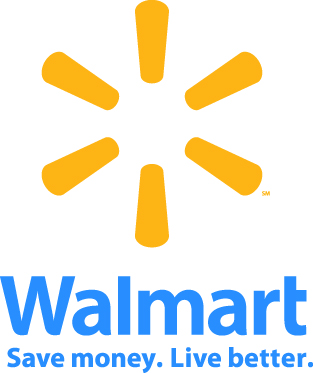 Wal-Mart (NYSE:WMT) is the world's largest retailer. The company is focused on low prices resulting from operating efficiencies driven by economies of scale. Wal-Mart serves 245 million customers each week from over 11,000 locations in 27 countries.
First-Quarter Results
Wal-Mart posted first-quarter constant currency adjusted sales growth of 2.1%. The company's growth has slowed over the last several years, as the US market has neared saturation for Wal-Mart stores. There is simply not as much room for growth in the company's dominant market as there was in years past.
Source: Wal-Mart 1st Quarter Results
Same-store sales in the US were down 0.1%, due to a -1.4% decrease in comparable traffic, which was offset by a 1.3% increase in comparable tickets. The numbers show that Wal-Mart customers are buying just as much as they always have, but the number of Wal-Mart customers is slightly decreasing. Sam's Club fared only slightly better, with sales growing less than 1% on a quarter-over-quarter basis. Wal-Mart is facing stiff competition from other discounters such as Costco (NASDAQ:COST), Target (NYSE:TGT), and Family Dollar (NYSE:FDO). The company believes that adverse weather conditions impacted sales in the first quarter. It is more likely a mix of both weather and competition that is stalling Wal-Mart's domestic growth.
International constant currency sales increased by 3.4% versus the first quarter of 2013. Stronger international growth bodes well for Wal-Mart's future. The company has less room than ever to expand in the US, but significant growth opportunities internationally. Operating income increased 5.3% in the International segment. Wal-Mart's ability to increase margins faster than sales internationally is very encouraging.
Wal-Mart's future growth will be driven through further international expansion. As the developed world continues to grow slower than the developing world, multinational corporations such as Wal-Mart are focusing growth on the developing world. Wal-Mart's favorable international results in the first quarter show the company has the ability to continue to expand well into the future.
Shareholder Returns
Shareholders of Wal-Mart can expect organic growth going forward in the 3% to 6% range. Dividends and share repurchases should add another 5% to shareholder returns. All together, shareholders of Wal-Mart can expect a CAGR of 8% to 11% in the future, excluding any changes in the company's valuation metrics.
Valuation
Wal-Mart's P/E ratio has fallen for much of the last decade, while earnings per share have risen.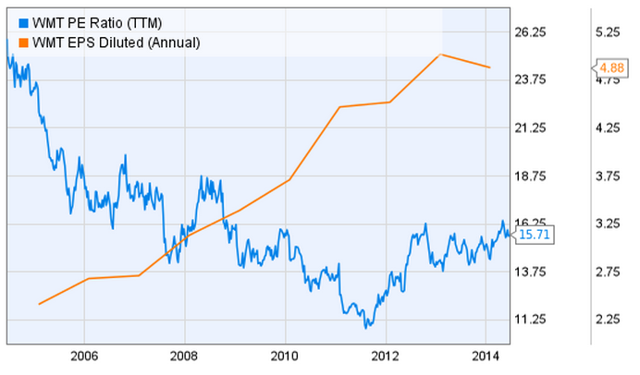 Source: YCharts
Multiple compression has damaged shareholder returns over the last decade. This trend is not likely to continue. At present levels, Wal-Mart is trading significantly below the S&P 500's average P/E ratio of 19.3. Wal-Mart compares favorably compared to its peers, based on the P/E ratio.
| | | |
| --- | --- | --- |
| Ticker | Company | P/E |
| WMT | Wal-Mart Stores Inc. | 15.71 |
| COST | Costco Wholesale Corporation | 26.01 |
| TGT | Target Corp. | 19.83 |
| DG | Dollar General Corporation | 19.08 |
| DLTR | Dollar Tree, Inc. | 19.06 |
| FDO | Family Dollar Stores Inc. | 20.01 |
| PSMT | PriceSmart Inc. | 30.99 |
| BIG | Big Lots Inc. | 21.54 |
| FRED | Fred's, Inc. | 27.52 |
Source: Finviz
Wal-Mart is currently the cheapest discount retailer, based on its P/E ratio. This is unusual considering Wal-Mart's dominant market position in the industry; it is nearly 5 times larger than its nearest competitor (COST), based on market capitalization. Wal-Mart is undervalued relative to the overall market and its peers at this time.
Consecutive Years of Dividend Increases
Wal-Mart has a long history of rising earnings and dividends. The company has paid increasing dividends for 41 consecutive years. Wal-Mart's 4 decade streak of increasing dividends is evidence of its strong competitive advantage.
Why it Matters: The Dividend Aristocrats (stocks with 25-plus years of rising dividends) have outperformed the S&P 500 over the last 10 years by 2.88 percentage points per year.
Source: S&P 500 Dividend Aristocrats Factsheet, February 28, 2014, page 2
Dividend Yield
Wal-Mart has a current dividend yield of 2.5%, ranking it at 56 out of 118 businesses with 25+ years of dividend payments without a reduction.
Why it Matters: Stocks with higher dividend yields have historically outperformed stocks with lower dividend yields. The highest-yielding quintile of stocks outperformed the lowest-yielding quintile by 1.76 percentage points per year from 1928 to 2013.
Source: Dividends: A Review of Historical Returns
Payout Ratio
Wal-Mart has a payout ratio of 31.80%. The company has significant room to grow its dividends faster than overall company growth for several years. Wal-Mart ranks at 44 out of 118 businesses with 25+ years of dividend payments without a reduction based on payout ratio.
Why it Matters: High-yield, low-payout ratio stocks outperformed high-yield, high-payout ratio stocks by 8.2 percentage points per year from 1990 to 2006.
Source: High Yield, Low Payout by Barefoot, Patel, & Yao, page 3
Long-Term Growth Rate
Wal-Mart has grown revenue per share by 8.23% over the last decade. The company's strong growth over this time period ranks it at 17 out of 118 businesses with 25+ years of dividend payments without a decrease.
Why it Matters: Growing dividend stocks have outperformed stocks with unchanging dividends by 2.4 percentage points per year from 1972 to 2013.
Source: Rising Dividends Fund, Oppenheimer, page 4
Long-Term Volatility
Wal-Mart is very resistant to economic recessions, due to the company's low prices on consumer goods. As a result, the company has stable earnings and a low standard deviation of just 19.14% over the last decade. The company ranks at 9 out of 118 businesses with 25+ years of dividend payments without a reduction, based on this metric.
Why it Matters: The S&P Low Volatility index outperformed the S&P 500 by 2 percentage points per year for the 20-year period ending September 30th, 2011.
Source: Low & Slow Could Win the Race, page 3
Conclusion
Wal-Mart is a high-quality stock that is highly resistant to recessions. The company's management has a long history of rewarding shareholders through both share repurchases and dividends. Wal-Mart appears to be undervalued compared to the overall market at this time, and has solid if unspectacular growth prospects going forward. The company is ranked as a Top 10 Buy, based on the 8 Rules of Dividend Investing.
Disclosure: The author is long WMT. The author wrote this article themselves, and it expresses their own opinions. The author is not receiving compensation for it (other than from Seeking Alpha). The author has no business relationship with any company whose stock is mentioned in this article.