A new rumor was introduced in the stock markets last week. Reported by the Daily Mail (see this article), a consortium of private equity players has given the green light to buy Unilever (UL, UN) for $68/share. The potential bid equals a 50% premium on top of the company's current share price. According to the article, the consortium will split Unilever and sell the company's brands to competitors like Procter & Gamble (NYSE:PG) and Nestle (OTCPK:NSRGY). Except for an intra-day rebound, Unilever's share price did not respond to the rumor at all (see graph below). Although the Daily Mail's article is very speculative, it is not completely unlikely. In this article, I will discuss why a private equity buy-out of Unilever is not completely unlikely. However, I still believe that the rumor is not likely to happen anytime soon.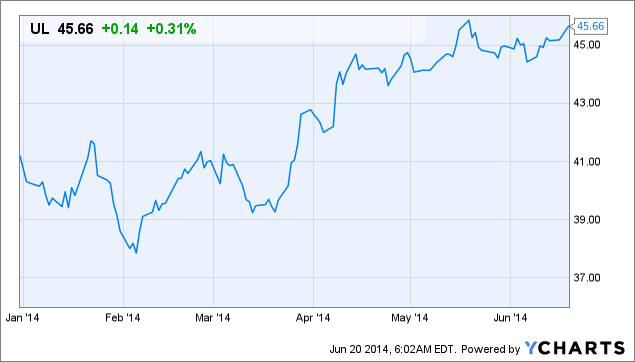 The company
Unilever is a global consumer goods company with a $130 billion market cap. The company was founded in 1885 and is currently headquartered in London, the United Kingdom. Throughout the years, Unilever built an impressive portfolio of worldwide brands. Most of the brands are multi-billion dollar brands, for example Axe: Ben & Jerry's, Dove, Lipton, Omo, Rexona, and Magnum. Although the company has several strong positions within the food segment, Unilever is more and more focusing on personal care products. As a result, Unilever divested several foods businesses. See this overview of Unilever's M&A activities.
The rumor
The Daily Mail reported that a consortium of private equity players will make a $68/share bid for Unilever. After the transaction is completed, the consortium is rumored to sell each of Unilever's brand to the highest bidder to unlock value. Procter & Gamble and Nestle are named among the probable bidders. Unilever has several strong brands in the personal care business as well. Therefore, Kimberly-Clark (NYSE:KMB), Colgate-Palmolive (NYSE:CL), Beiersdorf (OTCPK:BDRFF), Henkel (OTCPK:HENKY) and L'Oreal (OTCPK:LRLCF) would most likely be among the bidders as well. With all these wealthy companies among the potential bidders, there might be a bidding war that will drive up the price for the separate brands.
Personal care
Another reason to support a potential private equity buy-out is Unilever's valuation compared to its portfolio of brands. Unilever trades at a P/E ratio of 20, comparable to defensive stocks like Procter & Gamble, Nestle and Kimberly-Clark. However, Unilever's most important business is its personal care business (Axe, Dove, Rexona, Vaseline). The personal care business generated 36% of Unilever's total sales in 2013, considerably more than the 27% generated by the foods segment (see this factsheet). From this point of view, Unilever trades at a considerably lower P/E ratio than L'Oreal (P/E ratio: 26.2), Colgate-Palmolive (P/E ratio: 30) and Beiersdorf (P/E ratio: 30). Therefore, splitting up the company should create value for the consortium.
Conclusion
Overall, I do not believe that the rumor of private equity buying Unilever for $68/share is likely to happen. However, there are some arguments that support a potential private equity buy-out. Selling Unilever's brands separately to the highest bidders is certainly going to unlock value. Further, Unilever's personal care business should be valued much higher than its current valuation. For now, I am happy to hold on to my shares and enjoy Unilever's 3.40% yield.
Disclosure: The author is long UN. The author wrote this article themselves, and it expresses their own opinions. The author is not receiving compensation for it (other than from Seeking Alpha). The author has no business relationship with any company whose stock is mentioned in this article.
Editor's Note: This article discusses one or more securities that do not trade on a major U.S. exchange. Please be aware of the risks associated with these stocks.