During my recent due-diligence trip to Shanghai, I got a chance to validate my investment thesis that China-Biotics (CHBT) is my top stock pick based on its 0.16 PEG ratio and Enterprise Value / fiscal 2011 EBITDA multiple of 1.7x.
Sean Wright did an excellent job of reporting on what was learned from reviewing the bank statements, tax filings, and speaking with the 3 distributors and 4 bulk customers on Investor Day. You can read what he wrote at: China-Biotics: What Really Happened at the Investor Day or my detailed blog. In this article, I will share other items I learned from my first hand visit at China-Biotics.

Retail Operations
The Investor Day started with a trip to the Pudong facility where China-Biotics produces their Shining retail products that currently represent 60% of sales.

The Company showed approximately 10 high quality television commercials that China-Biotics has used over the years to advertise their various Shining retail products. We toured the Pudong facility and saw several rooms from behind glass windows, including a control room, a fermentation room with three medium sized tanks (Pudong has six tanks total), and a room with two high speed patented machines that inject gas into the aluminum packaging to preserve the probiotics from spoiling. The machines were pumping out the capsules quickly and another investor calculated that they were coming out 10-12 capsules per second. The Pudong capacity expansion of 30% is still on schedule, and will be finished before the end of FY2011 with a total cost of no more than $4 million.
A presentation was given regarding the probiotics industry as well as three pages detailing the addresses and opening dates of the company's 103 retail locations as of 6/30/10. The CFO revealed that 64 locations were 4-wall stores and 39 were counters within stores. The CFO explained that the company was continuing its first quarter consolidation during the second quarter in favor of using its 27 distributors that currently represent approximately 90% of retail sales.
The CFO said that the list of addresses on their website was simply a representative list of retail locations of Shining branded 4-wall stores, Shining counters, and store shelves supplied by distributors. Since distributors represent thousands of points of sale, some of the addresses of the distributor locations on the company website needed to be corrected. Based on my trip to Shanghai, I posted photos of 9 retail locations that the short sellers claimed did not exist. Of these 9 addresses, 6 had slightly incorrect addresses of the distributor locations and 3 really existed. There are two more addresses that were removed because one was a Dia supermarket and one was a Hualian supermarket that have moved. The necessary corrections have been made to the China-Biotics website.
During our tour of the retail outlets, we visited two Shining branded retail outlets opened in 2007 and two retail outlets opened in 2010. As part of the consolidation effort, new retail stores were opened to accommodate existing customers who have had their prior retail outlets closed. (click photos to enlarge)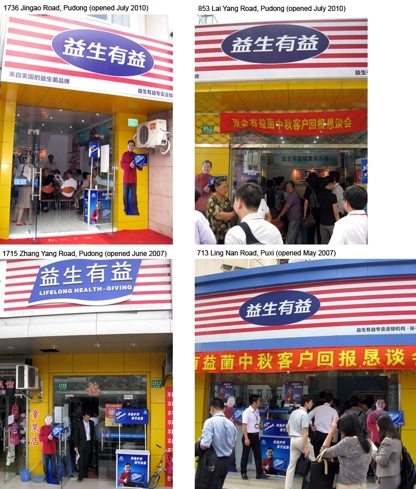 During our retail tour, we visited an Auchan brand supermarket that is supplied by a distributor. The store was very large and reminded me of a Costco. The Shining products were displayed prominently in the store.
The facility is massive and has cost $28 million to build Phase 1 and another $18 million for Phase 2 for a total of $46 million. We started our tour viewing the R&D lab on the second floor of the main building (all R&D previously at Pudong is now at Qingpu). The third floor has administrative offices for the sales team and executives. Currently, there are 40 professionals in the R&D department with 90% of them having Masters or PhD degrees. They anticipate having 60-70 R&D professionals in one year. Here is a photo of me with one of the many R&D labs in the background. I am holding a box of Shining Probiotic Protein Powder that I bought at the Auchan supermarket. I started taking it daily and it tastes great.
We took a tour of the 100 metric ton production line, which had a total of 16 tanks of various sizes (some very large spanning two floors and others that were man-sized). There was also a 50 metric ton production line with fewer tanks. We did not tour the Phase 2 building since it was still in the process of completion for June 2011. The equipment for Phase 1 was very impressive and immaculate as shown in the photo below. We saw the entire Phase 1 operation showing all of the production steps necessary to make probiotics, including:
Seeding

Fermentation

Centrifugation

Emulsification

Freeze-drying

Grinding

Packaging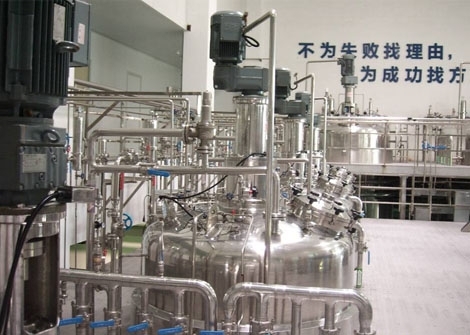 Here are some photos of outside the Qingpu facililty as well as a short video I posted on YouTube.
Several employees within Sales and R&D gave a presentation. Here are the highlights:
Building new agro/feed specific manufacturing plant in Yangling

Continue with joint R&D program with Northwest A & F University

The R&D Center has the following capabilities: (1) Strain Screening & Research, (2) Strain Production Process Development, (3) Basic Technology Development, (4) Probiotics Application Development, (5) Sensory Test, (6) Physico–Chemical & Biological Analysis

The R&D professionals have a broad academic background, including microbiology, fermentation, chemical engineering, food science and engineering, analysis, etc.

Long-term cooperation with International Probiotic Association

Active engagement with China Dairy Industry Association

Notable achievements include: (1) 4 patents + 8 pending for approval, (2) 6 brands registered, (3) 10 papers published
Mr. Jinan Song, CEO, Closing Remarks
Mr. Song closed the 11-hour Investor Day with a speech. Here are my translated notes from his speech. You can read Sean's Seeking Alpha article for more details, but I did get a chance to meet with the Mr. Song and the CFO privately during my trip to Shanghai to answer a few more questions I had. I learned that 11 industries will need probiotics on a massive scale, including:
Dairy

Beverages

Bakery

Pet food

Animal feed

Aquaculture

Fertilizer

Cosmetics

Water treatment

Pharmaceuticals

Dental product
I was very impressed by Mr. Song's passion for his business, vision for the future and determination to grow his business. Mr. Song seemed very sincere and gracious. He indicated a desire to be more transparent to investors and committed to increasing shareholder value. I left Shanghai 100% convinced that China-Biotics has the best long-term upside of any investment in my portfolio given its growth prospects, high barriers to entry, margins, and severely discounted valuation as compared to its comparable companies as highlighted in this recent article.
Disclosure: Author holds a long position in CHBT