Note: This article has been revised since it was first published on Seeking Alpha on June 20 to reflect updated information provided directly by NRG eVgo regarding the number of EV charging stations it has installed in California as of June 2014.
Sometimes the stereotype fits. In the case of NRG Energy (NYSE:NRG) and Car Charging Group (OTCPK:CCGI) the storyline of the big, slow, lumbering giant being out-maneuvered by the nimble, tiny start-up fits perfectly. In the time NRG's subsidiary eVgo has opened 98 of its Freedom Stations (usually comprised of two chargers), Car Charging has become the largest independent owner/operator of public EV charging stations in the U.S. with roughly 7,000 public publicly accessible EV chargers.
While Car Charging has locations all across the country (smartly concentrated in urban areas where overnight charging in a private garage is often not an option), NRG only has a handful of Freedom Stations in Texas, California, and the Washington D.C. area. Of those, the only place NRG seems to be making a competitive effort to grow is California, and that's only because it's being forced to do so.
Growth at Gunpoint
NRG agreed to buy Dynegy's California assets from Blackstone Group in 2010. In 2012, the Federal Energy Commission ("FERC") arranged a settlement between the California Public Utilities Commission (CPUC) and Dynegy for damages related to manipulating energy markets during the state's energy crisis ten years earlier. As a result, NRG ended up on the hook to spend more than $100 million installing 200 public EV charging stations in certain California metropolitan areas and making 10,000 parking spaces ready for EV charger installation by 2016. While the former required NRG to build and operate functioning EV charging stations, the latter merely required NRG to build charging "arrays" and "stubs;" the basic electrical infrastructure to support the eventual installation of EV chargers. These "Make-Readies" (as they are referred to in the settlement) are roughly analogous to a cable company laying fiber optic cable in a neighborhood so residents can be connected when and if they decide to subscribe to the company's cable TV service.
Interestingly enough, when the settlement was first approved, rival EV charging service provider ECOtality moved to block it. The company feared that the settlement was a blessing in disguise for NRG because it granted a de facto monopoly of EV charging services in California.
A year and a half later, NRG finds itself outmaneuvered in California by Car Charging. Though the settlement set a goal of installing 1,000 Make-Ready Stubs by the end of 2013, NRG has only installed 162 as of June 5, 2014. In terms of Freedom Stations, it seems to be getting better traction with 37 operational as of June, and an additional 16 DC fast chargers installed at Nissan dealers. Even if NRG meets the settlement's required goal of 200 stations by 2016, however, its charging stations will still be outnumbered by Car Charging's stations in the state by about 2 to 1 (see chart, below).
That assumes of course that Car Charging won't also grow its California network over the next two years. This is highly unlikely, considering Car Charging's appetite for growth. Within the last year and a half, Car Charging has acquired just about every direct competitor but NRG's eVgo. Its latest and greatest acquisition of ECOtality's Blink Network assets added about 340 EV charging stations to the 125 locations Car Charging already had in California. Even in DC fast chargers, the centerpiece of every eVgo Freedom Station, Car Charging not only leads with at least 70 but has another 190 already paid for in inventory (thanks to the Blink asset acquisition) that it can deploy to upgrade its existing level 2 locations.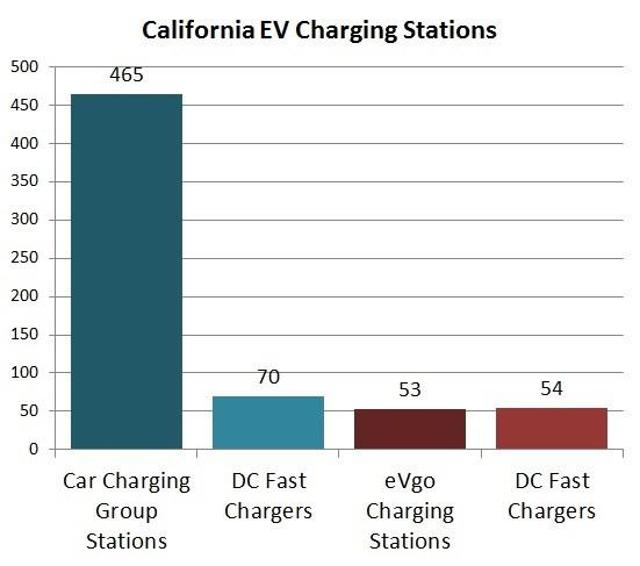 A Giant Bound by Red Tape
California EV owners have been discouraged by the snail's pace of NRG's progress. Some feel the company is dragging its feet in order to stretch-out the cost of the settlement. A detailed review of the Settlement Year 1 Progress Report to the CPUC, however, tells a more nuanced story of how excessive government involvement and an inferior business model have conspired to hamstring NRG.
One of the problems when the government gets involved in a project like building out a statewide EV charging infrastructure is inflexibility. If things don't go to plan, it can literally take "an act of Congress" to change course. The settlement subtly divides the project into dedicated and undedicated charging projects. The undedicated charging project is referred to as the Public Charging Ecosystem Project. This is the part of the settlement that requires NRG to install 200 Freedom Stations across California under its eVgo subsidiary. This project is considered undedicated because the individual charge points are not associated with a single, dedicated eVgo subscriber.
The dedicated charging project is referred to as the EV Charging Station Project. It is under this project that the 10,000 Make-Ready Stubs are being installed. The settlement mandates that the largest portion of the Make-Ready Stubs be installed at multi-family housing or workplace locations, with a smaller percentage mandated for "public interest sites" such as universities and hospitals. This is smart, since most EV charging occurs at home overnight or in places where an EV driver might otherwise be expected to regularly park for an extended period of time. For some inexplicable reason, however, the settlement stipulates that any charging point that is installed under this program must have a unique eVgo charging service subscriber associated with it.
It's difficult to say who burdened the project with this requirement. Perhaps it was NRG, since its business model requires that chargers at apartments and workplaces only be installed when a specific resident or employee decides to become an eVgo subscriber. In any event, the first annual report on the project says "NRG has encountered serious challenges closing properties on the dedicated charging model." For example, the settlement failed to take into account that requiring a dedicated user before installing a workplace charger requires an employee not only to subscribe, but also pony up an additional $50 to $75 per month for a reserved parking spot. Ironically, the report states that the CPUC itself refused to have Make-Ready Stubs installed at its own facilities. Reducing driver subscription rates and eliminating early termination fees has only had a marginal impact on uptake, while decreasing revenues and increasing risk for NRG.
There are other examples of how government involvement is dragging NRG down. A seemingly arbitrary restriction of the settlement allows no less than ten Make-Ready Stubs per Make-Ready Array. (Think of an array as a wall socket and stubs as power cords.) Multi-family installations are further hamstrung by this requirement, since the modern "garden-style" apartment complex is spread out, making it difficult for NRG to abide by the capricious ten stubs to one array minimum.
On the Public Charging Ecosystem side, underperformance is guaranteed by the settlement's stipulation that at least 20% of all the Freedom Stations be installed in low-income areas. This may be good politics, but it makes little sense from a business perspective considering that the cheapest Nissan Leaf is currently priced at over $21,000 (after federal tax savings), making it an unlikely choice for a low-income consumer. Consider also that each Freedom Station has a DC Fast Charger that users must pay a premium to use. This is analogous to premium gasoline, demand for which is typically light in low-income areas. Predictably, the first annual report showed that the one Freedom Station operational at that time in a low-income area was substantially underperforming those in higher-income areas.
Free of government intervention, Car Charging has adopted a business model that doesn't require dedicated subscribers and is free to pursue the placement of charging stations in locations that make economic sense. It also goes a step further than eVgo to make a property owner's decision to install EV charging equipment easy. Though both companies will pay for the equipment and installation, Car Charging will also offer the property owner a share of the revenue. It's no wonder Car Charging is miles ahead of eVgo in the battleground of California.
An Acquisition in the Offing?
Overall, the hamstrung nature of NRG's work in California is reminiscent of the excessive government involvement that put ECOtality on the road to bankruptcy. In that case, Car Charging ended up with ECOtality's Blink Network. With the CPUC now in the driver's seat of NRG's biggest push to build out EV charging infrastructure, a failure of a different kind appears imminent.
With a market cap of over $12 billion, NRG isn't in danger of running out of cash, but with the CPUC mandating that it use an inferior dedicated subscriber business model, along with other nonsensical restrictions, it is losing market share fast to Car Charging. When the smoke clears, NRG may have no choice but to consider acquiring tiny OTC-traded Car Charging, unprofitable though it may be. This of course couldn't be a bad exit at all for the company's institutional and individual investors who probably had the foresight to see this coming.
Disclosure: The author has no positions in any stocks mentioned, and no plans to initiate any positions within the next 72 hours.
Business relationship disclosure: Market Exclusive is a team of analysts and writers. This article was written by Carlos Uribe, one of our Group contributors. We did not receive compensation for this article (other than from Seeking Alpha), and we have no business relationship with any company whose stock is mentioned in this article.
Editor's Note: This article covers one or more stocks trading at less than $1 per share and/or with less than a $100 million market cap. Please be aware of the risks associated with these stocks.