Target (NYSE:TGT) has had a tough year. In its last fiscal year, it invested massively in its expansion into Canada, but results, though improving, have not been encouraging so far. Last winter, it was hit by a massive data breach that, coupled with poor operating performance led to the resignation of its CEO. The 1-year stock price chart shows that Target had been trailing the S&P 500 even prior to the announcement of the data breach in December 2013, but its underperformance has only exacerbated since then.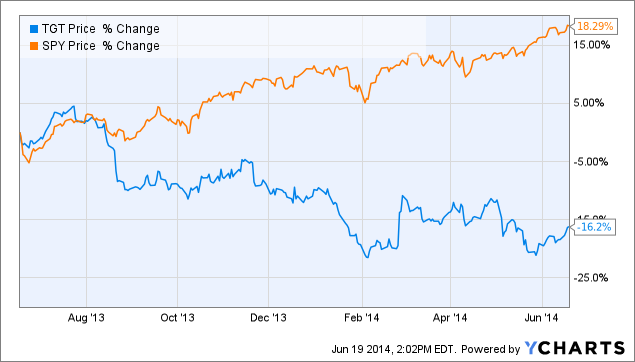 Business overview
Target has grown its sales (excluding the credit card business) from $63.4B in FY09 to $72.6B in FY13, a modest annualized growth rate of 3.2%. After three years of steady growth in comps, ranging between 2%-3%, growth halted in FY13, with comps coming in at -0.4%. The critical fourth-quarter sales were impacted by harsh winter weather in several parts of the country, as well as by the data breach, which put a dent in holiday sales. This resulted in an EPS of $3.07 in 2013, the lowest since 2008.
Store growth and comp assumptions
Before its rapid expansion into Canada last year, where it opened 124 stores, Target had a very measured approach to store growth. During the three years past, it only opened between 10 and 15 stores every year, which gave it the opportunity to fine-tune store performance. The Canada expansion was contrary to its usual philosophy, and operating results have been disappointing. In fact, Target calls out its Canada performance as a key risk in its latest 10-K. Canadian stores operate at roughly 60% the gross margin of the US stores (around 18% compared to 30%), and Target simply has to do better. For FY14, Target is communicating flat-to-2%+ comp growth in the US. In my model, I am assuming 1% growth in comps for FY14, growing to 2.5% thereafter as it improves operating performance in its Canadian stores. This is an optimistic assumption, as it is near the high range Target has achieved prior to the decline in 2013. I am also assuming that Target returns to its conservative growth rates of ~15 stores/year from here on out. My assumptions for comps and store growth are below: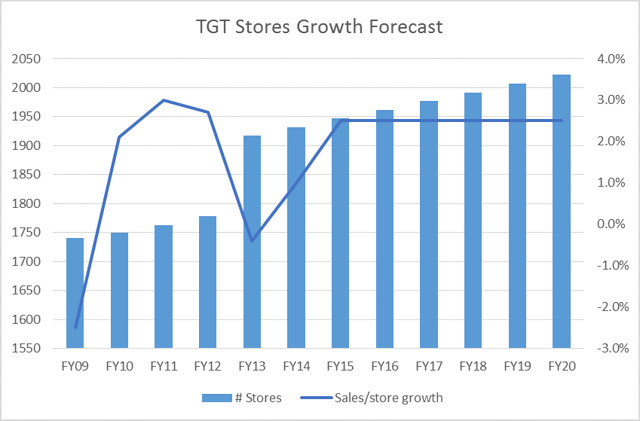 Margins and expenses
I have assumed that Target manages to increase gross margins back up to 30% by FY15, and is able to maintain these going forward. SG&A expenses are modeled at 20%, in line with past performance.
I am also modeling that capital expenditures and depreciation will roughly net to zero in the out years. This has clearly not been the case in 2014, with the investment in the Canada business, but capex should moderate from FY15 on out.
Valuation
Using these assumptions for store growth and margins, with a discount rate of 10% and a terminal value growth rate of 3%, I get to a Fair Market Value (FMV) of $47/share, which is a 20% discount to current prices. This suggests that Target is still overpriced at current levels, even after underperforming the market. I believe my assumptions around comp growth are on the optimistic side, and there is further downside to the price if the company is unable to arrest the decline in store visitors soon. The complete valuation model is attached below.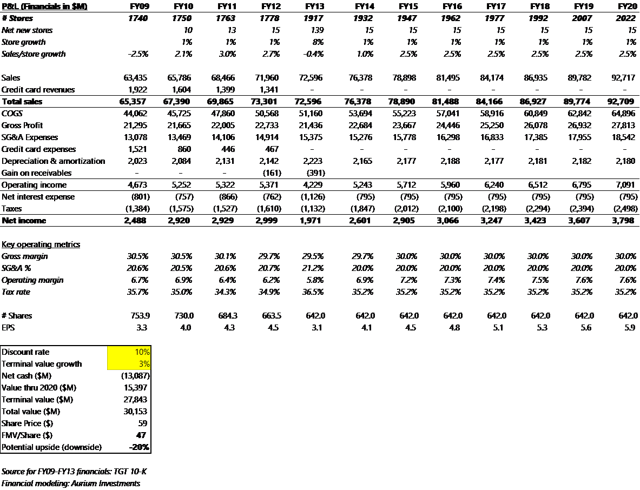 Summary
Target is still a valuable (and well-loved) brand that is facing several operational challenges. However, it continues to be priced at a premium to its performance on the ground, and appears to be overvalued, even when using optimistic assumptions around growth and margins. It has its work cut out to reverse the decline and win back customer trust. Till that time, I would advocate staying away from the stock.
Disclosure: The author has no positions in any stocks mentioned, and no plans to initiate any positions within the next 72 hours. The author wrote this article themselves, and it expresses their own opinions. The author is not receiving compensation for it (other than from Seeking Alpha). The author has no business relationship with any company whose stock is mentioned in this article.
Additional disclosure: I am short TGT $45 and $40 puts.