I haven't written much about Lightstream Resources (OTC:LSTMF) in recent months, because quite honestly, to do so is quite embarrassing.
I've been bullish on Lightstream's primary product (oil), its specific assets (horizontal light oil plays) and its management team for a long time.
And so far, that experience has been painful. Excruciatingly painful.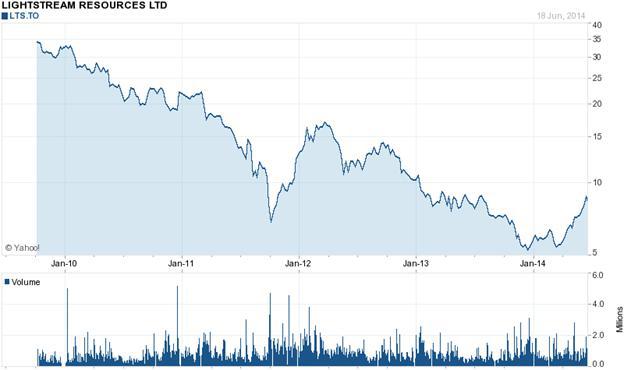 It isn't quite as bad for me as the chart above might suggest, because I haven't been on board for the entire ride. Shares of Lightstream started trading above $35 in 2009, and today, sit somewhere around $8.50.
I started buying shares of Lightstream when it dipped under $20, and have been averaging down on my cost base ever since, using both new proceeds and reinvesting the dividends that Lightstream has paid me.
This experience has been unpleasant, but the constant averaging down has helped make it better (especially with the recent share price activity)
The Problem Has Been The Balance Sheet
The stock market has voted clearly that it isn't happy with the way that Lightstream has been run. By all accounts, investors think that Lightstream carries too much debt.
With a debt-to-cash flow ratio that has at times exceeded 3-to-1, Lightstream is perceived as having too much debt by investors. The Canadian market has no tolerance for leverage. If Lightstream was a U.S.-listed and operated company, where more balance sheet leverage is the norm, I believe the company's valuation would have been different.
But this is a Canadian company, so the Canadian market gets to vote on what it thinks of the balance sheet.
I'm certain that Lightstream never planned on having this kind of leverage ratio. What thrust this upon the company was a "put" option on $750 million of convertible bonds that occurred in early 2013. Lightstream had issued $750 million of convertible bonds (convertible at $39.61 per share at the option of the company) that were due in Feb 2016, but had a one-time provision that allowed holders to convert them to shares at the prevailing market price.
When Lightstream's share price headed south, it became very evident that these convertible bonds that the company expected would be redeemed for shares at $39.61 would instead either have to be repaid with cash, or converted to shares at a much lower price, causing a horrific amount of dilution.
So Lightstream did what it needed to do, and repaid the convertible bonds with cash that was funded by long-term notes and avoided the dilution.
The end result was that $750 million that was meant to be dealt with through equity issued at nearly $40 was instead covered with debt.
Dealing With The Problem
In late 2013, Lightstream announced that in 2014, it would deal with its leverage levels by selling $600 million of non-core assets over two years. The company indicated that $300 million would be sold in 2014, and another $300 million in 2015.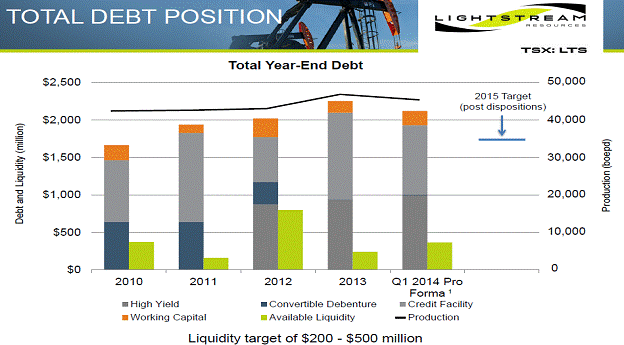 So far, the company has more than delivered, having already exceeded its 2014 divesture target of $300 million.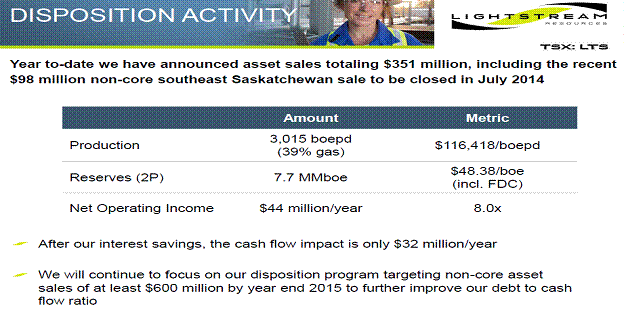 The market has voted its approval of the asset sales that have occurred to-date. Shares have rallied from not much over $5 to $8.50 in a couple of months.
There is a long way to go, though, before long-term holders will have much to smile about.
I believe that in the near term, there is reason to believe that the share price rally will continue. I say that because Lightstream currently has another two properties out for bid that the market likely isn't aware of. Combined, I believe the proceeds are going to be a big positive surprise for the market, and a catalyst for the share price.
The first is Lightstream's East Pembina properties: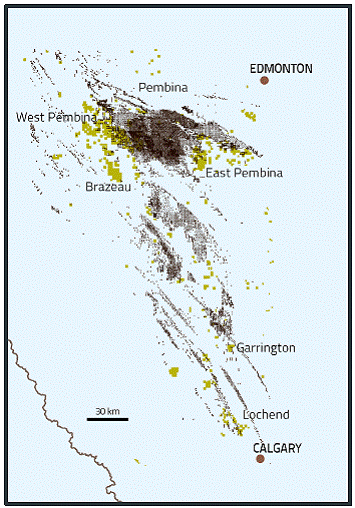 These East Pembina assets have the following characteristics:
835 barrels per day of production
Netbacks of more than $50 per barrel
11 million barrels of proved and probable reserves
This is high netback oil-weighted production. At $20 per barrel of proved and probable reserves, Lightstream would receive $220 million of the property.
Production at East Pembina is down to 835 barrels per day, because the company has been spending its capital in West Pembina, which it prefers. East Pembina is a non-core asset for Lightstream. At $150,000 per flowing barrel, the 835 barrels per day would be worth $125 million.
Either way, this could be a significant disposition.
The second property appears to be Lightstream's conventional assets in Southeast Saskatchewan. This one is considerably bigger, and is going to make some noise for Lightstream shareholders, if sold: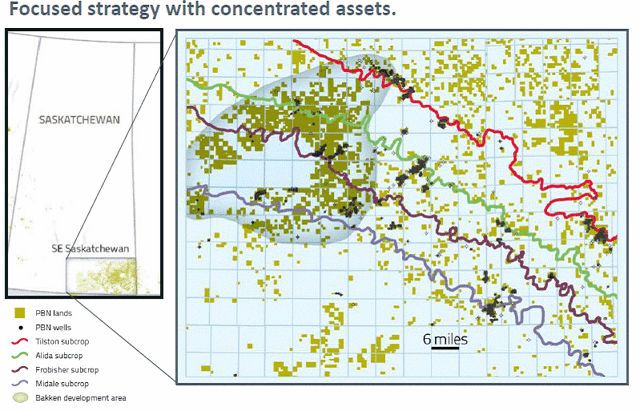 Click to enlarge
The Southeast Saskatchewan property has the following characteristics:
April 2014 production of 4,050 boe/day (95% oil and liquids)
First-quarter 2014 net operating income of $18.4 million
Netbacks of $57.43 in Q1 2014
The production here should have very low decline rates, so it should fetch a pretty decent multiple. At $120,000 per flowing barrel, it would be worth $480 million.
That doesn't look unrealistic next to the expected $80 million of annual cash flow the property would produce. $480 million would be 6 times cash flow, and is actually under the prices Lightstream has been realizing.
These Positive Catalysts Are Welcome
While my experience as a Lightstream shareholder has not been thrilling to-date (to say the least), it is nice to have these potential divestitures in the near future. If completed, this would mean that Lightstream will have exceeded its $600 million target for dispositions by a large margin, and have done it in less than half the time expected.
Lightstream appears to be intelligently taking advantage of a good market to sell oil and gas properties into, and is selling more, rather than less.
2014 is finally a year looking bright for Lightstream.
Disclosure: The author is long LSTMF. The author wrote this article themselves, and it expresses their own opinions. The author is not receiving compensation for it (other than from Seeking Alpha). The author has no business relationship with any company whose stock is mentioned in this article.
Editor's Note: This article discusses one or more securities that do not trade on a major U.S. exchange. Please be aware of the risks associated with these stocks.