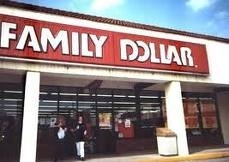 It's been a good week of sorts for the retail industry after Wal-Mart (WMT) become the first major retail giant to jump in the African market with a $4 billion bid for South African wholesaler Massmart.
And now Family Dollar Stores (FDO) has forecast profits for the current fiscal year that are bound to beat the estimates of even the most skeptical of analysts. The forecast not only sent the shares up 1.6%, but also paved the way for the company to announce plans to open 300 new stores during fiscal 2011, up 50% from fiscal 2010. With retail giant Wall Mart looking at overseas destinations to churn out profits in a sluggish US economy, Family Dollar Stores, which prices most of its goods under $10, has attracted consumers struggling in a weak economy.
The company also posted a fourth-quarter profit that beat analysts' estimates and said it had authorized a new $750 million share repurchase plan while it's expecting to reap sales benefit of longer store hours, and an overhaul to give more room to fast-moving items like food introduced earlier in the year.
Retail analysts across the board have been impressed by the recent work-ethic of the company and are of the opinion that Family Dollar can continue to be dollar store of choice, given the significant opportunities the company has to narrow its productivity gap compared to rival Dollar General (DG).

Impressive Figures: Family Dollar forecast fiscal 2011 earnings of $2.95 to $3.15 a share on a same-store sales increase of 5% to 7%. Analysts on average forecast $2.96 a share. Net income in the June-August quarter was $74 million, or $0.56 a share, beating the analysts average level of $0.51 a share, compared with $60.1 million, or $0.43 a share, a year ago.
Retail ETFs
As the retail space makes a positive move on account of improving global and domestic economies, here are a few Retail ETFs worth considering.

PowerShares Dynamic Retail (PMR): The index is comprised of stocks of U.S. retail companies. The Index is designed to provide capital appreciation by thoroughly evaluating companies based on a variety of investment merit criteria, including fundamental growth, stock valuation, investment timeliness and risk factors.
Data as of 2010-09-03
PMR Top Ten Holdings

1. Limited Brands, Inc. (LTD): 5.47%
2. Wal-Mart Stores, Inc. (WMT): 5.37%
3. Dollar General Corporation (DG): 5.12%
4. Target Corporation (TGT): 5.00%
5. Bed Bath & Beyond, Inc. (BBBY): 4.48%
6. Home Depot, Inc. (HD): 4.47%
7. Gap, Inc. (GPS): 4.41%
8. Best Buy Co., Inc. (BBY): 4.35%
9. Amerco, Inc. (UHAL): 3.61%
10. Pricesmart, Inc. (PSMT): 3.38%

Expense Ratio: 0.60%
SPDR S&P Retail (XRT): The S&P Retail Select Industry Index represents the retail sub-industry portion of the S&P TMI. The S&P TMI tracks all the U.S. common stocks listed on the NYSE, AMEX, NASDAQ National Market and NASDAQ Small Cap exchanges. The Retail Index is an equal weighted market cap index.
Data as of 2010-09-03
XRT Top Ten Holdings

1. Priceline.com, Inc. (PCLN): 2.69%
2. Expedia, Inc. (EXPE): 1.89%
3. Family Dollar Stores, Inc. (FDO): 1.88%
4. AutoZone, Inc. (AZO): 1.88%
5. Monro Muffler/Brake, Inc. (MNRO): 1.87%
6. Dollar Tree Stores, Inc. (DLTR): 1.83%
7. Advance Auto Parts, Inc. (AAP): 1.83%
8. Casey's General Stores, Inc. (CASY): 1.80%
9. AutoNation, Inc. (AN): 1.80%
10. Sally Beauty Holdings, Inc. (SBH): 1.78%

Expense Ratio: 0.35%
Disclosure: no positions