For nearly a year now, various analysts have been discussing the possibility that Apple (NASDAQ:AAPL) would take billionaire investor Carl Icahn's advice and purchase Tesla Motors (NASDAQ:TSLA). Equally well publicized was Elon Musk's decision to make all of Tesla's patents available to whatever companies wanted to use them without recourse. I believe that when these two stories are looked at in concert, the question can be settled once and for all: regardless of Apple's appetite, Tesla is not looking for a buyer and would be unlikely to agree to be purchased.
A Poison Pill?
Arguably, Tesla's two largest assets are its intellectual property and Elon Musk himself. While Musk justified the patent decision - "If we can do things that don't hurt us and help the U.S. industry, then we should do that" - he almost certainly made his company far less attractive to a potential suitor. While Musk's name is often mentioned within the same group of visionaries as Steve Jobs, one must wonder if the Apple culture could successfully integrate such a huge personality into its ranks at this point. The combination of a weakened patent portfolio and a decidedly independent Musk make the combination highly improbable.
But Could It Work?
As recently as last month, an article in Forbes quite convincingly laid out the case for an Apple acquisition of Tesla. Robin Lewis astutely outlines why Apple, specifically Tim Cook, needs a 'next big thing' on a Tesla-like scale, and why Tesla could benefit from Apple's deep pockets. Perhaps his most compelling argument, however, is the odd, but powerful intersection the two firms could build in attacking the challenge of the 'Internet of Things.' The concept refers to integrating the real world and the virtual one; where Apple has begun to focus on the interactive home, Tesla has the car market in its sights. A unification of these concepts would be quite powerful.
Lewis also mentions some of the opportunities Apple and Cook have missed, specifically the acquisition of Nest by Google (GOOG,GOOGL) earlier this year. Apple is sitting on over $150 billion in cash, and many investors, Icahn most vocally, want to see it spend some and find the next hot thing. A "Tesla iCar" would undoubtedly be the hottest vehicle to hit the market, possibly ever. With that in mind, Apple protects its intellectual property fiercely, as does Google and others.
But Really Why Not?
Analysts have been quick to point out that Musk's move may have been a necessary one in order to bolster the development of the industry as a whole. This group contends that Tesla's existence, or at least its ability to flourish, is tied to the overall growth of the electric vehicle market - specifically the development of a national network of charging stations. Lewis suggests that Cook's abilities in supply chain management could really serve Tesla.
The other side of the argument contends that Tesla is not in jeopardy, comparing the company to other luxury car makers that have persisted for years. While I do not see this as a perfect corollary - you can fill up your Ferrari at any gas station - as a luxury car maker, Tesla is secure. Musk, however, has made clear that he is looking much bigger than the niche Tesla now holds, expecting to roll out an "affordable" model in the next few years. This level of project would be benefited by more buy-in from the major automakers.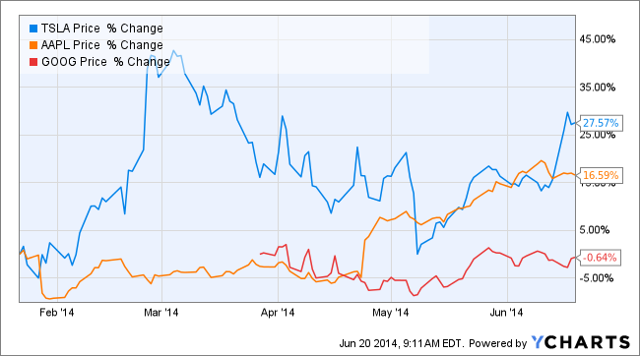 Musk has not completely ruled out the idea in public statements, and the opening up of the Tesla patent portfolio could always be reversed, but I believe the move is a strong sign that there is little chance the two firms would join forces. The open source model is more in keeping with the Google model, but Tesla is likely just fine on its own. While in the immediate term, closing the topic is probably bearish for Tesla shares as well as Apple shares, longer-term it should have little impact. Both stocks look strong at current levels, and while I am a buyer of each, I do not see a merger in the future.
Disclosure: The author has no positions in any stocks mentioned, and no plans to initiate any positions within the next 72 hours. The author wrote this article themselves, and it expresses their own opinions. The author is not receiving compensation for it (other than from Seeking Alpha). The author has no business relationship with any company whose stock is mentioned in this article.