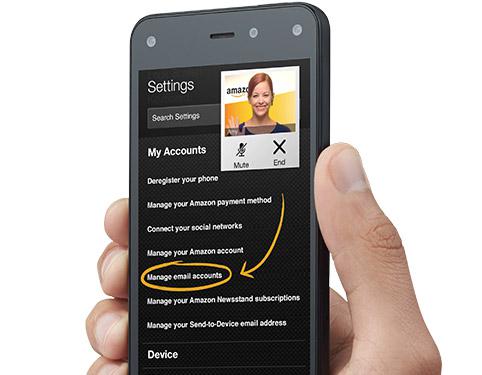 Source: Gizmodo.com
Reports have long indicated that Amazon (NASDAQ:AMZN) was working on a Kindle Fire smartphone, and on June 18th, Amazon officially announced its impending release. Amazon has already begun accepting pre-orders for the phone, and it is expected be released on July 25th. The phone's specifications are similar to the standard for a mid-range smartphone today, but investors' reactions were all but standard.
At 1:30 PM on Wednesday, Amazon shares stood at about $325, but by the closing bell they had risen to $334.42. The announcement of the Fire was expected at Wednesday's event, but shares continued to rise after 1:30 PM, before falling slightly after hours.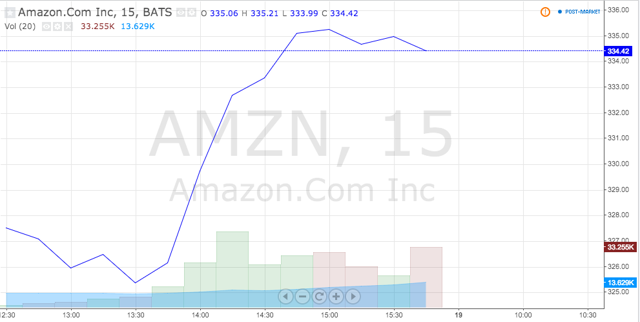 Source: Author designed
The launch of the Fire phone comes after a difficult year for Amazon, where the online retailer and technology company has been under increased scrutiny over its razor-thin profit margins. Unfortunately for investors looking to see Amazon start to pull significant profits and reap the benefits of its massive investments in areas that are likely to take longer to pay off, the Fire phone continues this trend of trading short term profit for long term customer base growth.
When examining the potential for a successful smartphone launch with the Fire, it's important to define what would constitute a success for Amazon and its current strategy.
For the past few years, and largely since the launch of the Kindle Fire in 2011, Amazon has sold its devices at or near a loss. Selling at or near loss has allowed Amazon to gain millions of new customers for its other, more profitable services. This strategy has helped take Amazon's revenue from $6.92 billion in 2004, when it was still largely an online book and product store, to over $74 billion in 2013.
Amazon Prime has over 20 million members according to CEO Jeff Bezos. Prime members that are largely driven by devices like the Fire represent a larger number of Amazon's revenue than their membership as a percentage of Amazon's customer base. This is largely because the now $99 annual fee and its associated benefits of providing free 2 day shipping on all orders and free movies and TV shows incentivizes greater use of Amazon for all online purchases. Amazon also makes a profit on each Prime member's annual fee, and further growth in the Prime user base could help increase Amazon's profits from the Prime division significantly. It is estimated by Morningstar that 30-40% of Kindle Fire tablet buyers converted to paying Prime members after buying the tablet and using the free trial built into the tablet.
A 30-40% conversion rate for buyers of the Fire phone would be extremely profitable for Amazon, and feed more users back into the Amazon ecosystem. Because the Fire comes with a one year full membership to Amazon Prime, conversion rates are likely to be even higher, particularly as Amazon continues to add new content, like its May addition of much of the HBO library.
The smartphone marketplace is extremely competitive. While there have been many new entrants over the past five years, Samsung and Apple remain dominant with 46% combined market share. Despite this, there are many reasons to be optimistic about the prospects for the Fire.
For one, Amazon has the benefit of controlling both the content and hardware of the Fire. Other smartphone manufacturers like Samsung make the majority of their revenue at the point of sale of the device. Amazon, on the other hand, is likely to continue its trend of selling devices near or at a loss, and this gives it a discernible competitive advantage. The potential revenue from each user for Amazon goes far beyond the profit from the sale of the device.
Like Apple (NASDAQ:AAPL), Amazon is in control of the app store as well as content markets on its device, but arguably has an even greater profit potential per user. Unlike Apple, Amazon also has Amazon Prime Instant Video, a Netflix competing video streaming service, one of the largest ebook libraries on the planet, and a highly profitable app store. The Amazon app store, though small in comparison with Apple and Google at 240,000 apps, is very well monetized. Data from a study by mobile analytic company Flurry found that Amazon made almost four times the revenue per active user than Google's (NASDAQ:GOOG) Play, the largest Android market.
At the same time that Fire and the users it gains will bring users to the Amazon ecosystem of products and services, the phone is also attractive to users who are already users of Amazon's services.
CEO Jeff Bezos said that in building the Fire, the aim was simple. "Can we build a better phone for our most engaged customers? Can we build a better phone for our Amazon Prime member?" Amazon's incentive in developing the Fire is obvious. Prime members already stream their movies, read their books, watch their movies, and use their tablets on the Amazon ecosystem, and a smartphone was the logical next step. Besides the increased revenue more Fire users would drive through Amazon's content store, Amazon has also built in numerous features to help drive sales while improving the customer experience of using the phone.
Firefly allows users to take advantage of Amazon's servers and their phone's hardware to scan almost any book, song, or any other product and quickly check the price and buy from Amazon. This feature is likely to only facilitate the trend of "showrooming", where customers use physical stores as places to test and browse for products and buy them online from retailers like Amazon for superior pricing. While the technology is impressive, the essential features of scanning items to purchase them on Amazon are already available on Amazon's app for iPhone with the Flow feature.
This highlights an important concern over the launch of the Fire: almost all of the technology supposed to revolutionize the customer experience (and help Amazon turn that into increased profits) is already on Amazon's apps for other devices. Along with the phone's $199 price on a 2 year contract with AT&T and the phone is in almost every way similar to its competitors in the high end smartphone market. To truly make a dent in the smartphone marketplace, Amazon will have to compete further on price or offer more competitive and innovative features on the phone to take advantage of Amazon's vast library of content. Because of the nature of the launch of the Fire phone, it is unlikely to either revolutionize the way we use smartphones (and purchase online) or put a serious dent in Amazon's bottom line. The Fire is, however, an interesting indicator of where Jeff Bezos and Amazon see the company in the future expanding into ever more areas with the hope of continuously adding new opportunities to engage with customers.
In the end, what does the launch of the Fire phone mean for Amazon investors? While it's all well and good to put off profit in the short term for long term results, Amazon has continued to come under fire by investors, with the stock down 18% so far this year. If you're investing in Amazon for long term results, the Fire smartphone is likely a step in the right direction as Amazon evolves from internet everything store to a complex ecosystem of devices and content. At the same time, it's important to remember that Amazon is still, at its heart, an ecommerce company. As it expands into more businesses, there is a risk that the company will be overtaken by new and innovative rivals like Google's Shopping Express with its resources spread out.
Disclosure: The author has no positions in any stocks mentioned, and no plans to initiate any positions within the next 72 hours. The author wrote this article themselves, and it expresses their own opinions. The author is not receiving compensation for it (other than from Seeking Alpha). The author has no business relationship with any company whose stock is mentioned in this article.