Those who know me know that my stance on gold has basically been unwavering. Justifying my position through the fact that our government continues to print new money and that we have completely lost the association between our currency and redeemable value in metals, I'm permanently long Gold. I don't foresee my opinion changing on gold anytime soon; the same way I don't see my opinion on beer being delicious changing anytime in this lifetime.
As we are once again at the edge of uncertain geopolitical dustups, both in Ukraine and now in Iraq, analysts and pundits have shifted many of their talking points to gold - and the metal has rallied hard in the last week. As you can see, the metal made a pretty significant move yesterday - one of the biggest intraday moves I've seen it make since I've been paying attention. Give or take 15 seconds here and there for an ADD break, that's about 13 years or so.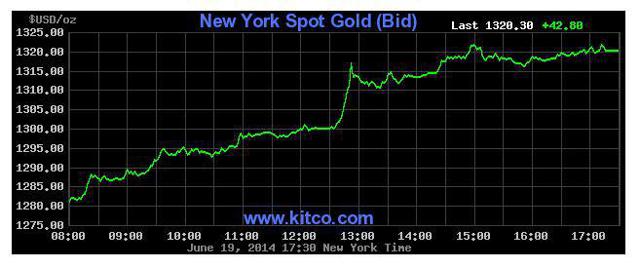 The move came as a result of both the Federal Reserve's Janet Yellen staying dovish (read: babysitting the markets) combined with the fact that Iraq has seemingly turned into a bigger mess than it was while under Saddam Hussein's rule. The FOMC minutes from earlier this week drove gold up yesterday, while some speculated that the Fed is ignoring inflation data and others came to the realization that rates are going to have to start to tick upwards at some point relatively soon.
On the military front, indecisiveness finally gave way at the White House and the President decided to send over 300 "advisers" to Iraq yesterday. I'm going to guess that these aren't exactly the same type of "advisers" that come in and measure office efficiency from a consulting firm. You know, the kind of "advisers" that bill you $150/hour to tell you what you already know is wrong about your company.

Could you imagine 300 of these guys getting off of a plane in the middle of Baghdad? Neither can I.
Regardless, back to gold. It's no surprise to me that with a little turmoil, people are retreating to gold. It's instinctive, just like the same reason that gold is held in reserve by central banks. Need a reminder that gold is, in fact, currency? Take five minutes of your day and watch Ron Paul carefully pack up Ben Bernanke's manhood into a mason jar and carefully hand it back to him.
Ron Paul: Do you think gold is money?

Ben Bernanke: No, it's not money. it's a precious metal.

Ron Paul: Even if it's been money for 6,000 years, somebody reversed that and eliminated that economic law?

Ben Bernanke: Well, its...its...an asset. I mean...it's the same....would you say Treasury Bills are money? I don't think they're money either, but they're a financial asset.

Ron Paul: Why do central banks hold it?

Ben Bernanke: Well, it's a form of reserves.

Ron Paul: Why don't they hold diamonds?

Ben Bernanke: It's...tradition...uhh...long-term tradition.

Ron Paul : (laughter)
While some are dismissing this recent gold buying as a melt-up, I'd argue it's a precursor of things to eventually come when people wrap their heads around the fact that, in truth, their currency in the U.S. is nothing but a sheet of paper.
Does that sound a little armageddon-ish to you? Yeah, it does to me too and I apologize. It's Friday and I don't usually wear my tin-foil hat on days leading into the weekend. But, I truly believe there's some correlation to the dollar sinking and gold rising. How long can you look at a trend like this USD/EUR chart and not want to get some money - some value - into something a little more concrete?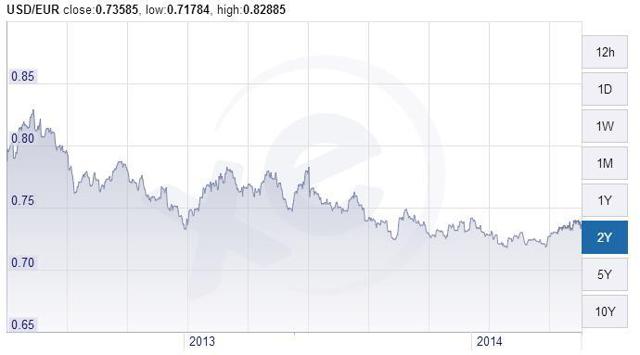 And I'm not some super savvy Forex trader. I'm just a regular guy with a small grasp on supply and demand. At some point, people are going to stop trusting the Fed to take care of us (likely when the Fed lets the next bubble burst), and gold is going to be the most coveted item that you could have in your portfolio.
Aside from the precious metal's unrivaled returns over the last ten years, it also acts as a hedge against down markets. The price will likely continue to move much higher in the long term, QTR feels.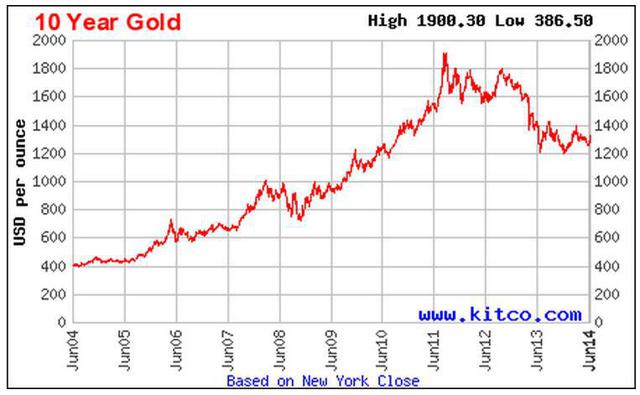 The reason you have to look at gold for the long term only is simple: the price is manipulated in the short term. If you don't believe me, read about my beef with Goldman Sachs last year, and how they bought gold off of their own downgrade. Analysts and institutions don't care about gold itself, they use it as a vehicle for trading - they would use it the same way if it was a derivative and the underlying asset was 59 boxes of shelled walnuts. As long as there's liquidity, there's upgrades and downgrades to be issued.
The point of the matter is that analysts use the short term to simply trade gold - go long-short, short-long, etc. - and make money off of the volatility. Any serious analyst that tells you they don't think gold is going to rise over a ten-year period from now shouldn't be analyzing anything - with the exception of perhaps making sure the urinals in the men's room have fresh cakes in them.
Gold is great to pick up for several reasons. The first obviously that it is a finite, non-renewable resource. This means, the more money that central banks print, the higher the value of gold is going to go (look long-term). Additionally, it's a hedge and locks in value for the long term. It does not, as many midguided anti-gold analysts will tell you, pay a dividend. The precious metal is our friend, and due to its finite nature in a market that's controlled by the Fed, why not pick up a little gold?
Gold and silver ETFs: GLD, SLV, AGQ, IAU, USLV, SIVR, ZSL, SGOL, UGL,DGP, GLL, UGLD, DZZ, SLVO, GLDI, DSLV, DGL, DBS, DGZ, DGLD, AGOL,OUNZ, TBAR, USV, UBG, GYEN, GLDE, , GLDL, GEUR, GGBP
Disclosure: The author has no positions in any stocks mentioned, and no plans to initiate any positions within the next 72 hours. The author wrote this article themselves, and it expresses their own opinions. The author is not receiving compensation for it (other than from Seeking Alpha). The author has no business relationship with any company whose stock is mentioned in this article.
Additional disclosure: I own physical gold.