At the time of Apple's (NASDAQ:AAPL) calendar 2013 Q4 earnings report, I was very bullish about the prospects for new and updated Apple products to revitalize Apple's growth. Until my most recent article, describing the prospects for Mac computer growth, I was still very optimistic about iPhone 6. In the article, I included a chart of sales and market share percent change for iPhone from Q4 2010 to Q4 2013. In stark contrast to the Mac's recent market share gains, iPhone's market share has declined gradually since Q4 2011.
Why the Declines?
I've updated the chart below with some data for Q1 2014 from IDC. The starting conditions as of 2010 Q4 were:
iPhone Unit Sales per quarter: 16.011 million (source Gartner)
Android Smartphone Unit Sales per quarter: 30.801 million (source Gartner)
iPhone Market Share: 15.83%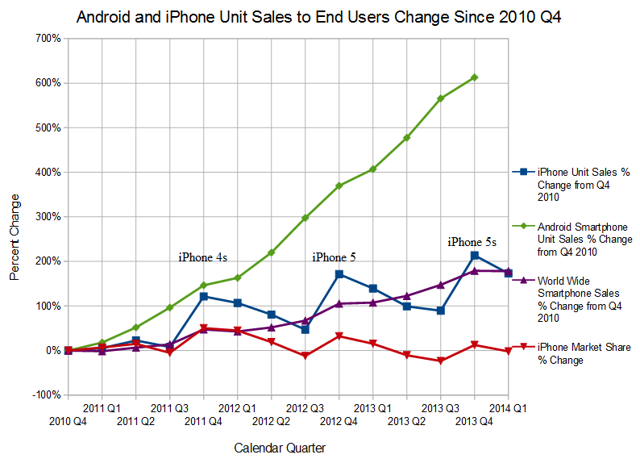 At the time I was writing the Mac article, I didn't want to dwell on the iPhone chart, but I was struck by the very different trend exhibited by iPhone sales. Just as the Mac's PC market share gains signaled competitive strength versus Windows (along with other factors I discuss in the article), the iPhone's share declines signal competitive weakness against Android.
What surprised me was how little difference the new iPhone models have made. Each iPhone generation has introduced important new features such as bigger screens, faster processors, and new iOS versions, yet the impact has been transitory and has lessened with each generation. The problem is not that iPhone's improvements aren't worthwhile; the problem is that iPhone's competitors keep improving as well.
Under the circumstances, iPhone sales growth has been driven mainly by growth in the overall smart phone market, and has kept pace with it. Android smart phone growth far exceeds iPhone, also suggesting relatively greater market strength.
When iPhone 6 (or whatever it will be called) is unveiled in the Fall, it is expected to have a larger ~4.6 inch screen, a faster 64 bit processor, and iOS 8. As far as I'm concerned, it will be the best smart phone on the market. But if the trend of the last few years continues, these improvements will only serve to restore briefly Apple's smart phone market share to about what it was in Q4 2010.
There are good reasons why iPhone 6's improvements will have little effect. Apple is only catching up in screen size to what most other phones have offered for several years. Apple's A7 64 bit processor was a breakthrough last year, but this year Apple will face competition from Android phones running 64 bit Intel (NASDAQ:INTC) and Qualcomm (NASDAQ:QCOM) processors. iOS 8, as great as it is, also seems to be playing catch up to Android in areas such as Widgets, cloud file storage, and notifications. So much of what makes iPhone great is "under the hood" and out of view for the average consumer.
The rumored iPhone "phablet", if there is to be one, will face similar tough competition in its class.
A Brief Flirtation
If great new features and technology aren't enough to produce lasting market share gains, what is? Here, I think the answer is pretty obvious: price. Price is the central advantage that Android has always had. I'm not just talking about a new cheap iPhone or even an old cheap iPhone like the 4s. I'm talking about a lower price for the flagship. Yeah, I know. Not gonna happen.
Apple briefly flirted with lower gross margins last year, getting as low as 37% in 2013 Q3, and their stock took a beating. With $150 billion in cash, Apple could afford to make less money, but it's evident that the current management doesn't have the stomach for it. Trading margin for market share is thinking a little too differently at Apple.
2014 Q4 iPhone Sales Projection
Baring a sudden gross margin change of heart at Apple, the sales impact of iPhone 6 in the Holiday quarter becomes fairly easy to estimate as a fraction of worldwide smart phone sales: iPhone market share will be about 16%, or what it was in Q4 2010. What the worldwide smart phone market will do is more uncertain. IDC has forecast that growth in smart phone shipments will slow down from the 39% growth of 2013 to about 20% in 2014. Assuming 20% y/y growth in worldwide smart phone shipments in 2014, Q4 puts worldwide unit sales at 338.4 million and iPhone sales at 54.14 million for a year-over-year increase of 7.8%. In 2013, the year-over-year increase was 15.6%
Lately, I've read bloggers exhorting readers to buy Apple because this quarter's iPhone sales are predicted to be higher than consensus estimates. This may not be bad advice, as the market often responds positively to such expectation "beats".
I tend not to focus on consensus estimates, which have often been wrong about Apple, but actual year-over-year quarterly growth performance. Unlike consensus estimates, this metric is not a matter of opinion. For iPhone, y/y unit sales growth has been in more or less steady decline since early 2011, as the chart below shows.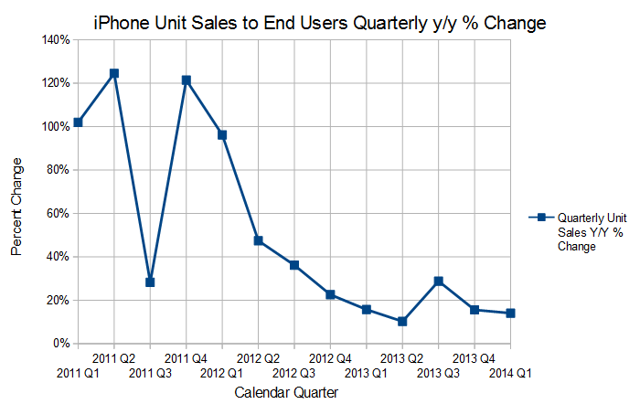 Chart data is based on Gartner's quarterly smart phone sales to end user data, which varies slightly from Apple's quarterly reports (sell through vs. sell in), with additional data from IDC for 2014 Q1 (as mentioned above). The IDC data is sell in rather than Gartner's sell through numbers, but I think they confirm the long-term trend nevertheless.
As I said earlier, the major uncertainty about iPhone sales performance is what the overall market will do this year. The smart phone market may not cool off as much as IDC predicts. In the coming quarters, I'll update my iPhone sales model to reflect the actual trend in worldwide smart phone sales.
Disclosure: The author has no positions in any stocks mentioned, and no plans to initiate any positions within the next 72 hours. The author wrote this article themselves, and it expresses their own opinions. The author is not receiving compensation for it (other than from Seeking Alpha). The author has no business relationship with any company whose stock is mentioned in this article.