The last couple of weeks has brought a roller coaster of emotion for Proshares Ultra Short-Term VIX Futures (NYSEARCA:UVXY). You could also say the same for the following:
iPath

S&P 500 VIX Short-Term Futures ETN (NYSEARCA:VXX)
VelocityShares Daily 2x VIX Short-Term ETN (NASDAQ:TVIX)
ProShares VIX Short-Term Futures ETF (NYSEARCA:VIXY)
Let's take a look at the 1 month chart for UVXY: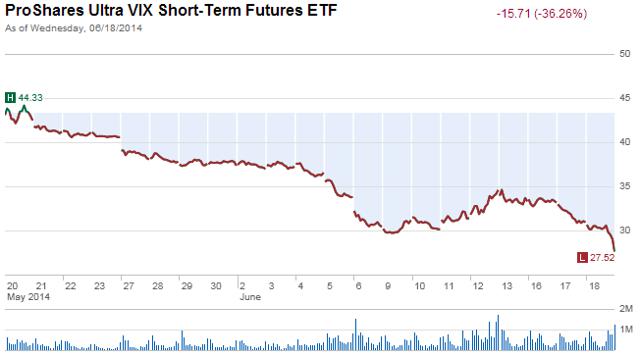 Chart courtesy of Charles Schwab
Say on or around the 10th of May, 2014, you jumped on the bandwagon of people that thought the market was going to crash. This would have been a good trade, for three days. During that time frame UVXY went up about 15%. In the subsequent days UVXY dropped from about $35 per share to $27.50 (-21%).
In a previous article, which you can read here, we discussed how UVXY would have performed in 2008. All of the back-testing data used in the chart below was obtained here. Yes, there was a possibility of making a very large return. Take a look at this:
| | | | | |
| --- | --- | --- | --- | --- |
| Date | Theoretical Share Price for UVXY | Futures 1st month | Futures 2nd month | Description |
| 9/12/2008 | $23.90 | 24.68 | 24.57 | Entering Backwardation |
| 11/20/2008 | $303.10 | 66.23 | 59.77 | Still in backwardation |
| 11/28/2008 | $197.52 | 53.21 | 50.6 | 34% drop in 1 week. I still would not recommend shorting UVXY here, too risky for me with backwardation. |
| 12/11/2008 | $223.49 | 55.06 | 55.32 | Contango has arrived. Short, short, short! (Assuming improving economic conditions). |
| 10/09/2009 | $23.89 | 24.55 | 26.50 | Back to where we started |
| 6/18/2014 | $0.0028 | 12.65 | 13.70 | Do you get the picture? |
UVXY and the other ETPs listed above, over time, are designed to go one way. Down!
Why try to fight your way upstream when you can easily ride down?
Once contango has moved into backwardation and then into contango again, it is a good time to ride the river downstream (assuming improving economic conditions). Given current conditions in the market and Janet Yellen's explanation (6/18/2014) of easy Federal Reserve policy, the market is going to have a hard time pulling back significantly. The most recent JOLTS jobs report showed 4.5 million job openings.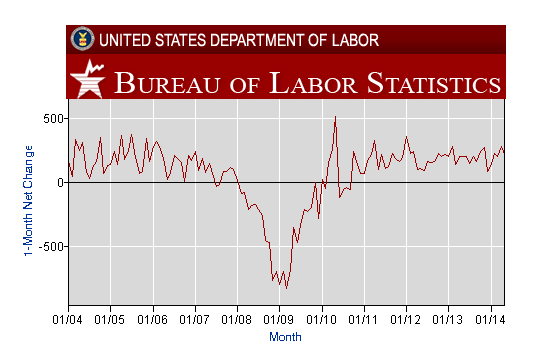 The current job openings may not be the ones people want, but they are jobs nonetheless. Wage growth, adjusted for inflation, is 0.1% behind where it was last year. However, year over year the number of net jobs has risen. If job growth continues, wages will have to rise. It is simple supply and demand. More jobs and less workers equals more pay to attract or retain good talent. I personally think wage growth is far behind the curve but that is reflected in consumer spending, especially retail.
Let's look at a technical analysis of UVXY. This follows up with a previous article recommending when to short UVXY (read here).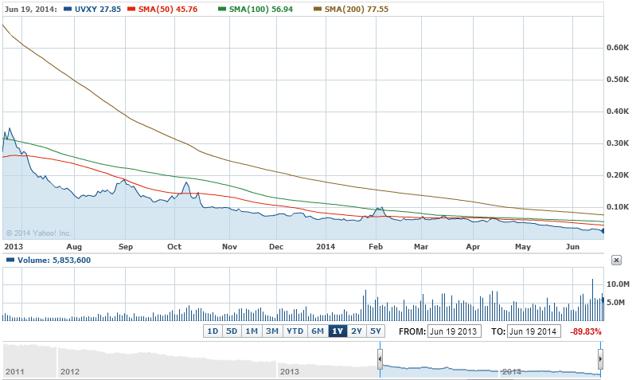 Over the last year, when UVXY has crossed the 100 simple moving average, or SMA, it has proven to be a good opportunity to short.
Here is where we currently stand: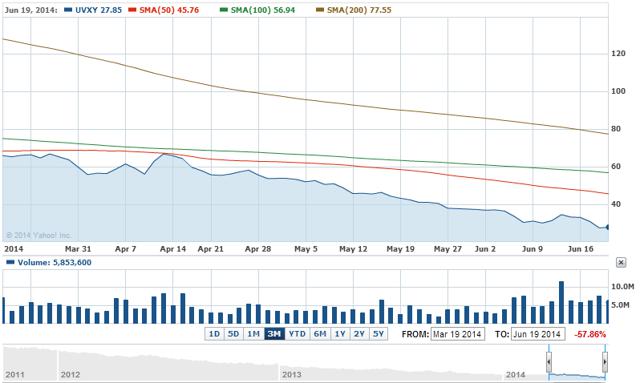 We are well below the 100 day SMA and even the 50 day SMA. Investing in UVXY or shorting it at these levels would be purely speculation. I recommend sitting tight and waiting for something to happen, VIX wise.
I don't recommend UVXY, or any volatility products, for speculation in the current market environment. There are things evolving with the economy such as debt levels, especially student loans. In that link, Ryan McCarthy provides excellent examples of how student loan debt is affecting other parts of the economy. I agree with BlackRock CEO, Larry Fink, with his assessment of how technology is globally eliminating jobs (read here). On a positive note, food stamp use has decreased. The water is too cloudy to say, yes, these are concerns that will not correct themselves over time. Don't get sucked into thinking you are going to strike it rich with UVXY on a 5-10% pullback. For results like those in 2008, you need at least a 30-40% pullback in the S&P 500. I don't see that happening anytime soon, unless a meteor strikes earth or a world war begins.
The S&P 500 is guaranteed to pullback eventually, but it has always rebounded. Take a look at this historic chart with annualized returns. Do your homework and wait for elevated VIX levels before shorting UVXY. I know it is painful to wait for a good opportunity, but it is better than speculating.
The final note I want to leave you with is this: there will always be pundits and noisemakers calling for a pullback, a bull market, a this, a that. On average, they will be right 50% of the time. Economic trends are the only statistics you should pay attention too when investing in, and hopefully shorting, UVXY. My favorite source is the investing.com economic calendar which tracks economic data from all over the world. You can find it here.
My take away, the S&P 500 will go up over time and UVXY will go down, almost guaranteed.
Disclosure: The author has no positions in any stocks mentioned, and no plans to initiate any positions within the next 72 hours. The author wrote this article themselves, and it expresses their own opinions. The author is not receiving compensation for it (other than from Seeking Alpha). The author has no business relationship with any company whose stock is mentioned in this article.