When we look at the developing anti-obesity space, we often think of Vivus (NASDAQ:VVUS), Arena Pharmaceuticals (NASDAQ:ARNA), and Orexigen (NASDAQ:OREX). These three companies have been the center of attention, because two already have products on the market, and the third, Orexigen, is likely to see its anti-obesity drug approved this Fall. There are other players in the space as well. Novo Nordisk (NYSE:NVO) is seeking an anti-obesity label for its diabetes drug, Victoza, which already has impressive sales, and Zafgen (NASDAQ:ZFGN) has just conducted an IPO and is in clinical trials for a drug that not only controls appetite, but changes how the body uses and produces fat.
Vivus
When Vivus launched Qsymia 20 months ago, it was the first new prescription drug to hit the anti-obesity sector in many years. The potential of the space was huge, yet Vivus launched without a Big Pharma partner. Now, going on two years later, Vivus still does not have a partner for the drug, but has a novel and approved erectile dysfunction drug, Stendra, that seems to be seeing good traction in the marketplace. Vivus has been able to land partners for Stendra, and launched the drug within the last 6 months.
After a disappointing launch of Qsymia, Vivus saw a management shake-up, and at this point, trades near the bottom of its two-year chart. The biggest questions on the street with regard to Vivus are whether Qsymia can change course, and whether Stendra can deliver dollars to the bottom line.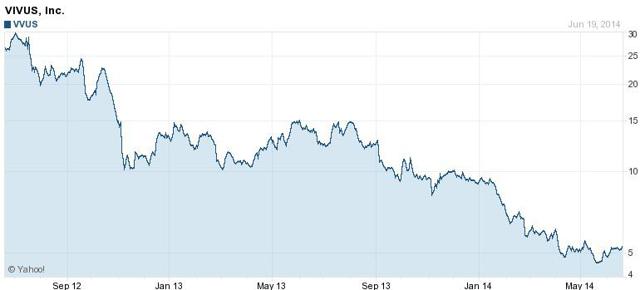 (Chart Source: Yahoo Finance)
In recent months, sales of Qsymia have seen a rebound of sorts. After several months of pretty flat sales, the most recent data would seem to indicate a new wave of script sales is forming. It is possible that sales saw an uptick on the advertising and awareness created by competitor Arena Pharmaceuticals, but Vivus management did indicate a re-focusing of the internal sales team at a recent Wells Fargo Conference. The growth spike in Qsymia sales did pre-date the competitors' advertising, so I would lean toward the side that the company's efforts to re-focus its efforts is the main driver.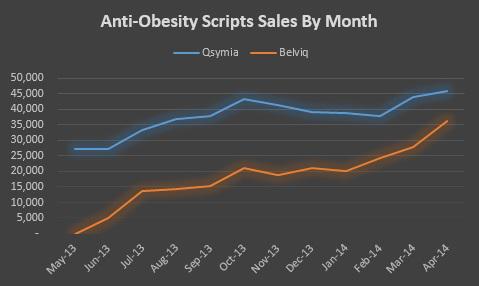 As you can see from the chart above, Qsymia had several months of very flat performance over the past year, with an up-tick starting in March. What you can also see is that competitor Arena has enjoyed a better growth profile, and is seeing that growth improve with television ads that started in April.
Investors in Vivus, or those considering an investment in the anti-obesity space may see promise in the more recent script trend, but I think many are now hanging their hats on the erectile dysfunction drug, Stendra. Does that mean that Qsymia cannot be a driver? Not just yet. One key focus of players in anti-obesity has been the health benefits to other issues, such as diabetes and pre-diabetes. The fact of the matter is that any weight loss, no matter how it is achieved, will reduce the onset of diabetes. Vivus presented study data that indicates that Qsymia reduces the onset of type 2 diabetes by 70.5% at the recommended dose, and 78.7% at the high dose over two years. After its own slower-than-expected launch, and the slower-than-expected launch of the competitor, the focus is shifting to the other benefits weight loss can deliver. The crossover between obesity and diabetes is large, so this direction makes sense.
With all of that being said, the road ahead is not easy. Vivus stock dropped to lows for a reason. There could be opportunity here for a savvy investor, but clear skies are still distant. What many investors will be watching is if Qsymia sales get a jump-start, and if Stendra can deliver much-needed cash flow.
Arena Pharmaceuticals
Arena and its marketing partner Eisai (OTCPK:ESALY) launched the anti-obesity drug Belviq a year ago. Like Vivus, expectations were quite high. After just a few months on the market, it became apparent that sales would not progress at the rate that analysts, the street, or the companies themselves thought. While the Arena launch was slower than expectations, the trajectory of the sales was indeed more impressive than Qsymia.
Arena's Belviq launched with fewer restrictions than Qsymia, and is perceived to be "safer but less effective". Whether that perception is right or wrong can be debated, but there is little debate that this is the general opinion on the street.
For its part, Belviq seemed to narrow the gap with Eisai relatively quickly, despite launching 9 months after Qsymia. Eisai began direct-to-consumer print ads in the Fall of 2013 and television ads in April of 2014. The television ads have already demonstrated a distinct shift in script sales, as well as awareness.
Just over a year ago, Eisai had told investors at its annual shareholder meeting that sales of Belviq would be $200 million by March 31st of 2014. Actual gross sales came in at about $45 million. The slower-than-expected launch has had its impact as well. The CEO of Eisai U.S. retired, and Eisai announced at this year's annual meeting that it would "re-launch" Belviq in July. Despite the launch challenges, Eisai was able to broker a deal with Arena that essentially gave Eisai the marketing rights to the rest of the world.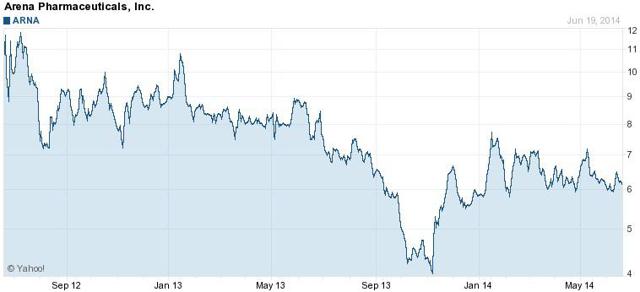 (Chart Source: Yahoo Finance)
Belviq also shows promise in keeping prediabetes from progressing to diabetes. A recent 1-year study demonstrated that the drug was 39% better than placebo at prevention. While not as "impressive" as the Vivus data, the issue for many may be safety and side effects. As stated earlier, the perception is that Belviq is safer.
What is perhaps the more exciting aspect for Arena investors is an ongoing study regarding smoking cessation. Last year, the market-leading drug in smoking cessation was Chantix. Chantix has demonstrated an ability to work, but has also demonstrated undesirable side effects, lawsuits, and bad press. Additionally, Chantix does not help with weight, and as we know, quitting smoking often results in weight gain. Chantix had about $650 million in sales last year. If Belviq can demonstrate good results with smoking cessation, it will fill a massive void present in the space, with the added benefit of helping to control weight while helping smokers quit the habit.
Arena is also studying Belviq with the existing generic drug, phentermine. Anecdotal evidence already shows that the combination can have a synergistic effect on appetite suppression. The 12-week safety study, when published, will be accessible to doctors, though there is nothing stopping doctors from scripting Belviq and phentermine now. Some Arena investors are very excited about this study and the potential, but the big question is how Arena stock can benefit. Certainly, if the combination goes viral, the sales will appreciate, but there are many variables, including how insurance will address the issue. In my mind, the smoking indication is a better step that can cause sales to increase more quickly. In fact, a smoker that quits and loses weight is something that may be more likely to go viral than the phentermine addition, in my opinion.
Lastly, Arena has a pipeline of drugs at various stages of clinical trials. These drugs all carry potential, and could provide boosts to this equity in years to come. Competitor Vivus does not have this pipeline aspect.
Orexigen
Orexigen does not yet have its anti-obesity drug, Contrave, approved. The company was seeking approval earlier this month, but the approval was delayed until September to work out an agreement with the FDA on post-marketing requirements. Contrave is perceived to be in the "sweet spot" between Qsymia and Belviq. The perception is that it is more effective than Belviq and safer than Qsymia. In addition to the United States, Orexigen has an application in Europe, where Vivus and Arena failed to gain approval.
For its part, Orexigen seems to have a laser focus on the prediabetes market, in addition to obesity. Competitor Arena stated at the Wells Fargo Healthcare Conference that it was not giving up on the diabetes space, but was focusing efforts on one issue at a time, and that smoking cessation was the segment getting the current attention. This leaves a possible opening for Orexigen. If the company can get Contrave labeled for diabetes, it could give an advantage to the company in the obesity space. If Europe approves Contrave, the company could have other advantages as well. That being said, the company lacks the type of pipeline Arena has.
The current play in Orexigen is the types of runs we see on regulatory approval. With the potential of two approval decisions coming this Fall, it is certain that speculators will be active. After approvals, it will boil down to sales, and as yet, there has not been a company that has tapped into the potential of the space.
Summary
The pure obesity play seems to have lost favor. Companies are seeing that in order to gain success, branching out needs to happen. Branching into diabetes, smoking cessation, erectile dysfunction, etc. seem to be key selling points. Each of these companies has its attributes and drawbacks. All of these companies are not near their highs. Certainly, some will put all of their eggs into one basket, but be aware, the street is hedging its bets. If you look at the institutions in the space, they have a few eggs in each basket. Stay Tuned!
Disclosure: The author is long ARNA. The author wrote this article themselves, and it expresses their own opinions. The author is not receiving compensation for it (other than from Seeking Alpha). The author has no business relationship with any company whose stock is mentioned in this article.
Additional disclosure: I have no position in Vivus, Zafgen, Orexigen, or Eisai
Editor's Note: This article discusses one or more securities that do not trade on a major U.S. exchange. Please be aware of the risks associated with these stocks.