The 25-day quiet period on underwriter research that began with Arista Networks, Inc (NYSE:ANET)'s June 5 IPO will come to an end on July 1, allowing the firm's IPO underwriters to release research reports on firm.
The many detailed analysts reports' publication will likely lead to at least a temporary increase in the price of ANET shares.
Market Performance Post-IPO
ANET's IPO priced at $43 per share, well beyond the expected price range of $36-$40 per share. The stock posted a strong first-day return of 27.9%, and has since continued to see steady growth; the stock closed at $65.67 per share on June 19.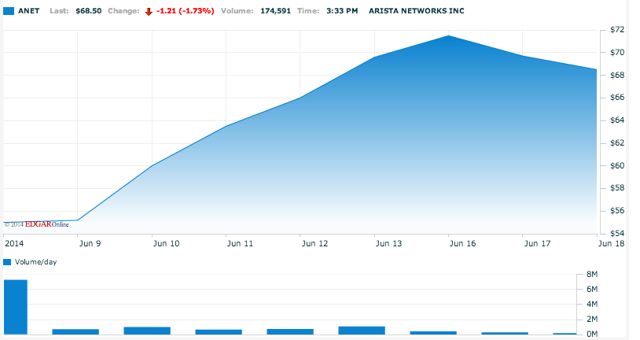 Source: Nasdaq.com
Underwriting
ANET's many IPO underwriters, including Citigroup Global Markets Inc; Morgan Stanley & Co. LLC; BofA Merrill Lynch; Barclays Capital, Inc.; Cowen and Company, LLC; Deutsche Bank Securities, Inc.; Credit Suisse Securities (USA) LLC; JMP Securities LLC; Needham & Company, LLC; Pacific Crest Securities LLC; Oppenheimer & Co., Inc.; Raymond James and Associates, Inc.; Stifel Nicolaus & Company, Incorporated; RBC Capital Markets, LLC; The Juda Group; William Blair and Co., LLC; and Wells Fargo Securities, LLC, will attempt to spur ANET's share prices to even greater heights through the release of positive reports beginning at the expiration of the quiet period.
Evidence That Quiet Period Expirations Can Open Buying Opportunities
The Journal of Finance (VOL. LVIII, NO. 1; 2003) describes how an increase in share price typically emerges several days ahead of the quiet period expiration as experienced investors anticipate positive analyst reports and begin to buy up shares.
Lead author Dan Bradley, PhD, CFA, affiliated with the University of South Florida, and colleagues note that analyst coverage is immediately initiated for 76% of firms at the quiet period expiration, nearly always with a 'Buy' or 'Strong Buy' rating. Firms with coverage initiated experience abnormal positive returns of 4.1% in the two days before and two days after the date of initiation.
In support of this, Carter, Piwowar, and Strader (2001) also find that the mean analyst rating at the time of the quiet period expiration is a "Buy," with higher returns correlated to higher ratings.
The early purchases generate the perception of rising demand, and cause share prices to rise before the expiration of the quiet period, creating a short-term buying opportunity.
Bradley et al also find a significant correlation between the reputation and number of IPO underwriters and an increase in the price of shares at the conclusion of the quiet period. The data generated through our past three years of research align with the academic publications.
Returns have been found to increase significantly when initiated by more than one analyst - to 6.4%.
Business
For a detailed overview of ANET's business, see our article on ANET's IPO.
OptumSoft Lawsuit
Despite much internet chatter about a pending lawsuit filed against ANET by OptumSoft, a company founded by ANET's co-founder and largest shareholder, there has been little apparent effect on ANET's fortunes in the market thus far.
OptumSoft claims that ANET has not maintained its end of an agreement through which it uses OptumSoft's software development platform for free in exchange for providing OptumSoft with any improvements it makes to the platform. The suit is due to be argued in court in August, at which point investors should keep a wary eye on the stock, but the outcome will have little long-term effect on ANET.
Competitors
ANET competes with similar equipment and system vendors, including the likes of Juniper Networks (NYSE:JNPR), Dell, Cisco Systems, Inc (NASDAQ:CSCO), Hewlett-Packard (NYSE:HPQ), and Brocade Communications Systems (NASDAQ:BRCD). Many of the firm's major competitors have access to greater financial resources than ANET.
Management Overview
Jayshree Ullal has served as the President and CEO of ANET since 2008.
Ms. Ullal previously served in various roles with Cisco Systems, Inc. over the course of almost 15 years. She also worked in product and engineering roles with Fairchild Semiconductor, Ungermann-Bass, and Advanced Micro Devices, Inc.
Ms. Ullal holds a B.S. in Engineering (Electrical) from San Francisco State University and an M.S. in Engineering Management from Santa Clara University.
Conclusion: Investors Should Strongly Consider Buying In
ANET's stellar start on the market is no fluke.
The firm has seen soaring revenues and profits over the past several years, and its management has proven more than competent to handle the surge in growth.
ANET's growing list of customers includes the likes of Morgan Stanley (NYSE:MS), Citigroup (NYSE:C), Microsoft (NASDAQ:MSFT), Facebook (NASDAQ:FB), AOL (NYSE:AOL), ESPN, Netflix (NASDAQ:NFLX), and Comcast (NASDAQ:CMCSA).
The firm continues to have massive growth potential, and the upcoming quiet period expiration presents an excellent opportunity for investors who missed out on the IPO to buy into ANET.
Disclosure: The author is long ANET. The author wrote this article themselves, and it expresses their own opinions. The author is not receiving compensation for it (other than from Seeking Alpha). The author has no business relationship with any company whose stock is mentioned in this article.