I enjoy seeing the phoenix rise from its ashes. The battered and bloody mining sector that had been wavering between getting up or being knocked down again for the TKO decided to dance around the ring a bit today. However, as I told my subscribers today in StockWaves, I do not think we are ready to knock out Ivan Drago.
Market Vectors Gold Miners ETF (NYSEARCA:GDX) was persuaded by its baby brother Market Vectors Junior Gold Miners ETF GDXJ this week to put some definitive distance between the previous shorter-term potential for a move down to 21. Both are completing very strong impulsive moves off their late May lows. Sure, they could try to go another round here, but that would likely be an exhaustion spike. I think they need at least a few weeks of training, plodding through thick snow to the tune of "Hearts on Fire" by John Cafferty.
While I am expecting 11% and 8% retraces in these ETFs, there are companies in the sector that I think may consolidate higher, but more importantly, outperform in the next move (and in the long term as well). A number of these are already being followed closely in the StockWaves service, but one that stands out that I would like to highlight is Randgold Resources (NASDAQ:GOLD). As I have mentioned in previous articles, I measure sentiment via price patterns in the charts. I first look to see what these price patterns are telling me, and then delve into the fundamentals to try and explain what I see.
Randgold has held up very well in the carnage post the 2011 top in the price of gold. It even made a new high in 2012 on the corrective bounce. It also has steadily grown production, despite the drop in price in gold. Many mining companies dial back production significantly when the spot price is down. But one of the areas that Randgold prides itself on is its low $650-700/oz average extraction costs. At the current $1315 spot, its projected 2014 production puts it on pace for $700M in profits, 40% more than in 2012, its previous best year. Ratchet up the spot price to a modest $1500, and the same production yields $1B profit. At the current 6.4 P/S, that is a steal. Randgold's efficiency was also highlighted with the new Kibali production beginning in Q4 2013, ahead of schedule.
I remember only a little Latin from high school, but I do remember: Qui non proficit deficit. While many companies have been content to sit on their reserves and wait for the spot price to recover, Randgold has used its efficiency to build itself a strong base. It has continued to explore and develop new projects, and very importantly partner, like with its 45% interest in Kibali in the DRC that, at 11.7Moz, is one of the largest deposits in Africa. I think there will be a lot of consolidation in the mining industry, with some weaker smaller companies getting swallowed up and some of the bigger dinosaurs going extinct. However, I think Randgold is in the perfect position to prosper. It currently has 24Moz in reserves and multiple exploration projects, and it has maintained great momentum and is forming partnerships that could lead to exciting mergers.
What caught my eye first? Randgold has had an incredibly strong move up from its 2.92 low in 2002. It may seem like it has not corrected enough from that, but we can count a clear ABC retrace of 50% in logarithmic scale. Second, off the more recent January low, it has seen a clear impulsive move and a corrective retrace into the end of May that held much higher and was more clearly complete as an ABC than many of its "Forty-niner" cousins. Third, this recent 5-wave rally is very clearly the start of a wave iii, ultimately targeting 123 likely into 2015. From there, after a retrace holding support over 100, Randgold should target a new ATH approaching 150. However, it needs another small retrace back toward the 79-76.50 region to create a more ideal entry, a training montage if you will.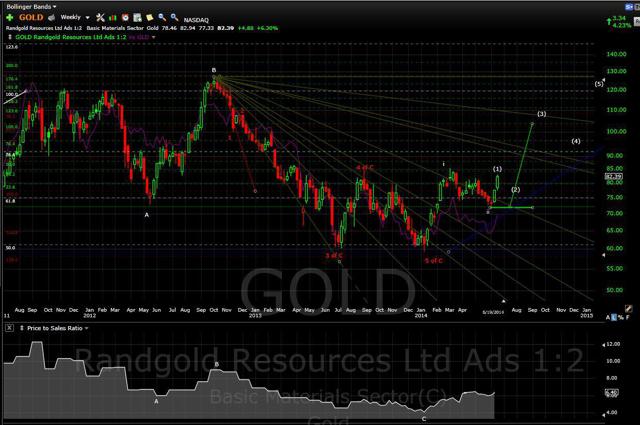 What is the stock or ETF version of a training montage? In other words, a corrective retrace as a wave (2) of iii to make them stronger for the next move, which will be even stronger and more explosive than this recent move. The standard retrace zone for GDXJ is 39-35, and for GDX, it is 24.50-23.40, I am looking closely at how they look into 38 and 24 around July 7th.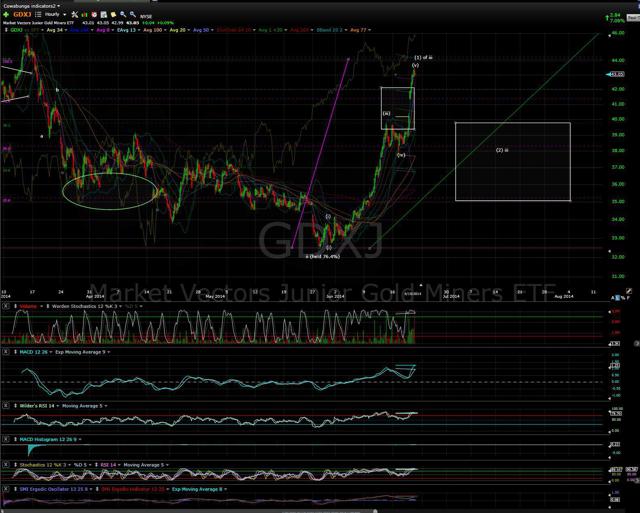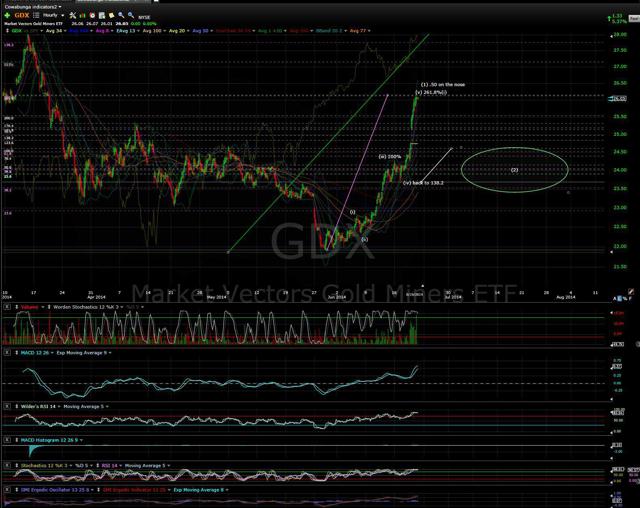 There is one more thing that I think can propel Randgold even more.
Maybe just its ticker...
On the LSE, they are RSS, but on Nasdaq: GOLD
When I wrote my article on the solar sector (which is heating up again, pun intended), I joked that when the real mania comes, even companies that have nothing to do with solar but have "Sun" in their names are likely to benefit. When it comes to ticker symbols, GOLD may prove to be more "precious" than GLD.
One final word on resistance; 100-103 will likely be strong resistance. The nature of the move into that region will give us clues as to what to expect next, but from there, 96.40 will be important support.
Disclosure: The author has no positions in any stocks mentioned, but may initiate a short position in GDXJ over the next 72 hours. The author wrote this article themselves, and it expresses their own opinions. The author is not receiving compensation for it (other than from Seeking Alpha). The author has no business relationship with any company whose stock is mentioned in this article.
Additional disclosure: I plan to go long GOLD between 79-77, I am long other miners and plan to short GDXJ in the short term as a hedge. I also plan to go long GDXJ from my target of 38.