Tesla's (NASDAQ:TSLA) Model S sedan has received rave reviews from many auto magazines and news editors alike. In this article, I go behind the hypes and myths to look in-depth at the real quality of Model S. Contrary to many Tesla fans, quality of an automobile is a lot more than the technologically advanced instrument panel and a 17" IPAD-like computer monitor. Certainly, Model S might be more of a performance car for the green elite than a safe and reliable means of transportation for ordinary mortals. Still, as Tesla tries to go mainstream and targets selling 500K cars annually by 2020, this aspect is worth an analysis.
Myths or Facts?
1. Model S is a low maintenance car. While this claim might be true for other EVs, Model S certainly doesn't fit this bill. In reality, Model S goes through so many repairs that owning this car is like keeping an elephant in the backyard. Part of the reason is the high performance drive train that keeps breaking down every 10000 miles (Source: Edmund's long-term tests). The high torque and heavy weight of the car destroy the tires in 10K to 15K miles. These tires do not come cheap; they cost nearly $1000. During warranty period, the owners don't have to pay for many of these expenses (except tires), as Tesla often foots the bills. Tesla pays dearly for these repairs. Tesla's warranty costs are 9-10 times compared to that of Ford (NYSE:F) and GM (NYSE:GM), per company's annual 10-K filings. Tesla supporters also make a big deal about the $30-$50 oil changes in gas cars, that some mechanically oriented people even do themselves for the fun of it. But Model S's annual maintenance package costs $600, and it is not optional. If you do not take it, the warranty is voided. Tesla claims, it is matching the costs of other premium cars. But then, where is the low maintenance advantage?
(Correction based on comments: The service plan was later made optional by Tesla. But on Tesla website, it is clearly stated that the annual service is very important to keep the car in good order. "Tesla Service is important to keep your Tesla properly maintained." )
2. Model S has high customer satisfaction. This could be influenced by the fanatic devotion of the early adopters. So, early surveys would truly indicate an above-average rating from these fans, who are fascinated by the large computer display, over-the-air software updates and a different kind of door handle that opens up on touch. However, when people outside the Tesla fan base started receiving their cars, they also started reporting various issues. There is a whole list of complaints filed against Model S on NHTSA's website. I've summarized the issues for brevity. Interested readers can find the detailed complaints by searching NHTSA database at the previous link for 2013 Tesla Model S.
Issue

Number of Reports

Date(s) Filed

Abrupt loss of power

1

Mar 24, 2014

Poor wet condition braking friction

1

Mar 5, 2014

Charger fires, overheated adapter and/or cord. This led to an eventual recall.

6

Feb 27, 2014

Jan 13, 2014

Dec 29, 2013

Dec 28, 2013

Dec 23, 2013

Dec 23, 2013

Split second 100% acceleration

2

Sep 26, 2013

Steering tightening

1

August 7, 2013

Recall notice not sent to owners

1

Feb 12, 2014

Gear shifting issues

1

Jan 30, 2014

Tire replacement in 5K miles

1

Oct 17, 2013

Intolerable burning smell

1

July 4, 2013

Loose bolts under rear bumper

1

Feb 17, 2013
Now, I'm not certain if these complaints have been verified by NHTSA. However, many of these do match the issues faced by other reputable sources such as Edmunds, and some were general hybrid car issues in their early days. When Toyota Prius had similar incidents of sudden uncontrolled acceleration, investigations were launched to look into those accidents. Strangely, no one seems to be investigating the issues with Model S. I'm not sure why NHTSA is taking a different stance with Model S incidents, but it may launch new investigations in the future if these incidents become more frequent.
3. Model S is more reliable than gas cars. While this could be true for some electric cars like Chevy Volt, it's certainly not true for Model S. Recently, JD Power and Associates ranked Chevrolet Volt #1 in its 3-year dependability study in the compact car category. Tesla Model S is still quite new, and it is premature to assign any rating. But with the frequent drivetrain replacements, tire replacements, loud humming noise and several other minor issues, it is clear that it will score below average in reliability ratings. The excessive weight of the car, high torque and sometimes misaligned wheels cause rapid tire wear. There are also issues with creaking steering, and the car stopping abruptly due to spilled water inside the car; and sometimes even without any plausible reason.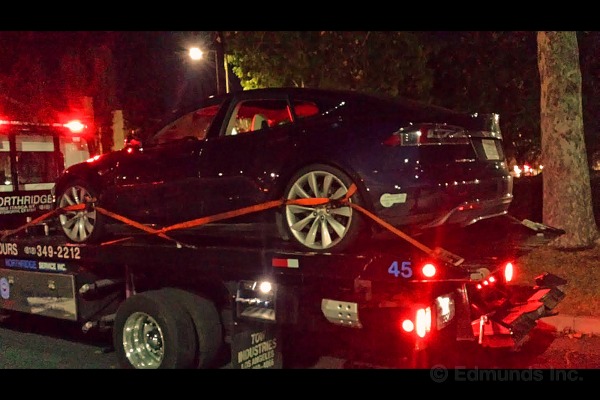 Edmunds' Model S stranded in Los Angeles freeway. Source: edmunds.com
After reviewing the many issues Model S owners are facing, the Lemon law case filed against the company doesn't seem farfetched at all; it is quite likely that the car is indeed a Lemon.
Due to so many issues with this car, Edmunds has appropriately called this car a 'beta product' and its owners 'beta testers' in their long-term testing. The updates published on May 30, April 10, Feb 20 and Jan 14 of 2014 are particularly interesting. In one of the articles, they summarized the owner sentiment very well:
"When I first sat down to write this post, I was all fired up, as I tried to picture myself in an owner's shoes. If I had to replace the engine on my car twice - hell, even once - I would swear off the brand forever. But after talking it over with some colleagues, I was reminded that the people who buy Teslas aren't just buying basic transportation. They are early adopters and willing beta testers of a shiny new piece of tech."
Unfortunately, many of these facts about Model S are never reported by the gaga press.
4. Used Model S sells for more than the new ones. This couldn't be farther from the truth. Some Tesla bulls started spreading this rumor to benefit themselves. But now that the used car market has started getting some Model S inventory, the real truth is emerging. A quick research on eBay Motors reveals that most of their model S listings do not meet reserve price, and most of the buy-it-now listings have no offers for days. While the used prices are still holding up well due to the longer battery warranty provided by Tesla, they certainly are not higher than new car prices, and are at a reasonable discount compared to other cars.
For example, Edmunds was offered $79K for a 2013 P85 Model S that they originally bought for $105,005 back in Feb 2013. This 23% depreciation is right in line with their fleet average of 22%. Their original article on purchase of this vehicle provides all the specs of this test car.
5. Model S is green. Tesla fans claim that if you drive an electric car, you don't burn gas. But they forget that outside certain pockets of the world like Norway, major portion of electricity today comes from burning fossil fuel such as natural gas and coal. Per Energy Information Administration's website , US generated 4,058 billion KWH of electricity in 2013. About 67% of the electricity generated was from fossil fuel (coal 39%, natural gas 27%, and petroleum 1%). 19% was from nuclear, and only 13% came from renewables.
Besides the carbon footprint of electricity generation, another large contributor of pollution from Model S is the manufacture of its battery packs. The graphite pollution and dirty rain associated with it has been well articulated in the article "Green Batteries' graphite adds to China pollution" by Bloomberg. The article was originally published on March 14, 2014 with the title "Tesla Batteries' graphite adds to China pollution," but was later changed to the new title upon Mr. Musk's request. As a reward of changing the title to remove Tesla's name from the title, Bloomberg seems to have become the official media partner for all Tesla news. According to this article, a typical electric car battery uses 110 lbs. of graphite, so a Tesla 85 KWH battery pack should consume about 450 lbs. of graphite, assuming similar composition.
In the article "Is the model S green," the authors argue that when the CO2 emissions of Model S production and charging inefficiencies are included, an 85 KWH Model S produces 547 g of CO2 per mile, higher than a large SUV such as Jeep Grand Cherokee, which emits 443 g per mile. While I've not validated their arguments, it is clear that the massive environmental footprint of Model S is unnecessary and is an overdesign. Other smaller electric cars are far greener than Model S. Model S truly is the Hummer of electric cars.
Recycling the 2000 lbs of Model S battery pack poses yet another environmental challenge. Lithium-Ion batteries do not have enough rare earth materials to make the recycling economically viable, at least not yet. In the article "Why Advanced Lithium Ion Batteries Won't Be Recycled," the author discusses the economics involved in the process and shows why recycling these batteries is not practical. On the bright side, the electric car batteries might find a second life in grid energy storage for a few years.
When we consider all these aspects of Model S's life cycle, we see that it's hardly green. There are many simpler ways to be green that don't break the back. Driving a compressed natural gas (CNG) Honda Civic or a hybrid Toyota Prius is much greener than driving a Model S. People living in large houses burn a huge amount of natural gas to heat their homes to summer-like temperatures during harsh winters. Simply putting on a sweater and lowering the thermostat could save more gas and reduce more greenhouse gases than driving a Model S. Planting trees intelligently around the house can also drastically cut energy consumption during summer and winter, and also reduce greenhouse emissions.
Conclusions
In summary, I feel that Tesla started shipping the Model S in haste, as otherwise they risked going out of business. But these quality issues are now biting into the sales of Model S to people who are not diehard Tesla fans. Selling a beta quality car to the Tesla devotees has been easy. But the job gets tougher when targeting a more general customer base that isn't addicted to the Tesla brand. They think many times before forking over $100 K for a car that comes with limitations, uncertainties and extra headaches. In this Tesla motors forum thread, a potential customer is really concerned before placing an order, and numerous owners agree about the predominance of quality issues with this car.
Based on these facts, we conclude that Model S is not really as good in quality as one would expect from a car in this price range. Neither is it a good green car. I firmly believe that Tesla won't be able to grow its business significantly beyond the original Model S reservations. The novelty factor of this car is fading, and a plethora of new compelling EV and PHEV cars are flooding the US market. Then, there is the threat of Fuel cell cars coming next year from three major car manufacturers Honda (NYSE:HMC), Hyundai (OTC:OTC:HYMTF) and Toyota (NYSE:TM). This creates an opportunity for customers to choose alternative green cars that are cheaper, more reliable, more practical and more earth friendly. Unfortunately, some Tesla buyers made their deposits for Model X two years ago, so they are locked into the Model X and cannot avail of these new opportunities. This gives Tesla a couple of more quarters of steady sales. Beyond that, it's a wild guess.
Now, one can only hope that Tesla's future models will be more production ready than their second car in the series.
Disclosure: The author is short TSLA. The author wrote this article themselves, and it expresses their own opinions. The author is not receiving compensation for it (other than from Seeking Alpha). The author has no business relationship with any company whose stock is mentioned in this article.