We have been discussing the coffee business for some time and have speculated that many of the companies that sell either packaged coffee or coffee drinks through retail outlets would look to raise prices of their own goods in order to offset rising coffee prices. For months many of the key names in the sector insisted that there would not be a need to raise prices as they had a handle on costs and did not see the increased raw coffee prices as a big issue moving forward.
Most of the names we have discussed have in fact increased their prices in recent months, and today Starbucks (NASDAQ:SBUX) announced that it too would be raising prices. This fits our outlook for the industry and makes us feel much better about the outlook for the quarterly results for these companies. We are not big watchers of quarter-to-quarter numbers, instead preferring to focus on the long term, but we did think that investors would punish these companies even if higher coffee prices impacted income and margins by low single digits.
Chart of the Day:
Coffee prices may have found some support after this recent retracement from highs. Although we recognize that prices could continue higher over the next few years if the crop continues to face environmental issues, the fact that companies are not reluctant to pass on expenses is bullish in our opinion.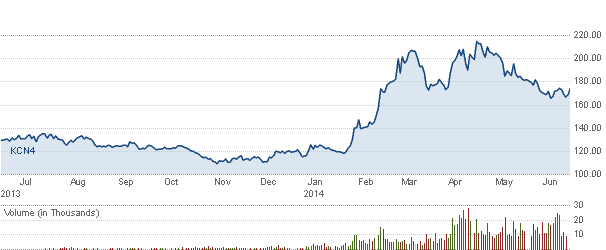 Source: CNBC
Commodity prices are as follows (at time of submission):
Gold: $1,316.10/ounce, up by $2.00/ounce
Silver: $20.89/ounce, up by $0.242/ounce
Oil: $107.04/barrel, up by $0.61/barrel
RBOB Gas: $3.1199/gallon, down by $0.0056/gallon
Natural Gas: $4.53/MMbtu, down by $0.054/MMbtu
Copper: $3.1215/pound, up by $0.043/pound
Platinum: $1,454.80/ounce, down by $19.70/ounce
Another MLP To Hit The Market
In arguably the greatest indication thus far that MLPs have gone mainstream, Royal Dutch Shell (NYSE:RDS.A) (NYSE:RDS.B) has decided to create an MLP in the second half of this year with pipeline infrastructure (onshore and offshore) located in the Texas and Louisiana Gulf of Mexico area.
This is the first "Big Oil" name to create an MLP, and moving forward we could see the MLP grow quickly as Shell drops down other assets located in North America. The move would allow Shell to better allocate capital and invest in new projects with higher returns in the years ahead. This continues the recent focus of Shell to divest itself of assets that fall below its required rate of return as the new management team looks to position the company for the decades ahead. Initially, we think cash will be used to develop projects that the company already has in the pipeline, but down the road we would not be surprised to see Shell use cash proceeds to purchase some of the smaller oil names to fill holes in its global portfolio.
Others To Follow?
This is the type of move that we expect from a company like Exxon Mobil (NYSE:XOM) as it has a track record in the industry of being either the best or among the best at allocating its capital. There have been calls in the last year or two for Exxon Mobil to split the company much like its counterparts have, but the company has instead discussed the need to be diversified within the energy business. We doubt that the company is forced to split, especially with Warren Buffett having given the company his stamp of approval, but divesting certain assets into a MLP could make sense. This would be especially true if there is a target that Exxon Mobil management has in mind.
The more logical choice to follow Shell's lead at this time, in our opinion, is BP (BP), which is embarking on the same reallocation of capital that Shell is; selling lower margin assets and focusing on higher margin ones. With BP having made some acreage purchases in shale plays and rumored to be interested in making more, it will need more money and could see the benefits of controlling an MLP to drop down assets or sell units when it needs cash.
Disclosure: The author has no positions in any stocks mentioned, and no plans to initiate any positions within the next 72 hours. The author wrote this article themselves, and it expresses their own opinions. The author is not receiving compensation for it (other than from Seeking Alpha). The author has no business relationship with any company whose stock is mentioned in this article.
Additional disclosure: BP has previously been recommended.