There seems to be quite a bit of pessimism surrounding the Kinder Morgan group [(NYSE:KMI), (NYSE:KMP), (NYSE:KMR), (NYSE:EPB)]. This would be understandable if the company were lagging or struggling. However, all of these stocks have been rallying hard, up at least 10% in recent months, as concerns raised by the short sellers abate. It is my opinion that Kinder Morgan as a whole is a strong buy. Not only does it offer a strong yield, but its level of growth is still acceptable.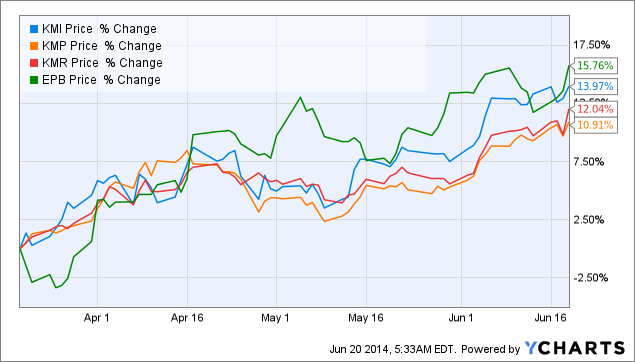 Kinder Morgan is a solid choice for distribution/dividend growth
For many years now, KMP has delivered well above average levels of distribution growth. Since its 1996 IPO, the CAGR for the MLP has been 13%. Indeed when factoring in IDR payments to KMI, KMP has grown its distributions at a CAGR of 36%. This was all done using modest levels of leverage, never once breaching 4.0x net debt to EBITDA.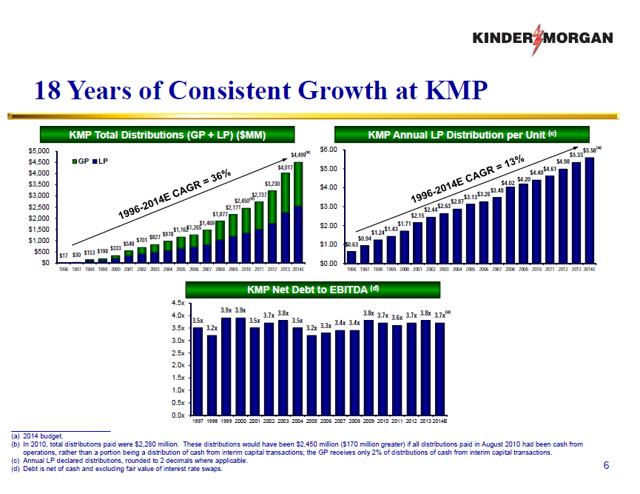 Critics will argue that Kinder Morgan's rate of growth has slowed down. This is mostly correct. As it has gotten bigger and more mature, the company has not been growing as fast. This is reflected in lowered levels of distribution growth as shown below:
KMP/KMR expects to declare distributions/dividends of $5.58 per unit for 2014, up 5% from $5.33 in 2013. Previously, KMP's distribution growth rate had been in the 6 to 7% range.
KMI expects to declare dividends of $1.72 per share for 2014, up 8% from $1.60 in 2013. Previously, KMI's dividend growth range had averaged between 10 to 12%.
El Paso Pipeline partners expects to declare distributions/dividends of $2.60 per unit for 2014, up 2% from $2.55 in 2013. Previously EPB's distribution growth rate had been in the 5 to 6% range.
While lower, these levels of growth are adequate in the current ZIRP economic period. Think about it, where else can you find a low-risk 7% yield plus 5% growth rate like KMP or a 5% yield plus 8% growth rate like KMI?
In addition, when Kinder Morgan promises increases, it delivers. As shown, since 2000, the company has met or exceed its budgeted levels of dividend/distribution growth every year except 2006.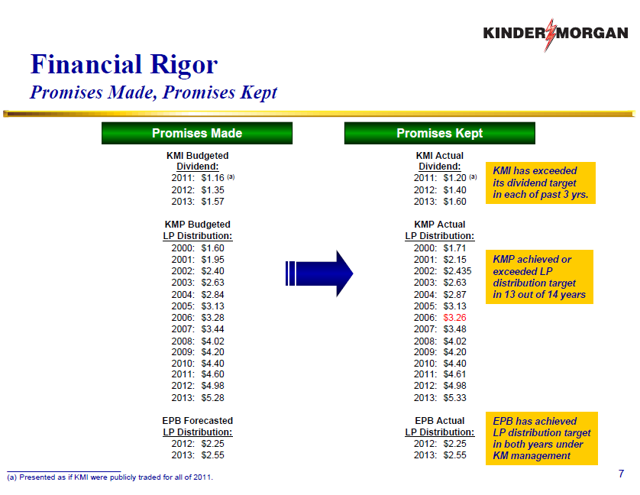 Kinder Morgan has significant growth potential
CO2
So far in 2014, the company has announced several large investments for its carbon dioxide CO2 infrastructure.
Back in March, a $1.0 billion expansion was announced. First, a $300 million to build a 213-mile, 16-inch diameter 300 MCF/D CO2 pipeline called the "Lobos Pipeline" from the St. Johns source field in Apache County, Arizona, to the Cortez Pipeline in Torrance County, New Mexico. In addition, $700 million was slated to drill wells and build out other midstream infrastructure and a compressor at the St. Johns field.
In May, a $671 million expansion was announced for the CO2 infrastructure in southwestern Colorado and New Mexico. $327 million is to be invested to expand the 500-mile Cortez Pipeline from southwestern Colorado to West Texas via a 64-mile loop in New Mexico. Pipeline capacity will increase 2 BCF/D from the current 1.35 BCF/D. In addition, $344 million was slated to increase CO2 production in the Cow Canyon area of the McElmo Dome source field in Montezuma County, Colorado, adding 200 MCF/D of CO2 production by 2015.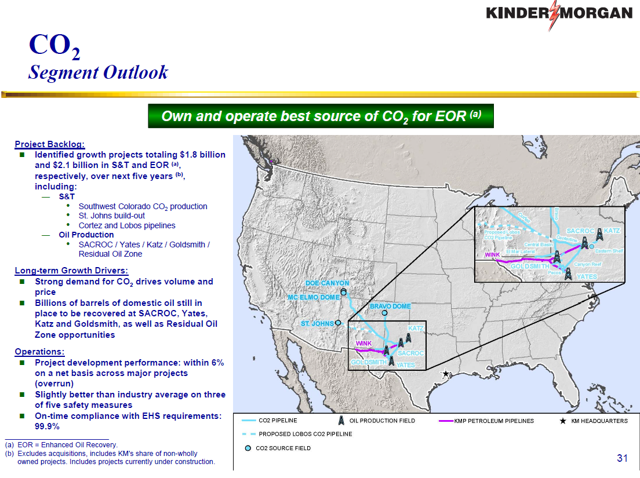 Natural Gas
As many know, natural gas prices were quite low for many years. However, in late 2013 and 2014, prices have recovered. Still, they well off their 2008 to 2010 highs.
That being said, Kinder Morgan stands to benefit from the situation two-fold:
Via higher natural gas production in the Marcellus/Utica
Via booming demand for natural gas in petrochemical, power generation, and exports
At the moment, Kinder Morgan has only about $4.1 billion slated for several projects in development including:
Tennessee Gas Pipeline pipeline ("TGP") and the proposed expansion/reversal
Growing natural gas exports to Mexico and Canada
Building out LNG infrastructure at Elba Island
However, the company has the potential to increase this number to more than $15 billion if demand for natural gas remains elevated. Remember, Kinder Morgan as a midstream, benefits greatly from increased demand and use of energy, not necessarily higher prices.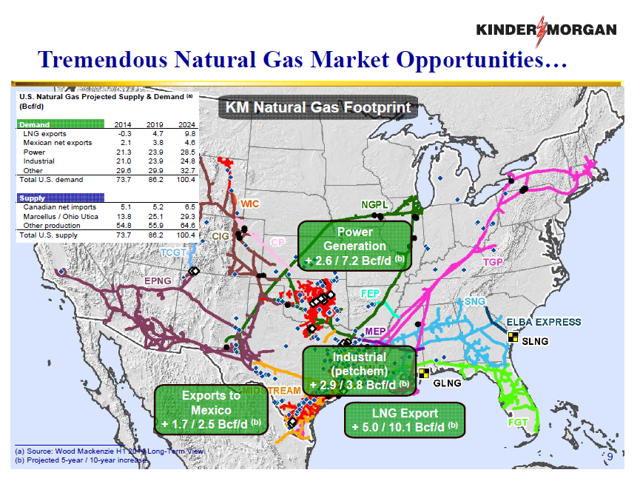 Conclusion
"You sell. I'll buy. And we see who comes out best in the long run."

Richard Kinder
When reading some of the comments written on Kinder Morgan, it seems as if the bears are putting too much attention to the share price performance. Yes, the stock has lagged the market since 2010. However, this is mostly a result of a shift away from the safety of income stocks.
With a surge in insider buying and the improving outlook for energy production in the US (compared to say Iraq, Libya, etc), it is hardly a surprise that Kinder Morgan stock is surging. While my personal preference remains KMI, I think a compelling case can be made for all of the stocks in the Kinder Morgan group.
Disclaimer: The opinions in this article are for informational purposes only and should not be construed as a recommendation to buy or sell the stocks mentioned. Please do your own due diligence before making any investment decision.
Disclosure: The author is long KMI. The author wrote this article themselves, and it expresses their own opinions. The author is not receiving compensation for it (other than from Seeking Alpha). The author has no business relationship with any company whose stock is mentioned in this article.