Many investors are looking for stable stocks to not only lower the volatility of their portfolios, but also to add a stream of income to their overall returns. For many investors, companies such as Wal-Mart (NYSE:WMT) fill this need, as blue chip companies tend to consistently grow and pay out modest dividends. However, there are companies that exhibit even less volatility and payout more dividends than companies such as Walmart. In this article, I will discuss the advantages that three different utility companies, Ameren (NYSE:AEE), Hawaiian Electric (NYSE:HE) and Northwest Natural Gas (NYSE:NWN) can provide to investors seeking stable companies that provide a handsome, sustainable dividend.
Brief Overview of the Utilities Industry
The Utilities Industry is a sector of the economy that isn't known for its robust growth. These sorts of companies are regulated heavily, and this limits the ability of the companies to generate excess profits. Daily power use has been charted for decades, and it's relatively easy to predict the demand for power. In essence, most utility companies offer turnkey operations that make predictable profits and have relatively unchanged day to day operations. Investing in this sector will reward investors with slow but stable growth, as typically these companies are generous with their dividend payments while exhibiting smaller price movements.
Payout Ratio
Below in Figure 1 is a chart which compares the payout ratios of Ameren, Hawaiian Electric and Northwest Natural Gas to Walmart.

(Figure 1)
Payout ratio is calculated by dividing the company's dividend by the earnings per share (EPS). The payout ratio helps investors figure out whether or not a company can continue to pay the same dividend or increase it. Basically, the lower the payout ratio, the more stable the dividend is. Looking at the chart, we can see that these three companies have significantly higher payout ratios than Walmart. At first glance, this may seem like negative news. However, we can also see that the dividend yields of these companies are much more attractive than the dividend yield of Walmart. Next, we will analyze whether or not these dividends are sustainable through looking at the profitability of the companies as well as their dividend history.
Profitability
When looking for a stable, high yielding company to add to your portfolio, it's always necessary to double check to ensure the companies are profitable so in Figure 2 below I have posted some profitability ratios as reported from Google Finance.
(Figure 2; click to enlarge)

Sources: (Ameren) (Northwest Natural Gas) (Hawaiian Electric)
As you can see, each of these three companies generate stable profits by any margin. This means that pretty much as long as people continue to use the services these companies provide and the company can manage its costs, these three companies will continue to payout a dividend.
Dividend History
Next, we will take a look at the dividend history of these companies for the past five years to see what changes have taken place, if any. This step is crucial when searching for dividend paying companies because many companies may have a high yield the moment you look at it, but the history of that company may reveal a falling yield over time, meaning you as an investor will collect less income after each passing year. The easiest way to check this is to simply look at a price graph and add in dividend payouts as events. Figure 3 reveals this information below. The data is again pulled from Google Finance.
(Figure 3; click to enlarge)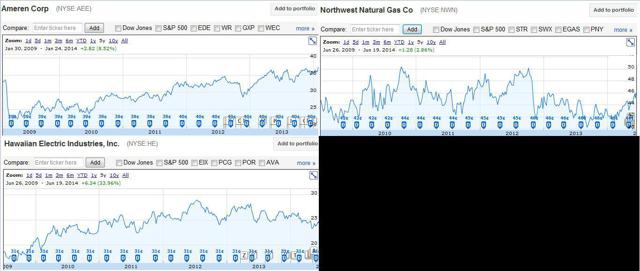 Sources: (Ameren) (Northwest Natural Gas) (Hawaiian Electric)
As we can see from the price graphs, these companies have all had stable dividend payments in the last five years, so unless any of these three companies are facing distress or increased costs, these payments should continue.
Conclusion
These three companies I have presented are great opportunities for any investor looking to add a stable, high yielding income stream to their portfolio. The companies payout ratios should remain sustainable within a two-year timeframe, and the profitability of each company will allow for continued payment of the dividends. Out of these three companies, I want to add that it's up to you to determine which one best suits your needs. To accomplish this task, I would suggest performing more research about where and how each company operates, and try to paint a picture about how the future of each one looks in terms of their finances before making an investment decision. Happy hunting!
Disclosure: The author has no positions in any stocks mentioned, and no plans to initiate any positions within the next 72 hours. The author wrote this article themselves, and it expresses their own opinions. The author is not receiving compensation for it (other than from Seeking Alpha). The author has no business relationship with any company whose stock is mentioned in this article.
Additional disclosure: Though the author has suggested three stocks as ideas to invest in for their dividends, this article was meant to simply illustrate that these companies should be able to continue paying dividends for quite some time. Be sure to perform adequate due diligence before making any investment decision.