Most of the S&P 500 large-cap stocks pay dividends. In fact, 425 of them pay some dividends, 357 companies have a yield greater than 1%; 211 companies have a yield greater than 2%; 88 companies have a yield greater than 3%, and 26 companies have a yield greater than 4%.
A Ranking system sorts stocks from best to worst, based on a set of weighted factors. Portfolio123 has a powerful ranking system which allows the user to create complex formulas according to many different criteria. They also have highly useful several groups of pre-built ranking systems; I used one of them, the "All-Stars: Piotroski" in this article. The ranking system is based on investing principles of the well-known investor, Joseph Piotroski.
The "All-Stars: Piotroski" ranking system is quite complex, and it takes into account many factors like; price-to-book value (50% weight), gross margin, debt, current ratio, return on assets, and share buybacks.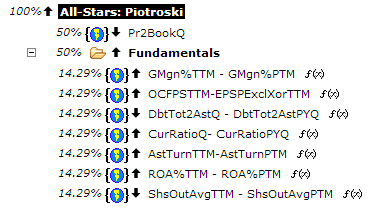 In order to find out how such a ranking formula would have performed during the last 15 years, I ran a back-test, which is available by the Portfolio123's screener. For the back-test, I took all the 7,014 stocks in the Portfolio123's database.
The back-test results are shown in the chart below. For the back-test, I divided the 7,014 companies into fifty groups according to their ranking. The chart clearly shows that the average annual return has a very significant positive correlation to the "All-Stars: Piotroski" rank. The highest-ranked group, with the ranking score of 98-100, which is shown by the dark blue column in the chart, has given by far the best return, an average annual return of about 25%, while the average annual return of the S&P 500 index during the same period was about 2.7% (the red column at the left part of the chart). Also, the second and the third groups (scores: 96-98 and 94-96) have given superior returns. This brings me to the conclusion that the ranking system is very useful.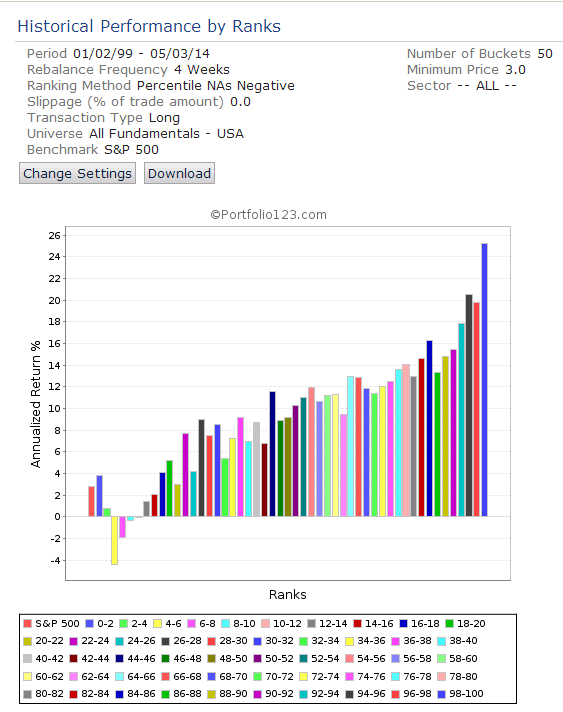 After running the "All-Stars: Piotroski" ranking system on all the S&P 500 stocks which pay a dividend with a higher than 2% yield, on June 20, I discovered the twenty best dividend stocks, which are shown in the chart below. In this article, I will focus on the fourth stock of the list, Archer Daniels Midland Company (NYSE:ADM), since I follow this stock.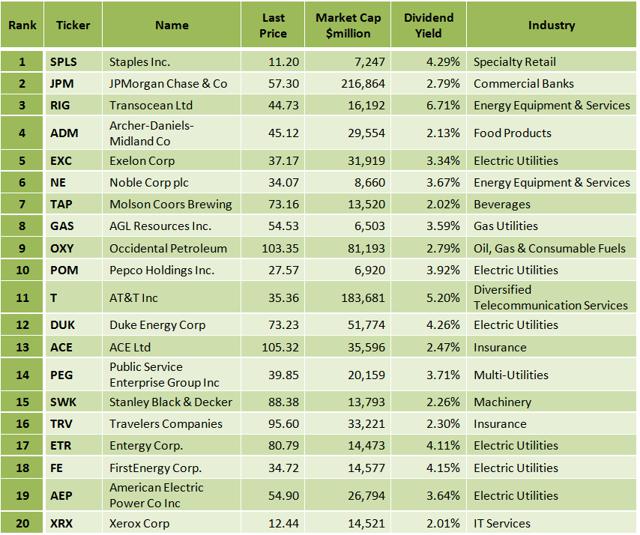 The Company
Archer Daniels Midland procures, transports, stores, processes, and merchandises agricultural commodities and products. It operates in three segments: Oilseeds Processing, Corn Processing, and Agricultural Services. The company was founded in 1898, and is headquartered in Decatur, Illinois.
Valuation Metrics
The table below presents the valuation metrics of ADM; the data were taken from Yahoo Finance and finviz.com.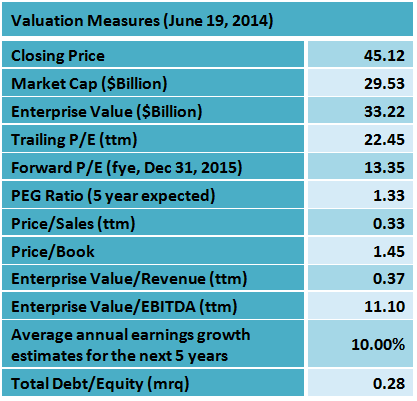 Archer Daniels Midland's valuation metrics are good; the enterprise value-to-EBITDA ratio is low at 11.10. According to Yahoo Finance, ADM's next financial year forward P/E is low at 13.35, and the average annual earnings growth estimates for the next five years is high at 10%. These give a pretty low PEG ratio of 1.33. The PEG Ratio - price/earnings to growth ratio - is a widely used indicator of a stock's potential value. It is favored by many investors over the P/E ratio, because it also accounts for growth. A lower PEG means that the stock is more undervalued.
Latest Quarter Results
On April 29, Archer Daniels Midland Petroleum reported its first-quarter 2014 financial results, which missed EPS expectations by $0.19 (25.70%) and missed on revenues. The company reported adjusted earnings per share of $0.55, up from $0.46 in the same period last year. Net earnings for the quarter were $267 million, or $0.40 per share, comparable to the $0.41 per share in the same period one year earlier. Segment operating profit was $691 million, up 10 percent from the year-ago period. Adjusted segment operating profit was $780 million, up 17 percent from the year-ago period.
In the report, ADM chairman and CEO, Patricia Woertz said:
Our businesses delivered mixed results in the first quarter. Our Ag Services business again generated weak results due to a low margin environment as well as logistics and weather challenges in the U.S. Continued strong performance in Corn was supported by the robust ethanol market. And the sustained, solid results in Oilseeds were driven by good margins and volumes in North and South American soybean crushing. We continued to make good progress during the quarter in our ongoing portfolio management and other key initiatives to improve the earnings power and returns of the company.
Dividend
Archer Daniels Midland has been paying uninterrupted dividends since 1983; the forward annual dividend yield is at 2.13%, and the payout ratio is only 39.9%. The annual rate of dividend growth over the past three years was high at 9.43%, and over the past five years, was also high at 9.18%. I consider that besides dividend yield, the consistency and the rate of raising dividend payments are the most crucial factors for dividend-seeking investors, and ADM's performance has been good in this respect.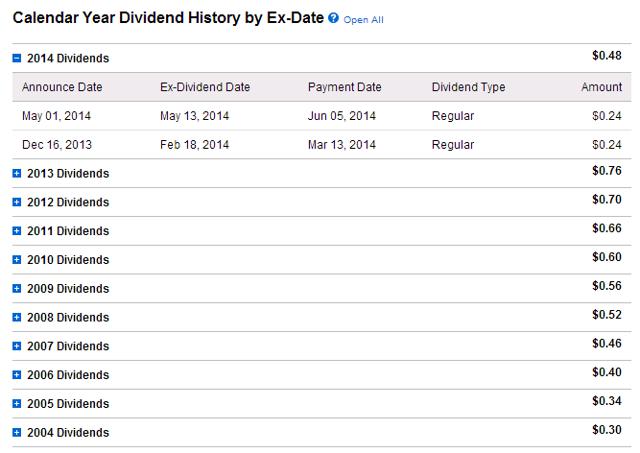 Source: Charles Schwab
Since Archer Daniels Midland is generating strong cash flow and the payout ratio is low, I believe that the company is well-positioned to achieve steady dividend growth going forward.
Competitors
A comparison of key fundamental data between Archer Daniels Midland and its main competitors is shown in the table below.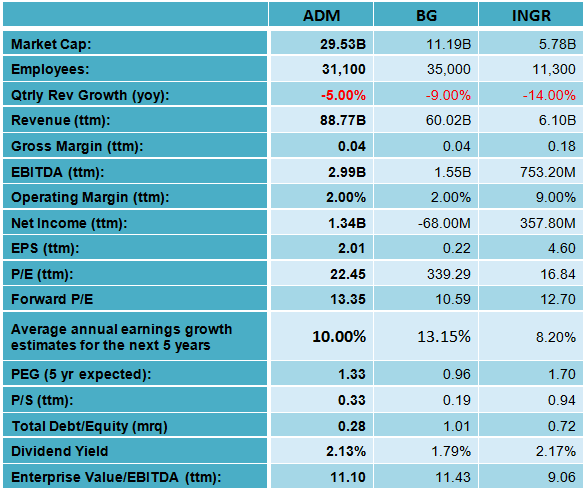 There isn't a big difference between Archer Daniels Midland's valuation metrics and those of its competitors.
Technical Analysis
The charts below give some technical analysis information.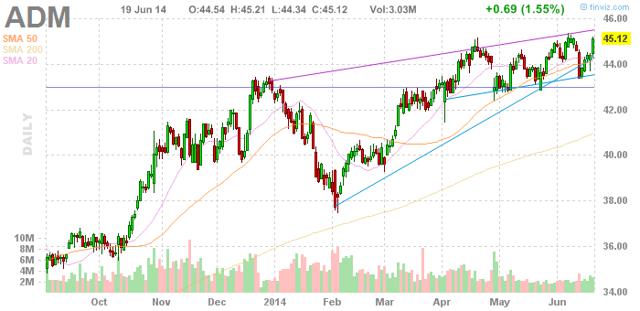 Chart: finviz.com
ADM stock price is 1.60% above its 20-day simple moving average, 2.26% above its 50-day simple moving average, and 10.21% above its 200-day simple moving average. That indicates a short-term, mid-term, and a long-term uptrend.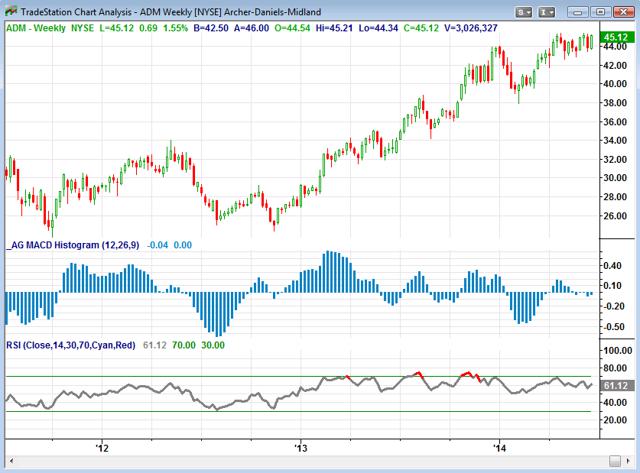 Chart: TradeStation Group, Inc.
The weekly MACD histogram, a particularly valuable indicator by technicians, is negative at -0.04 and ascending, which is a bullish signal (a rising MACD histogram and crossing the zero line from below is considered an extremely bullish signal). The RSI oscillator is at 61.12, which does not indicate oversold or overbought conditions.
Analyst Opinion
Analysts' opinion is divided; among the fifteen analysts covering the stock, three rate it as a strong buy, five rate it as a buy, six analysts rate it as a hold, and one analyst rates it as an underperform.
TipRanks is a website that ranks experts (analysts and bloggers) according to their performance. According to TipRanks, among the analysts covering ADM stock, there are only four analysts who have the four or five-star rating, and three of them recommend the stock.
Major Developments
ADM stock has significantly outperformed the market in the last years; since the start of 2013, ADM stock has gained 64.7%, while the S&P 500 index has increased 37.4%, and the Nasdaq Composite Index has risen 44.4%.
On June 11, Archer Daniels Midland announced actions to align its investments and organization to better serve growing demand for its products across the Asia-Pacific. ADM is investing to grow its food and feed production, with the addition of two production facilities in China. It is also making enhancements to its ports and logistics coordination throughout the Asia-Pacific region. Since its entrance into the Chinese market in 1994, ADM has grown to become a significant supplier of China's rising demand for corn, oilseeds, and food and feed ingredients.
According to ADM, through its acquisition of the remaining stake in Toepfer, it will strengthen its merchandising operations in the Asia-Pacific. The combined ADM and Toepfer team in the region merchandises more than $14 billion in commodities annually. As part of the companywide effort to grow sales of higher-value products, ADM is adding specialty ingredients sales offices in Indonesia, Philippines, Thailand, Korea, and Vietnam. The company already has specialty ingredients sales teams in Singapore, Australia, Japan, and China.
I consider ADM's efforts to expand its presence in the fast-growing Asia-Pacific market very positive for the company. As Asia enjoys a better standard of living, and populations and incomes across Asia continue to rise, there is an increase in demand for crops and other products from agriculture.
Conclusion
Archer Daniels Midland will benefit from its expanding presence in the fast-growing Asia-Pacific market. Archer Daniels Midland has good valuation metrics and strong earnings growth prospects. Furthermore, the company is ranked fourth among all S&P 500 stocks yielding more than 2%, according to the powerful "All-Stars: Piotroski" ranking system. Archer Daniels Midland is generating strong cash flows; its price-to-free-cash-flow ratio is very low at 9.45, and it returns value to its shareholders by increasing dividend payments. All these factors bring me to the conclusion that ADM stock is a smart long-term investment.
Disclosure: The author has no positions in any stocks mentioned, and no plans to initiate any positions within the next 72 hours. The author wrote this article themselves, and it expresses their own opinions. The author is not receiving compensation for it (other than from Seeking Alpha). The author has no business relationship with any company whose stock is mentioned in this article.