I first learned about floating-rate securities in 2013. I was intrigued by the concept of earning stable, premium-to-bond returns with less risk, but concerned about premiums to NAV for these typically closed end funds. In recent months, premiums have turned to (historically large) discounts and floating-rate senior bank loan funds have become a favored vehicle to gain material monthly income, 6%+ annualized. My favorite floating-rate bank fund is the Nuveen Floating Rate Income (NYSE:JFR); for the purposes of illustration, I will use JFR data whenever possible.
For those not familiar with floating-rate securities, they are bond-like products that provide the benefits of (relatively) high-yielding senior, secured bonds with protection against rising interest rates and inflation. This protection is derived from their variable rates - typically tied to LIBOR plus a spread (e.g. 30-day LIBOR plus 700 basis points). Every fund is different, but generally, +/- 90% of the investments are loans with B, BB or BBB credit quality.
Risk is mitigated through company and industry diversification, with the top ten holdings of a fund typically representing less than 20% of the funds investable assets. Similarly, industry diversification is also maintained, with no one industry type receiving more than 20% of a fund's investable assets.
The below tables represent the top ten holdings and industry diversification of my favorite floating-rate bank loan fund, JFR (Nuveen Floating Rate Income Fund) as of May 31, 2014.
Top Ten Holdings of JFR (Source: Nuveen)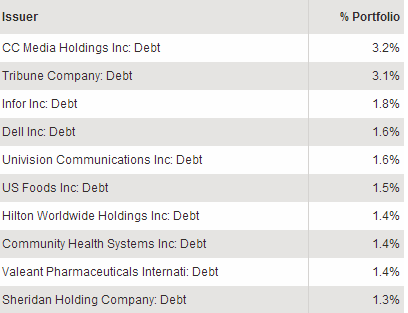 Holdings by Industry of JFR (Source: Nuveen)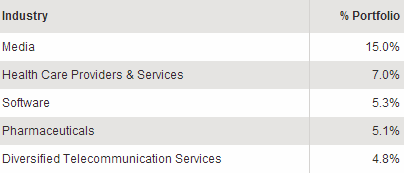 Investment returns are commonly enhanced by leverage, typically between 25%-40%. In the case of JFR, leverage was 36.9% at May 31, 2014 (Source: Nuveen).
Fees
Because of the unique nature of bank loans, there really needs to be an element of human involvement in assessing the underlying securities. Therefore, these funds typically carry hefty management fees and expenses. Normally, paying professional management is contrary to my investing style, but given the need to assess and monitor, I make an exception in the case of floating-rate senior bank loans. As an example, JFR fees are currently running at an annualized 1.42% (1.96% including leverage costs).
Selected Floating-Rate Senior Bank Loan Funds
There are a variety of instruments providing a similar product. As I mentioned, my preferred fund is JFR (4-star rated by Morningstar). Other highly rated funds (Morningstar 4 or 5 star) include: BlackRock Floating Rate (NYSE:FRA), Invesco Dynamic Credit Opportunities (NYSE:VTA), Invesco Senior Loan (A, B, C, IB and Y), Nuveen Floating Rate Income Opportunities (NYSE:JRO), Nuveen Senior Income (NYSE:NSL), Nuveen Short Duration Credit Opportunities (NYSE:JSD), Oxford Lane Capital Corp. (NASDAQ:OXLC) and Voya Senior Income (A, I and W).
While there are mutual fund versions of many of these funds, I prefer to invest in the closed end fund versions. My preference is based on the ability to sell during the day as well as the ability to purchase the funds at a discount to net asset value ((NYSE:NAV)). During much of 2013, these funds carried a premium to NAV; as investors started to become concerned with rising interest rates, the premium turned to a discount. Surprisingly, many of the premiums have increased to the high end of historical norms.
JFR: NAV & Price - Last Twelve Months (Source: Nuveen)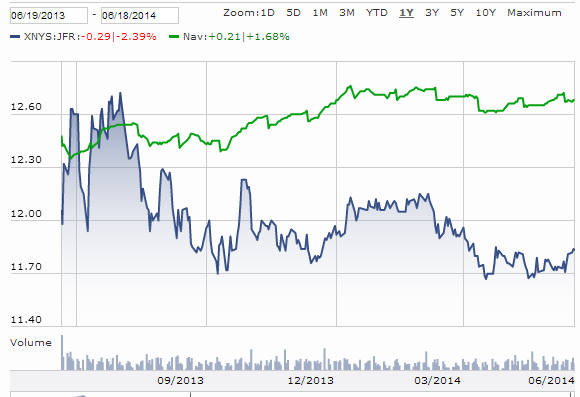 Below,
JFR: NAV & Price - Last Five Years (Source: Nuveen)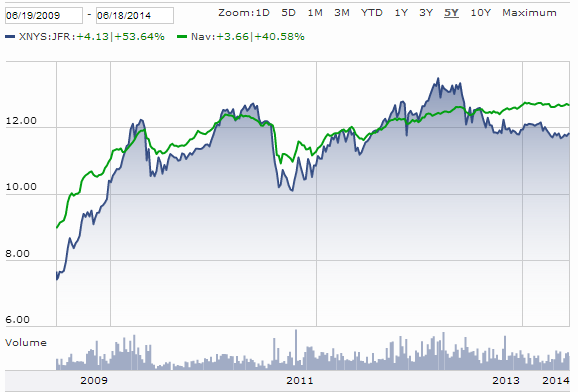 A Discussion on Risk
Nothing in life is without risk. The underlying assets of floating-rate senior bank loans, while offering first lien position in investment grade securities, do default on occasion. According to a study by Moody's Investors Service, the average annual default rate on senior floating-rate loans has historically (including the recent recession) been 3.4% (1996-2012). The same analysis highlights a 71.1% recovery rate on these same loans over the same period. Ignoring the time to recovery, the data suggest that an annual loss rate of 1.0% is to be expected (3.4% x 28.9% non-recovered) in an average year. Logically, the loss rate would tend to be less in times of economic expansion and greater in times of economic contraction or recession.
Liquidity
One downside to investing in the closed-end fund strategy is the risk of moving the market when you want to exit. Relatively low average daily volume means a large position combined with market volatility means a modest investor may have a larger impact than in a typical security.
Potential Performance in Today's Stable-to-Rising Rate Environment
In addition to a monthly payment, which currently is an annualized +/- 6%, there is the prospect of appreciation (on the closed end funds) as discounts decline from today's 5%-7% and approach a more normalized 0-3%. Further, according to a study by Vanguard, the performance of floating-rate products during a period of rising rates outperforms the bond market by 4.3% (see an excellent discussion from Vanguard on floating-rate bond funds).
Summary
Floating-rate securities offer an opportunity to capture premium income with modest risk compared to bonds and (on a risk-adjusted basis) cash or CDs. Today's stable-to-rising rate environment bodes well for these funds, as their variable rate feature offers rate protection that is absent from bonds. Historically, low net loss rates on the underlying loans combined with diversification mean minimal asset risk for the investor.
Income returns average +/-6% and historically large discounts to NAV offer the ability to pick up a few extra points as the spread closes to a normalized 0-3% discount to NAV.
Disclosure: The author is long JFR. The author wrote this article themselves, and it expresses their own opinions. The author is not receiving compensation for it. The author has no business relationship with any company whose stock is mentioned in this article.