As reported by the Financial Times, the recent inventory discrepancies at Qingdao, a major metals shipping port in China, have taken the markets by surprise and have pushed copper down to four-year lows. Unfortunately, this scandal has been sensationalized and blown wildly out of proportion. In response to the unconvincing arguments put forth by copper bears, this article aims to breakdown the irrationality acting upon copper as of late.
Though there has been commentary on the matter recently from the WSJ, one key consideration has been ignored. Note that this is not geared towards the tinfoil-hat community, but for rational investors interested in an alternative perspective on the event.
Based on the series of events surrounding the scandal, it seems that the invisible hand guiding the metals market has been painted gold. Soon after news broke regarding the scandal, Goldman Sachs (NYSE:GS) was the first to provide commentary on the matter and insist that the issue is sizeable.
Unfortunately, it appears that investors have forgotten about Goldman's history with the base metals involved at Qingdao and its heavily criticized annual Top Ideas. In 2013, Goldman was sued in Michigan for manipulating the aluminum market by hoarding inventories to artificially boost prices. Given Goldman's history of strategically directing metals markets to create profit centers, their role in Qingdao is a very real possibility.
Furthermore, Goldman's history of questionable recommendations also means that investors should approach 2014's Top Ideas with some caution. The tin-foil hat community can rest assured, however, that commentary surrounding the Top Ideas speaks more to the efficient-markets hypothesis and not necessarily to any intentional misconduct. The fourth recommendation published at the end of 2013 suggested going long on Chinese equities and shorting copper. For the purpose of this article only the latter will be discussed.
But why would Goldman drive down copper prices? Pushing the price of copper down creates an opportunity to buy up the commodity at four-year lows during the second and third quarter - thereby creating an opportunity for investors to profit from the heavy physical demand expected at the end of the year.
The key drivers of demand will be China's property markets, power grid investment, growing urbanization in India, strong German semis production and Indonesian export duties.
Property markets constitute 30% of Chinese copper demand. Historically, building completions shoot up at the end of the year and electrical wiring draws heavily on copper. As such, expect physical demand to drive the price of copper.
Though it has been widely discussed, The State Grid Corporation of China's (SGCC) plan to upgrade the state's power grid infrastructure will help move 100 million people from rural areas into the country's rapidly growing cities. Key to this argument is the fact that this investment is set to grow by 13% in 2014. The goal is to bring China's urbanization rate from 54% to 60% by 2020. Doing so will require large volumes of physical copper and with the $60 billion invested recently, this influx of people into urban areas will augment China's copper consumption per capita. Despite China's rapid economic growth, copper consumption per capita is a mere 5.4kg, compared to nations like the US who boast 10kg and Korea who has 18kg. In the long term, the mass exodus of the rural population will adopt new technologies and this is likely to push China's copper consumption per capita into a dominant position.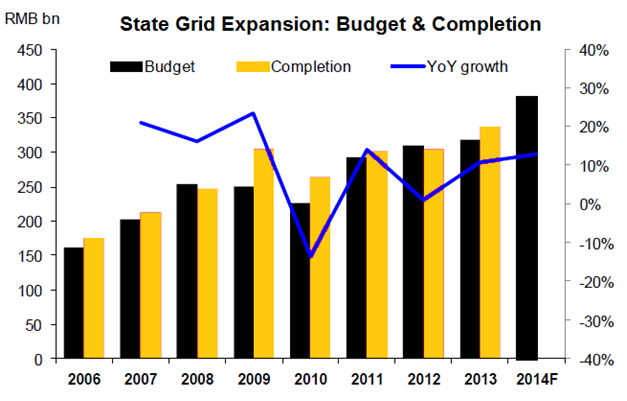 Source: Morgan Stanley.
A major shortage of scrap copper will also lend support to cathode demand with scrap imports into China down by 13% in April this year. This has crossed over into Europe where semis producers are being forced to switch to copper cathodes. Similar urbanization underpins consumption growth in India as well following the election of Modi. Growing PMI data and a positive outlook is sure to spur economic and industrial growth, which will indefinitely draw from copper.
German semis growth also underpins strong upcoming copper demand. Aurubis' (OTC:AIAGF) copper wire rod production is up 24% in the first 6 months of their fiscal year ending March 2014 - this has been driven by the energy and automotive sectors.
Indonesia's 25% export duty on copper concentrates will also put a supply strain on the markets and is expected to grow to 60% by 2016. Though dominant players such as Freeport-McMoRan (NYSE:FCX) and Newmont Mining (NYSE:NEM) have agreed on an export tax, it is not smooth sailing just yet. The new regulation will set lower rates for miners planning to build smelters, but given the lead times on new smelters these lower rates will bear a heavy burden in the short term. As production resumes from a five-month halt, the regulatory climate is unlikely to have miners and smelters in Indonesia going full steam ahead anytime soon.
Given the positive fundamentals working in favor of copper, it is essential that investors steer clear of copper bears. Despite its poor price performance, expect copper bulls to turn green soon after a long wait. Investors should consider copper ETFs to provide the best exposure to profit from the forecasted physical demand surge.
Variant View
Goldman's commentary on Qingdao may have been the bank just supporting its Top Idea and not a ploy to artificially push prices down further. The unsecured futures contracts may illicit investors to panic if this materializes at other ports with greater inventories. This has the potential to dampen trading volume and may provoke a major sell off - however, the fundamentals in play are very likely to avoid this situation.
Disclosure: The author has no positions in any stocks mentioned, and no plans to initiate any positions within the next 72 hours. The author wrote this article themselves, and it expresses their own opinions. The author is not receiving compensation for it. The author has no business relationship with any company whose stock is mentioned in this article.