Strong waves of investor concern have struck Lululemon (NASDAQ:LULU) after a series of blunders from management and slowing growth. The stock is down nearly 50% since its all-time high from June of last year and is also down 30% YTD, leading many to question the direction that management intends on taking the company in the future. Despite this, Lululemon is without a doubt still a staple in the luxury athletic apparel market and continues to maintain tremendous financial fundamentals, making it a clear winner for the taking especially with its current valuation. It is a heavily supported consumer brand and remains the top pick of yoga and athletic enthusiasts in American cities and college campuses, and will undoubtedly remain a premier brand in its field for quite some time.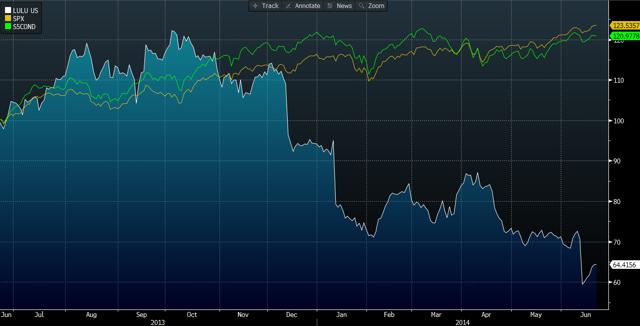 Image Source: Bloomberg
Basic Information
The company's ticker symbol is LULU and its primary exchange is the NASDAQ. It operates in the Consumer Discretionary sector and has a market cap of 5.86 billion USD. Its current price is 40.27 and the investment recommendation is a Buy with a target price of 48.
Its major shareholders are Capital Group Companies with 15.62% shares outstanding, FMR LLC with 14.99%, Thornburg Investment Management with 9.58%, and Lipo Investments with 8.94%. The company has 115.5 million shares outstanding with a floating number of shares of 104.9 million.
Investment Summary
Lululemon has fallen significantly from its all-time high from June of last year due to a string of managerial problems, including its unimpressive PR incident last year when the company blamed its female customers for affecting the sheerness of its products. The company has also seen stagnating growth in North America and many investors are now concerned with the strength of its management, fearing that the same team who made Lululemon the company that it is today are not equipped to take it to the next stage.
First and foremost, however, it is important to take note of the consumer market that the company caters to. While the company has inflicted damage on itself internally, its market remains relatively loyal and unmoved by management's actions. Young women in American cities continue to line up in Lululemon, as the brand is still at the pinnacle of its market. Also, these women are an incredible segment for the company to capture since they are, as another Seeking Alpha user put it, "the female population whom everyone admires and copies." Lululemon is not a fading, flavor of the month brand. People want it for the successful and upscale image that it gives off, and its competition from Victoria's Secret, Gap (NYSE:GPS), and Nike (NYSE:NKE) fail to target the company's core consumers. Investors who suggest otherwise and only see the picture at the surface of slowing growth forget to consider that online sales have spiked up, the company has opened up more locations, and the opportunity for international expansion remains viable.
Lululemon is poised to follow a similar trajectory by increasing the product line for its men's market. CEO Laurent Potdevin acknowledged that the company is not the only relevant player in town anymore, and Lululemon is planning on growing its men's line in order to reach out to a larger consumer base. Potdevin says that the men's line could eventually become a billion-dollar business, and the company is building on this as it plans to open three new stores in North America, each of which will feature an expanded men's section. Compared to Underarmour's (NYSE:UA) 36% YOY revenue growth, the company is only at 11%, and a farther-reaching market and continued expansion will be the kicks it needs to drive this figure up. A larger men's line and another three to four years of expansion in North America (only 2/3 of the number of stores that it can open up on the continent have been built) will add to this expansion.
Business Description
Lululemon designs and retails athletic clothing, producing fitness apparel that primarily caters to female audiences. A large majority of its sales come from North America, but the company is looking to expand throughout Europe in the future. It recently opened a store in London that is pivotal to accelerating its European expansion, and signs there have been positive with sales figures exceeding their target by 60%. The company's three suppliers are Delta-Galil Industries, Eclat Textile Company, and Workday, with the largest being the first mentioned, receiving 1.33% of Lululemon's revenue and making up 1.40% of its cost of goods sold.
The company is headed by CEO Laurent Potdevin who has had a successful track record, previously serving as the president of both Toms Shoes and Burton Snowboards. Management holds 20.48% of the company's outstanding shares, and it recently announced that it is planning on a large share buyback program, a good sign for investors in the long-term as the company's current equity is at a very cheap level. Fellow Seeking Alpha user John Ford discusses Lululemon and its kitchen-sink quarter, suggesting that most of the damage to Lululemon has already been done and management is paving the way for a strong recovery.
In the latest 10-Q, management intends on refocusing its brand by building a solid foundation to drive growth and expand its business. Net revenue from its direct to consumer channel increased 22% and represented 17.2% of the company's total revenue in Q1 2014, up 15.6% YOY. The company opened up nine new stores during the quarter, and further expansion in the United States will be crucial if it is looking to expand its footholds by creating more local connections. Management states that these developments have been key to its increasing revenue, and this trend will remain valid if it continues to open up more opportunities in new markets.
Peer Analysis
Comparing Lululemon to its competition, namely Gap, Nike, and Underarmour, the company has much to offer and is a clear winner. Its key ratios outperform those of its peers, though the company has yet to offer a dividend. What stands out particularly is its sustainable growth rate, indicating that as a relatively new company, it has much more room to grow than its competition without having to increase its financial leverage and borrow funds. The company has much higher profitability than its competition, but this should be monitored over the near future as the company continues its expansion and expenses rise. Also, Lululemon has no debt, which is a huge plus, and has much higher liquidity ratios than its peers.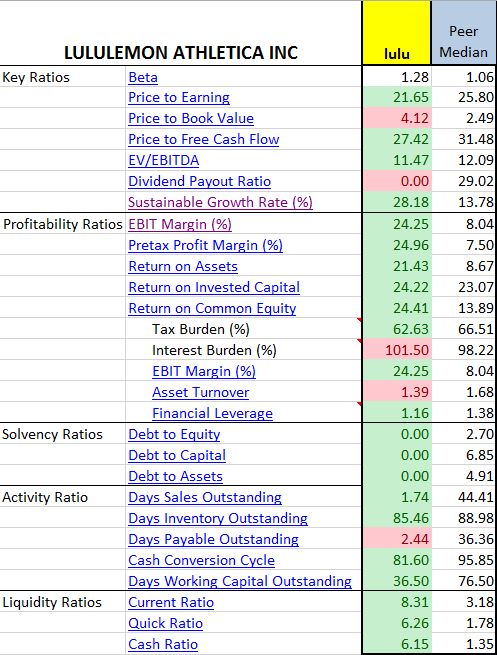 Bollinger Bands
Technical indicators are not personally my favorite, but its Bollinger Bands do show that it just recently hit its lower bound making it a favorable opportunity for the current time being.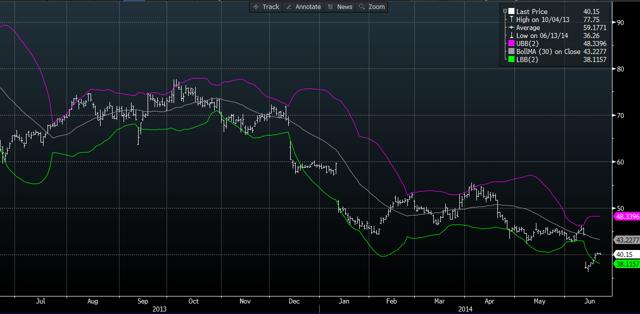 Image Source: Bloomberg
Investment Risks
Although Lululemon has an impressive brand, tremendous growth prospects, and great financial ratios compared to its competition, it is plastered with managerial issues that could serve as a detriment to it going forward. The foundation has already been set in stone to continue its growth in revenue and profits, so I for one am not worried about the threat that its competition poses. Despite this, it will have to truly shape up and reorganize in order to take the next step, especially before the next stages of international expansion.
One of the biggest concerns right now is the in-fighting between the company's management. Founder Chip Wilson even went out as far as trying to oust two members of the current board, suggesting that they do not align with the company's core values, damaging shareholder's perception of the company's managerial power. In addition, the company's CFO, John Currie, will be retiring at the end of the current fiscal year, posing a transitional risk for the company in the short-term future.
Another notable concern are the highest short volumes. I believe Lululemon is at a very cheap price, but the short interest ratio does give off some negative signals, painting the picture that for the time being, the market is not very confident in the company's future performance. However, as fellow contributor John Ford put it in a previous article, this short interest can act as "gas in the tank" for long-term investors as short-sellers eventually buy back their shares.

Image Source: Bloomberg
Although the company has lowered guidance set for this quarter, which poses a worrying image for investors, this plays in with the idea of a kitchen-sink quarter. With expectations low for the remainder of the year, the company can lay out the groundwork necessary for a strong recovery. This is timed in favor with its stock buyback and will help the company get rid of any pre-existing negative perceptions of the past, thus making it easier for it to perform more than adequately in time for its next annual report.
Conclusion
Despite the risks posed to the company, Lululemon remains an attractive buy at its current price point. It has one of the strongest brands in its industry and the opportunity for more international expansion and a larger and diversified product selection are key to it to see growth in the coming future. With expectations set low for the quarter and the rest of the year, the company can see a strong recovery and perform well in due time.
I recommend a "BUY."
Disclosure: The author has no positions in any stocks mentioned, but may initiate a long position in LULU over the next 72 hours. The author wrote this article themselves, and it expresses their own opinions. The author is not receiving compensation for it (other than from Seeking Alpha). The author has no business relationship with any company whose stock is mentioned in this article.