Lately I've seen a pattern emerge where investors I admire because of their intelligent value oriented process and remarkable results are buying into Berkshire (NYSE:BRK.B) (NYSE:BRK.A). I think this is the result of two things:
Berkshire is undervalued

They want to hedge their portfolios
Lets first take a look at the value investors who have put large percentage of their portfolios into Berkshire. The first table shows a selection of very successful investors with a value oriented process that have put in excess of 5% into BRK.B and the second table shows the same thing but for BRK.A, sometimes investors hold a small portion of the other share class too, and their actual percentage in Berkshire is even slightly higher.
Michael Larson - who manages the Bill & Melinda Gates Foundation Trust - tops the list by having put a whopping 49% of its portfolio in Berkshire. Allan Mecham also put 38% of Arlington Value between BRK.A and BRK.B, David Winters of Wintergreen advisors is another notable investor with a stake close to 18%. You may know him as the guy that was extremely vocal about the compensation package of Coca Cola (NYSE:KO) executives. Later he pointed out the possibility Buffett could take Coca Cola private. Apparently he is hedging that possibility by investing in Berkshire. To many readers, the Berkshire investor list I put together will read like a who's who of successful value investors:
BRK.B Shareholders Source: data Dataroma
| | | | |
| --- | --- | --- | --- |
| Fund | % of Portfolio | # Shares | Recent action |
| Michael Larson - Bill & Melinda Gates Foundation Trust | 49 | 77,039,804 | Reduce 6.09% |
| Allan Mecham - Arlington Value Capital | 32.15 | 1,000,919 | Add 2.69% |
| David Winters - Wintergreen Advisers | 17.65 | 1,207,613 | Reduce 1.18% |
| Lou Simpson - SQ Advisors | 11.24 | 2,067,741 | Add 17.86% |
| David Rolfe - Wedgewood Partners | 10.06 | 4,347,827 | Add 61.09% |
| Whitney Tilson - T2 Partners Management | 8.28 | 38,231 | Reduce 21.69% |
| Wallace Weitz - Weitz Value | 6.25 | 410,000 | |
| Mason Hawkins - Longleaf Partners | 5.88 | 2,740,320 | |
| Thomas Gayner - Markel Asset Management | 5.8 | 1,511,607 | Reduce 1.02% |
BRK.A Shareholders Souce: data Dataroma
| | | | |
| --- | --- | --- | --- |
| Fund | % of Portfolio | # Shares | Recent action |
| Christopher Davis - Clipper | 11.31 | 709 | |
| Thomas Russo - Gardner Russo & Gardner | 9.26 | 5,109 | Add 0.61% |
| Robert Goldfarb, David Poppe - Sequoia | 9.08 | 3,163 | Reduce 0.63% |
| Allan Mecham - Arlington Value Capital | 6.6 | 137 | Reduce 2.14% |
1) Berkshire is undervalued
Morningstar analysts identify 259 U.S. trades stocks as having a Wide Economic Moat. Of these 259 only 4 stocks trade at a lower Price/Book ratio than Berkshire Hathaway A or B shares. Meanwhile, you couldn't ask for better stewardship, several of the publicly traded holdings within Berkshire have much higher book value and the type of business Buffett and Munger generally decide to invest in, tend to possess a Wide Economic Moat. Buffett popularized the concept and companies with these characteristics tends to trade at much higher Price/Book multiples.
Sure, maybe the insurance business doesn't deserve much of a Price/Book multiple but it shouldn't trade far below 1.3 and the insurance business accounts for only about a third of Berkshire's pretax earnings.
There are probably several reasons why Berkshire is not at peak popularity right now. The market has been booming and Berkshire doesn't keep up very well during the best years of the S&P 500. This has lead to some criticism of recent results. Usually it doesn't take long before the market shuts up Buffett critics. It's also somewhat unrealistic to expect Buffett and Munger to remain at Berkshire for an extended period of time because of their respective age of 83 and 90.
2) As a portfolio hedge
I suspect some of these managers are holding Berkshire as a hedge. Berkshire tends to perform very well during U.S. recessions and holds up well when the market makes a correction. Meanwhile, if no recession is coming, your money is still being managed by what may well be the best investor of all time. So, especially given the current valuation, hedging by taking a position in Berkshire is very cheap. If you are wrong to hedge, it's not as painful as holding cash. Although cash would greatly outperform Berkshire in a crash.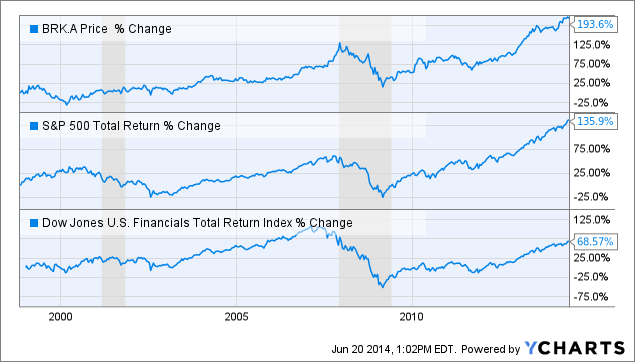 The 2008 recession was painful for Berkshire as well, but that's an atypical recession in so far that it was a banking crisis. Financials were sold off almost regardless of merit. Not every recession is a banking crisis. Still, The U.S. Financials Index took a much more serious hit during that time period.
Cash would do better than Berkshire stock in most recessions as it essentially stays flat but sometimes Berkshire outperforms even cash in a recession as evidenced by the U.S. 2001 recession when it returned 3.14%.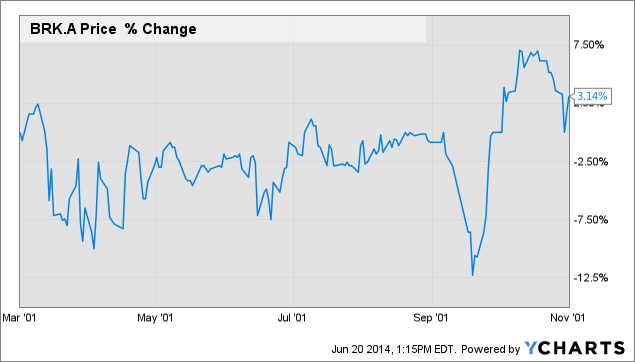 Conclusion
Many brilliant value investors are building up large stakes in Berkshire shares. Is the market overvalued? Do they expect a correction is coming? I don't know, but Berkshire is cheap on a book value basis when compared to other Wide Moat Companies and it tends to perform better than the S&P or Financials during corrections. It sure looks like a great time to pick up some Berkshire.
Disclosure: The author has no positions in any stocks mentioned, and no plans to initiate any positions within the next 72 hours. The author wrote this article themselves, and it expresses their own opinions. The author is not receiving compensation for it (other than from Seeking Alpha). The author has no business relationship with any company whose stock is mentioned in this article.