Those considering investing in American Realty Capital Properties, Inc. (ARCP), but who are concerned about its aggressive acquisition strategy and the means of funding it, might find ARCP's preferred stock a better alternative.
ARCP is a property REIT and offers a traditional preferred stock that trades on the NGS under the symbol ARCPP. The unrated security's $23 share price is providing a current yield of 7.3 percent. The current yield of the company's common stock is 8.3 percent, providing a rare case where a REIT's common yield exceeds that of its preferred stock offerings (see "Today's Preferred Stock Marketplace; What A Difference A Year Makes", May 12, 2014).
But the impressive 8.3 percent common yield is due to falling share value more than increasing dividend distributions. While the company's common dividend, paying monthly, has increased by about one penny since common distributions began in October 2011, the share value of ARCP has bounced up from about $10 a couple of years ago to over $17 last year (+70 percent) and then back down to about $12 now (-30 percent).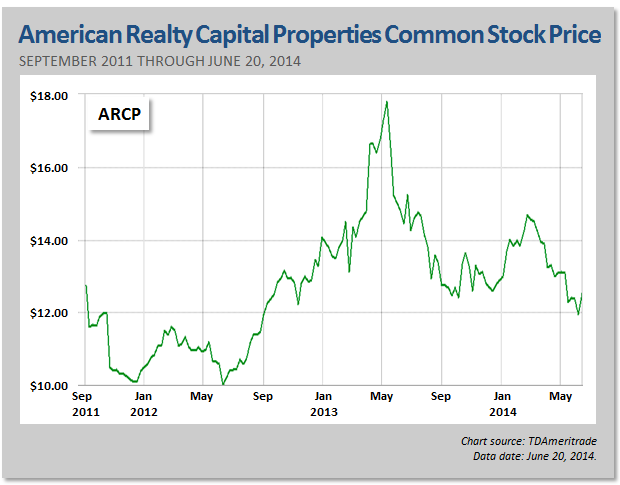 The volatility shown by ARCP's common shares is well beyond what is acceptable for many investors, and certainly for risk-averse preferred stock investors.
Sources: Common stock data, SeekingAlpha.com; Preferred stock data, PreferredStockInvesting.com
Description and History
American Realty Capital Properties, Inc., founded in 2010 and headquartered in New York City, is a REIT specializing in free-standing commercial properties, of which 49 percent are rented to tenants with investment grade debt ratings.
In June 2012, the company reported that its portfolio included 118 properties. Two years later, the company now reports 3,809 properties in its portfolio. Pursuing a growth-through-acquisition strategy, CEO Nicholas Schorsch has generated a wide variety of opinions from analysts and investors, ranging from self-serving to visionary. These views, not surprisingly, stem from our inability to see the future -- whether or not these risky acquisitions, and the means of financing them, pays off for ARCP will determine if Schorsch is ultimately seen as hero or villain.
For example, following a dilutive 138 million common share issuance in May that generated $1.59 billion in net proceeds, ARCP sold 76 shopping centers to a joint venture between DDR Corp. (NYSE:DDR) and an affiliate of Blackstone Real Estate Partners for $1.975 billion (this deal is expected to close in the third quarter of this year). Then on June 2, the company announced its plans to purchase the land sitting underneath 500 Red Lobster restaurants and implement a new compensation plan that would make CEO Schorsch the highest paid REIT executive in the United States (which was rejected by shareholders in an advisory-only vote on the same day).
The vote was followed by an announcement from the company that its acquisition budget for 2014 was being increased from $3 billion to a whopping $4.5 billion, triggering a nasty-gram from Marcato, an investor owning 21.8 million shares of ARCP.
For more details on how those following the company vary in their opinions and outlook, see Seeking Alpha's Focus page for ARCP.
Sources: property portfolio, company website; common stock issuance, sec.gov; "DDR and Blackstone Form Joint Venture to Acquire 76 Shopping Centers for $1.975 Billion", Wall Street Journal ; shareholder advisory vote results, "Shareholders Vote Against American Realty Capital's Pay Plan", Wall Street Journal.
ARCP's Preferred Stock
Given the aggressive deal making, rapid growth, volatility in value and shareholder angst that has greeted ARCP's strategy execution, the future performance of an investment in the company's common stock involves a great deal of uncertainty.
While today's buyers of ARCP common stock are currently earning a generous 8.3 percent yield, the market value of those shares has been gaining and losing several times that amount, making the future return on such an investment impossible to gauge.
If your resources, goals and risk tolerance are consistent with an investment in ARCP, but the company's common stock carries too much uncertainty, its preferred stock -- ARCPP -- may be worth consideration. As a REIT, ARCP is required to distribute 90 percent of its earnings to shareholders, starting with those holding shares of the company's preferred stock.

ARCPP is unrated by any rating agency so your own due diligence is required here (my writing about this security should not be taken as a recommendation). The security offers cumulative 6.7 percent dividends paid monthly. Its current $23.02 share price (June 20, 2014) provides today's buyers with a 7.3 percent current yield.
Sources: SEC prospectus for ARCPP
What's Next?
The 39 highest quality preferred stocks trading on U.S. stock exchanges (investment grade ratings, cumulative dividends, perfect track record, etc.) are currently offering an average current yield of 6.8 percent. ARCPP's 6.7 percent coupon and lack of ratings, not to mention the risk associated with a new company and its management team, has pushed ARCPP's price down and its current yield up to 7.3 percent. Consequently, today's ARCPP buyers are being offered one-half percentage point above the average yield of higher quality candidates to take the additional risk associated with this preferred stock.
While the company's common stock has lost about 5 percent of its value this year, the market price of the company's preferred stock has gone the opposite direction, moving up by about 7.5 percent as rates have fallen slightly during 2014.
The company's performance will certainly influence the value of its preferred stock, but preferred stock investors should remain mindful that an increase in rates often results in falling prices, so this year's 7.5 percent price increase could be eroded if rates go up.
Having said that, there is a growing amount of evidence that preferred stock investors have already "priced in" a complete exit of the QE program by the Fed. For example, preferred stock prices returned to their pre-QE2 level last June. And as the Fed has been tapering out of QE since January of this year, preferred stock prices have gone up, not down (see "Today's Preferred Stock Marketplace; What A Difference A Year Makes", May 12, 2014).
For most risk-averse preferred stock investors, the extra one-half percentage point offered by ARCPP may not be enough to motivate a purchase of ARCPP shares. But for those considering ARCP's common stock, ARCPP may offer a way of investing in this company while reducing the volatility risk and shareholder turmoil that has come with its aggressive growth strategy.
Disclosure: The author has no positions in any stocks mentioned, and no plans to initiate any positions within the next 72 hours. The author wrote this article themselves, and it expresses their own opinions. The author is not receiving compensation for it (other than from Seeking Alpha). The author has no business relationship with any company whose stock is mentioned in this article.
Additional disclosure: The CDx3 Notification Service is my preferred stock email alert and research newsletter service and includes the database of all preferred stocks used for this article. Securities identified within this article are for illustration purposes only and are not to be taken as recommendations.