By James Dearborn, Head of Municipal Bonds
As we reach the halfway point of 2014, it's a good opportunity to review our full-year outlook for the municipal bond market and consider what the second half of the year may have in store. While we anticipated that municipal bonds would post positive returns in 2014, year-to-date performance is already better than we imagined was achievable for the entire year. Through the end of May, municipal bonds returned 5.91%, among the best performances of all investment classes. Much of the positive performance was a result of an unexpectedly sharp decline in Treasury yields - likely the product of a combination of factors, including slower first quarter growth, ongoing albeit smaller Fed purchases, a reduced federal deficit requiring less borrowing and attractive relative valuations compared to other bond markets. Apart from the bond friendly decline in rates, municipals enjoyed a confluence of additional factors that helped them outperform Treasuries. These supports include a dearth of new supply, with issuance down more than 25%; a resurgent demand bred of investor appetite for attractive taxable-equivalent yields, compared to other fixed-income alternatives; and a grudging acceptance by retail investors that municipal credit quality is improving.
Given the year-to-date outperformance of tax-exempt bonds, should investors look for greener investment pastures elsewhere? We don't think so. While opportunities for additional price appreciation from a further drop in interest rates may be limited, we still believe municipal bonds should continue to perform well in the second half of 2014. Supply is down sharply this year (nearly 25% below 2013 supply), as austerity continues to ripple through state and local governments borrowing plans. Demand has strengthened considerably in recent months and we see no signs that investor appetite for tax-free income will abate. New taxes and higher tax rates implemented last year have ignited a fierce interest in municipal bonds, as investors' antipathy to taxes remains palpable. This demand is fueling flows into mutual funds and individual bonds, providing a positive support for bond prices. This marked supply/demand imbalance that pushed up prices earlier this year, may intensify over the summer when investors will need to reinvest a large amount of bond maturities and interest payments.
Aside from the positive technical environment, market fundamentals are also improving and we continue to see broad-based credit improvements at the state and local government level, which are providing an important underpinning to this year's rally. Notwithstanding negative headlines emanating from a few poorly-managed high profile issuers (e.g., New Jersey, Illinois and some the Chicago-land credits), rising reserve levels - the product of growing tax receipts and
restrained spending - justify tighter credit spreads, especially relative to more volatile taxable fixed income alternatives, such as high-yield and investment-grade corporate bonds. While rates may in fact move higher later this year, we believe that even in such an environment, municipal bond investors will enjoy higher after-tax total returns with the promise of relative outperformance compared to other fixed income investment options.
Taxable-equivalent yields - The muni yield story remains compelling
Yields on municipal bonds are compelling when considering the impact of taxes on non-exempt securities. Exhibit 1 provides the stated and taxable-equivalent yields of various fixed-income classes. Comparing the stated yields of tax-exempt and taxable securities is an apples-to-oranges comparison, so investors should look at their taxable-equivalent yields, which are adjusted for the impact of taxes. A taxable-equivalent yield approach essentially grosses up the tax-free muni yield by an investor's tax rate, putting it on an equal footing with a taxable security, such as a corporate bond.
The results are pretty clear. The stated yield of the broad municipal bond index - which includes only investment-grade bonds - far outstrips Treasuries and investment-grade corporates and comes close to matching the yield on junk-rated corporate debt. On a taxable-equivalent yield basis - adjusted for taxes - the story is even more compelling as muni yields are significantly higher than these other classes. For example, the stated yield of the high yield muni index is higher than the high yield corporate index (6.50% vs 4.99%). On a taxable-equivalent, apples-to-apples, basis, the yield of the high yield muni index is more than double its corporate counterpart (11.48% vs 4.99%).
Exhibit 1: Attractive taxable-equivalent yields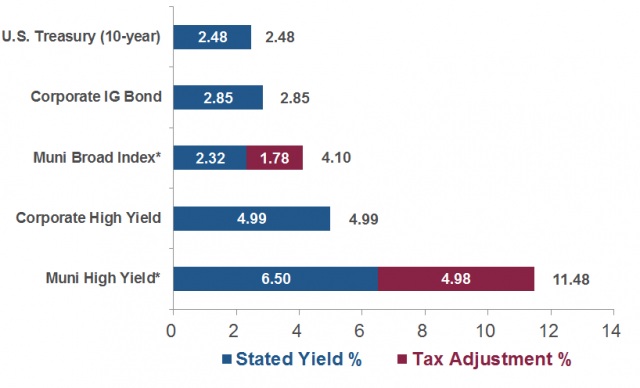 Sources: Bloomberg (U.S. Treasury 10-year) and Barclays, as of May 31, 2014. Past performance does not guarantee future results. * Assumes a 2014 federal income tax rate of 43.4% (39.6% income tax rate + 3.8% Net Investment Income Tax rate). Other taxes are possible. The effect of potential federal income tax phase outs of personal exemptions and itemized deductions is excluded from this schedule. Had they been included, the reported tax rate would have been higher which would then increase the municipal taxable equivalent yield, for any given municipal stated yield. State income taxes may be applicable and can further reduce the after-tax returns of some municipal bond investments (depending on the state of residence). Income from certain tax-exempt securities may be subject to the federal and/or state alternative minimum tax for some investors. In addition, federal and state income tax rules will apply to any capital gain distributions and capital gains or losses on sales. When investing in municipal securities, investors in higher tax brackets can receive a greater tax benefit than those in lower tax brackets. Municipal bonds provide income exempt from federal and, in some cases, state income taxes.
Resurgent demand plus negative supply equals supportive technical environment
The growing awareness of the relatively high taxable-equivalent yields has spurred a renewed interest in owning municipal bonds. Exhibit 2 shows the flows into municipal bond mutual funds over the last year. Investor sentiment has changed from an almost panic in 2013 to a realization that the muni market represents an attractive investment opportunity for a variety of reasons, such as positive market technicals, improving fundamentals and higher and new taxes. Due to seasonality factors within the muni market, flows typically turn negative in April, as investors sell municipal bonds to pay taxes. However, such selling didn't occur in 2014, probably because much higher tax bills created an incentive for investors to sell taxable investments instead of munis.
Exhibit 2: Municipal bond mutual fund net flows ($million)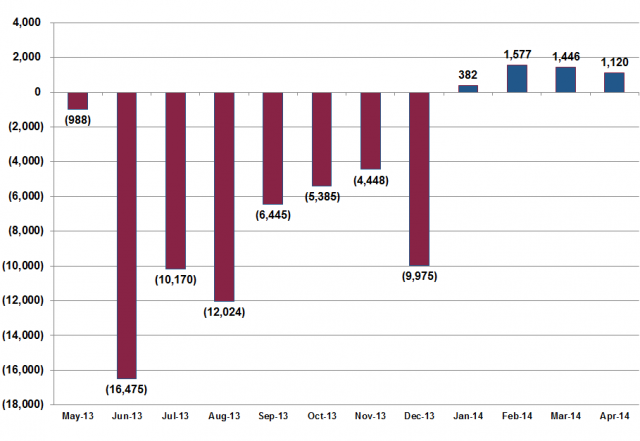 Source: ICI, May 2014.
On the other side of the ledger, the net supply of municipal bonds has been negative in recent months, with bond maturities and redemptions outpacing the issuance of new bonds. This imbalance is reflected in Exhibit 3. With the summer months, the lack of supply is likely to be exacerbated, as supply invariable recedes during June, July and August, as bond maturities, redemptions and interest payments spike higher. While the fall months are likely to bring a return of issuance, we believe that the ongoing supply/demand technical imbalance provides a strong and stabilizing force for muni investment performance for the remainder of the year.
Exhibit 3: Tax-exempt bond issuance, redemption and net supply (2013-2014 YTD)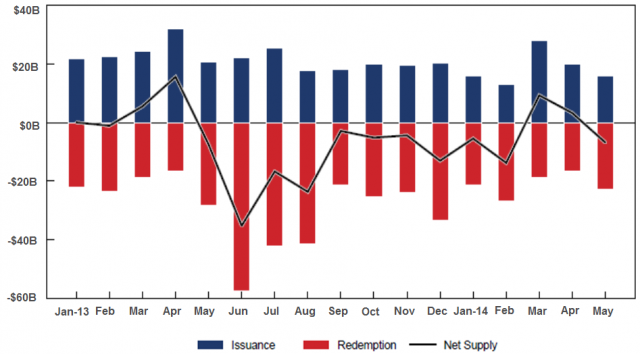 Source: Goldman Sachs, May 23, 2014. Past performance does not guarantee future results.
Illinois, New Jersey and Puerto Rico headlines aside - Vast majority of state and local issuers experiencing credit improvement
Although some prominent "bad apples" will try to spoil the whole bunch, we believe that recent negative budget developments in Illinois and New Jersey, as well as ongoing stress in Puerto Rico are more the outliers than the norm in municipal credit quality. For most states and local issuers who have seen tax revenues climb past pre-recession peaks, credit quality, as measured by budgetary balance and reserve levels, continues to strengthen. For local governments, improvements in the real estate market are finally translating into rising property taxes, which constitute the largest portion of local government revenues. The combination of increasing tax revenues and ongoing budget austerity has turned the debate in city halls and county offices from what spending and services to cut to what to do with growing reserves. The improving budgetary performance is also allowing some governments to hike payments to underfunded pension systems. We believe that the positive trend in state and local credit quality has been an important support for the first half rally in the municipal market. The 2013 sell-off in the municipal market was as much a function of fear of credit issues, as it was of rising interest rates. So far in 2014, we believe that investors are focused on the largely positive big picture, not a few poorly managed issuers. For the remainder of the year, we expect the overall trend to continue in a positive manner and caution investors to be wary of sell-offs related to headline news about a few problem credits. Still generous taxable-equivalent yields, a very supportive technical environment and broad-based credit improvement are all factors which should propel the municipal market to a solid second half.
Disclosure: There are risks associated with an investment in a municipal bond fund, including credit risk, interest rate risk, prepayment and extension risk, and geographic concentration risk. In general, bond prices rise when interest rates fall and vice versa. This effect is more pronounced for longer-term securities. Income from tax-exempt bonds may be subject to state and local taxes and a portion of income may be subject to the federal and/or state alternative minimum tax for certain investors. Federal and state income tax rules will apply to any capital gain distributions and any gains or losses on sales.
Disclaimer: The views expressed in this material are the views of the author through the date of publication and are subject to change without notice at any time based upon market and other factors. All information has been obtained from sources believed to be reliable, but its accuracy is not guaranteed. There is no representation or warranty as to the current accuracy, reliability or completeness of, nor liability for, decisions based on such information and it should not be relied on as such. This information may contain certain statements that may be deemed forward-looking statements. Please note that any such statements are not guarantees of any future performance and actual results or developments may differ materially from those discussed. There is no guarantee that investment objectives will be achieved or that any particular investment will be profitable. Past performance does not guarantee future results. This information is not intended to provide investment advice and does not account for individual investor circumstances. Investment decisions should always be made based on an investor's specific financial needs, objectives, goals, time horizon and risk tolerance. Please see our social media guidelines.