Just as it seemed the way was cleared for stocks and blocked for gold with the overcoming of several obstacles that obstructed the first half of the year's performance, the World Cup hath begun. Unfortunately, I'm not speaking about the futbol event that is currently dominating the attention of the world over. Rather, I'm speaking of the world cup that runneth over with blood. Geopolitical chaos has resurfaced where most thought it had settled, and it has sprung up anew in places long thought won by civilization. And so, while I believe stocks may still have an upward path in the short term depending on what unfolds, my view on gold diverges. The SPDR Gold Trust (NYSEARCA:GLD) has strong support now to hold current ground, and is poised to take more because of the uncertainties and developments with Russia and in Iraq. This is because of gold's safe haven appeal in such times and its importance as mankind's default currency, in my opinion.
Four major issues had been cured to clear the way for stocks and seemed set to burden gold. Early-year capital flow factors that had money coming out of stocks have been exhausted, the Russian incursion into Ukraine seemed settled, the Fed's unfortunate forecast for the Fed Funds Rate was mitigated, and harsh winter weather all played a role in limiting stocks to start the year. But as those factors passed, I saw an opportunity opening in June and authored my S&P 500 Summer Forecast. Within it, I discussed concerns for gold and gold relative securities like the SPDR Gold Trust.
Even so, I couldn't ignore the fact that Russia was developing an anti-dollar policy, and suggested that this offered support for gold and the SPDR Gold Trust not long after questioning how a rising stock market would affect the metals. Today's news headlines show NATO warning of Russian troops once again heading toward the border with Ukraine, which Ukraine has sealed in response. This follows a report from two days ago indicating that Russia's economic advisor to Vladimir Putin is advising the Russian leader to wage a war against the dollar; it seems to be underway already. Meanwhile, the Ukrainian government is progressing toward an association with the EU (to be signed in a week's time), which surely angers Russia. And Treasury Secretary Lew just went on record suggesting that Russia may soon face greater sanctions. So the situation in Ukraine has not gone away as many market enthusiasts thought it would. It is escalating, and American investors seem to be ignorant of it all due to other concerns developing in Iraq and also due to past survival of Ukrainian upheaval. Make no mistake about it, though; this Russian issue is far more threatening to the U.S. economy, dollar and stock market than any other current concern. However, it does serve gold well, and the SPDR Gold Trust should serve investors well as a result. I discussed the reasons for this in detail in my article published a short time ago.
There are other concerns in this bloody world cup. Namely, the Iraqi situation, which has shocked the world, as the al-Qaeda affiliated ISIS approaches Baghdad. The Iraqi government, in a state of panic and not finding the U.S. to be as friendly an ally as it had hoped it would be, is listening to Iran's offer to help it defend itself. Meanwhile, the Shiite religious leader of Iraq, Ali al-Sistani, is calling for new government leadership. The current leader of Iraq, Nouri al-Maliki, is a Shiite Muslim, so what exactly is the Iranian born religious leader intimating then? Might he be seeking the sort of Theocratic Republic that currently rules neighboring Iran? Most say no, as it is division that has some Sunni Iraqis joining ISIS against the central government. Sistani is said to desire a unifying leader and system, like the sort President Obama spoke about this week. In any event, Iraq is clearly as unstable as ever and falling into civil war.
Whatever the U.S. does in Ukraine and Iraq will most certainly have some backlash to it and further anger radicals abroad. We can only incite further hatred from unreasonable enemies, and that has high potential of bringing the war home to the U.S. again. Those infamous words from ISIS' leader, in which he said to his guards upon release, "I'll see you in New York," ring ominously now. But there is a hedge against terrorism, and it is also gold and the SPDR Gold Trust in my view. This offers further reason to hold gold and reason to see its relative securities like the GLD supported here, because if the US economy is threatened, and the dollar with it, gold should benefit as an alternative reserve currency.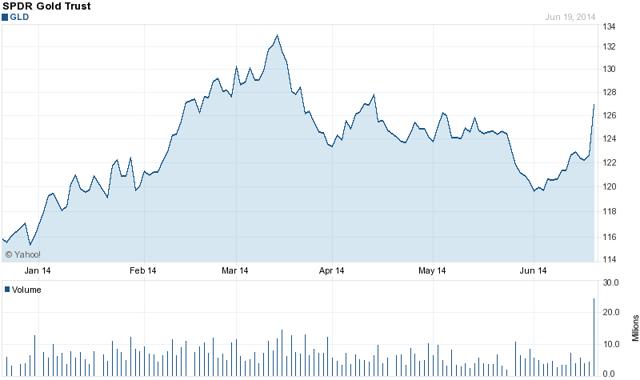 All of the above offer support to the shares of the SPDR Gold Trust here. When global stability is threatened, and the US dollar at the same time, gold is the next best alternative for sovereign reserves, and so it finds demand. Initially, that demand comes from investors anticipating it, and would be followed by sovereign nations. There's no denying it, though in the past some of the commentators to my articles have made weak arguments against gold's value as a currency and as a safe haven. The chart above clearly shows the importance of geopolitical factors of the magnitude we are now experiencing on gold. Though, the early-year move for gold was all about capital flows, as discussed in my article on the subject.
| | | |
| --- | --- | --- |
| Metals ETF | YTD | TTM |
| SPDR Gold Trust | +8.9% | +2.3% |
| iShares Silver Trust (NYSEARCA:SLV) | +7.1% | +5.6% |
| Sprott Physical Gold Trust (NYSEARCA:PHYS) | +9.5% | +2.9% |
| Market Vectors Gold Miners (NYSEARCA:GDX) | +22.2% | +5.2% |
| Direxion Daily Gold Miners Bull 3X (NYSEARCA:NUGT) | +58.3% | -29.9% |
So, as the world cup runneth over with blood, fear not, because there is a hedge available for at risk investors. Each of the ETFs listed above here are tied to the movement of gold and silver and will work for you. Some are levered instruments though, as evidenced by the performance variance. In my view, the SPDR Gold Trust works best as a proxy for gold short term and would be my choice for a liquid hedging instrument to cover a timeline that is uncertain.
Disclosure: The author has no positions in any stocks mentioned, and no plans to initiate any positions within the next 72 hours. The author wrote this article themselves, and it expresses their own opinions. The author is not receiving compensation for it (other than from Seeking Alpha). The author has no business relationship with any company whose stock is mentioned in this article.