Microsoft (NASDAQ:MSFT) has broken out of the $23-$33 range that it was in for years and has risen to over $40 per share recently. Is it worth it?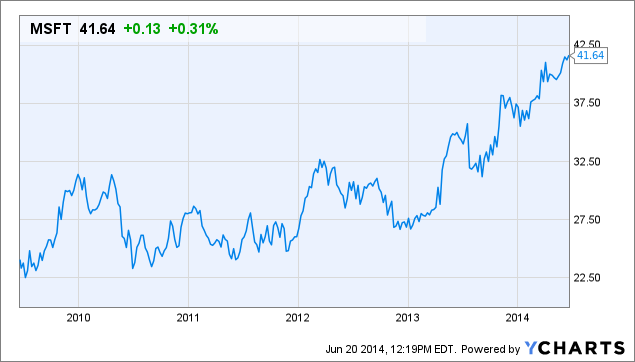 I will value Microsoft based on several calculations that I use when deciding to buy, sell, or hold a stock. Then I will discuss two other important metrics that help me decide the value of a stock.
Discounted Earnings
The average estimate as shown on Yahoo Finance for Microsoft's next five years' EPS growth is 6.78%. Using that figure for five years, followed by 5% for the next 15 years, and plugging in a discount rate of 10% gives a Fair Value number of $35.27.
The Fair Value calculation is only as accurate as its inputs, so it is important to weigh the odds of MSFT living up to the 6.78% five year growth that analysts are expecting. Looking backwards at the earnings growth gives some data to compare:
Last five years: 9.2% average earnings growth per year
Last ten years: 13.1% average earnings growth per year
The estimate of 6.78% looks very reasonable considering MSFT's past, the slowing PC market, and the fact that the company is simply getting larger and slower growth is to be expected.
Dividend Discount Model (DDM) Valuation
The DDM method is a variation of the DCF method. The DDM was the brainchild of John Burr Williams in the 1930s who thought that a stock's worth should be calculated as the present value of all the dividends to ever be paid on it.
Microsoft's five-year dividend history: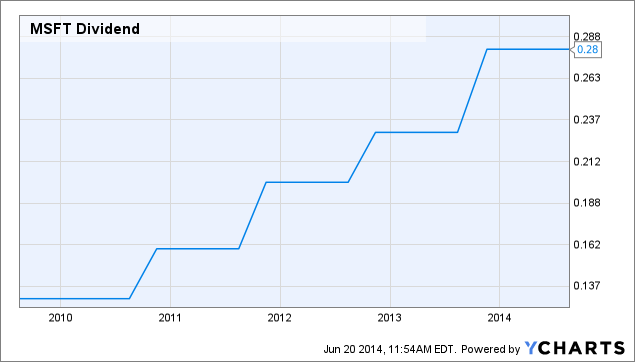 MSFT Dividend data by YCharts
MSFT's current dividend is $1.12 (annualized), which corresponds to a current payout ratio of 43.4%. The last six years have seen the following increases to the dividend:
2008: 18%
2009: 0%
2010: 23%
2011: 25%
2012: 15%
2013: 22%
While the increases have been impressive lately, Microsoft cannot keep that up for long. The payout ratio is already over 40% and earnings growth is slowing down. I will assume 10% dividend growth for five years followed by a terminal dividend growth of 5% and an assumption of a terminal payout ratio of 70%. Using those inputs gives a Fair Value for the stock of $43.53.
Historical P/E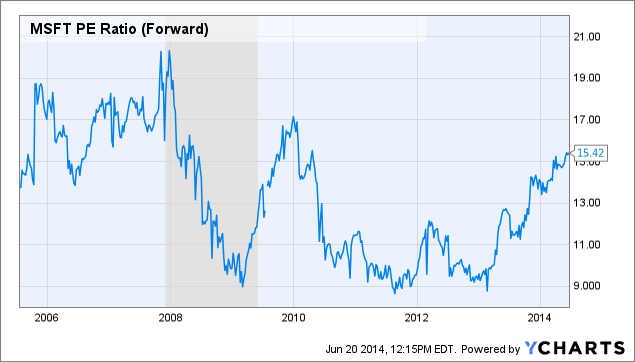 MSFT PE Ratio (Forward) data by YCharts
(The shaded area is the Great Recession time period)
We can see from the graph above that MSFT is at its highest forward P/E since early 2010. Combined with low estimates of only 6.78% EPS growth in the next five years, the stock appears overvalued by this metric.
In this case, I consider Fair Value by this metric to correspond to a forward P/E of 12; that is approximately what the stock commanded before the sudden P/E expansion of the last year. Using a forward P/E of 12 I calculate a Fair Value of $32.40.
Conclusion
While I don't derive a Fair Value calculation from looking at the margins of a company, I do consider it vital to an overall analysis.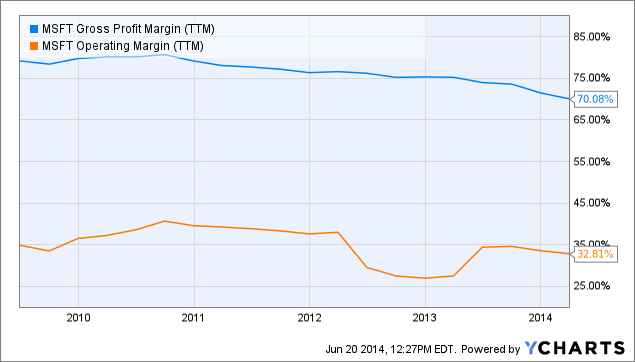 MSFT Gross Profit Margin (TTM) data by YCharts
The downward trend is quite a concern. In late 2010, Microsoft's operating margin was over 37%. That figure has steadily fallen since. Gross margins are down from roughly 80% four years ago to about 70%.
In fact, it was the declining margins that really pushed me into a sell position on the stock (see below). The Fair Value is "close enough" to not worry about if the underlying financials, and in particular margins, were holding up. But the declines we see in the graph above convinced me that it was time to exit the position.
Another metric to look at, which again does not directly compute one of my Fair Value figures, is the net common payout yield.
The net common payout yield is the dividend yield plus the net buyback yield. For example, if a company with a market cap of $100 million repurchases $10 million worth of stock in the last twelve months, issues no new stock, and has a dividend yield of 3%, then the net common payout yield would be 13%.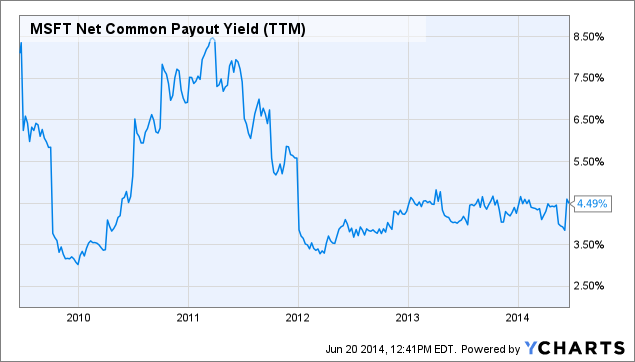 MSFT Net Common Payout Yield (TTM) data by YCharts
Here MSFT scores good marks. They are consistently returning about 4.5% to shareholders which I consider to be good. A yield of 8% or more I consider to be excellent and a yield of 10% or more is exceptional (and rare to keep up for long).
I consider MSFT to be slightly overpriced. The declining margins and expanding P/E (without corresponding growth) are considerable concerns. Taking an average of my three valuation techniques gives an overall Fair Value of $37.07, representing about 11% overvaluation at this time. Personally, I sold my shares a few months ago at about $39.
However, for a dividend investor the stock might be a solid choice. The company has raised dividends quite impressively lately and the payout yield shows solid shareholder friendliness. In addition, out of my three valuation calculations, the one that scored the highest was the DDM - the Dividend Discount Model.
Disclosure: The author has no positions in any stocks mentioned, and no plans to initiate any positions within the next 72 hours. The author wrote this article themselves, and it expresses their own opinions. The author is not receiving compensation for it (other than from Seeking Alpha). The author has no business relationship with any company whose stock is mentioned in this article.