Walt Disney (NYSE:DIS) was an amazing innovator. With the seamless integration of Disney's animated content, Disneyland, television, and merchandise, he also developed an "ecosystem" long before ecosystems were the standard for the technology companies of today.
The Disney spirit is still intact, as Frozen is now the world's highest grossing animated film of all time. The ecosystem is still in place too, as Disney milks Frozen for all it's worth through sales of its soundtrack, its release on DVD and Blu-Ray, licensing, and merchandising.
Not just Frozen
The fact that Disney can still create a wildly successful animated film is great to see, especially when looking at the multiplier effect it has as its success spreads through other outlets like merchandising. According to the company's CEO Bob Iger, "nine out of the ten highest selling items at the Disney Store in the [second] quarter were Frozen merchandise."
Iger is also looking to continue to integrate Frozen characters into Disney Parks and even bring it to Broadway. It's heading towards becoming a top five franchise of all time, and it could also be a growth driver for a very long time.
Besides Frozen and its classic library of content, Disney's other acquired franchises like Marvel, and more recently Lucas Film, should continue to facilitate growth going forward. The company's impressive pipeline could throw even more fuel on the growth fire going forward, especially if/when the Star Wars franchise begins to bear fruit.
A record quarter
The thing with Disney is this, if it has a hit film, that success usually spreads through the company's diversified ecosystem to positively impact more than just one segment. It reports five separate segments: Media Networks, Parks and Resorts, Studio Entertainment, Consumer Products, and Interactive.
Every single one of Disney's segments saw a double-digit increase in operating income during the company's most recent quarter. It also reported its highest ever adjusted EPS - which clocked in at $1.11. Revenues rose 10%, while overall net income saw an increase of 27%. The growth is there, but will it continue?
Looking at the current quarter
I expect next quarter to be strong as well. Starting with the media networks segment, which includes iconic operations such as ESPN, Disney Channels Worldwide, and ABC, the NBA finals averaged 15.5 million views and will contribute to ABC's revenues for the quarter. The FIFA World Cup should also add to both ABC and ESPN's revenues this quarter as well, but management has also stated that the ad market has been soft.
The Parks and Resorts segment accounts for over a quarter of the company's revenues and proves Disney has pricing power. The company recently raised prices, and with the summer months attracting more tourists, growth in revenues related to parks should continue on all cylinders, especially domestically. The company's CFO, Jay Rasulo pointed out during the 2Q conference call that:
The second quarter also included one less week of the Easter holiday compared to last year. Adjusted for the timing of the Easter holiday, operating income would have been up an estimated 31%.
Rasulo also indicated that, "So far this quarter, domestic Resort reservations are pacing up 3% compared to prior year levels, while book rates are up 6%."
Bob Iger later expanded on this during the Q&A session, answering a question about tailwinds heading into June, stating "In terms of the business overall, you mentioned the one week of Easter, that will give us about $45 million lift in Q3." This segment should continue to show strength when the company reports in August, especially if attendance remains on an upward trajectory with the recent price increases of around 4%.
Moving to the Studio Entertainment, Consumer Products, and Interactive segments: The success of Frozen will continue to carry over to each of these segments for next quarter.
Disney released Maleficent, which did $70 million in the U.S. and an additional $100 million overseas in its opening weekend this month. While it's no Frozen, those are still respectable numbers. Disney will also be releasing Planes: Fire & Rescue in July. This could be another money-maker not only at the box office, but also in the consumer and interactive segments as well.
Disney will likely continue to power through, full-steam, all the way until it reports its third quarter earnings in August.
Fundamentals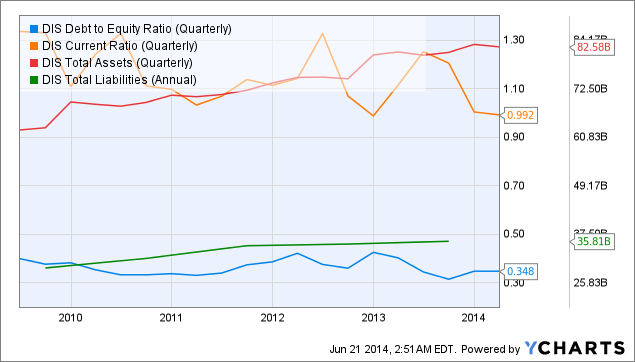 DIS Debt to Equity Ratio (Quarterly) data by YCharts
I'd like to see more liquidity with a stronger current ratio, but the company's balance sheet is otherwise relatively strong.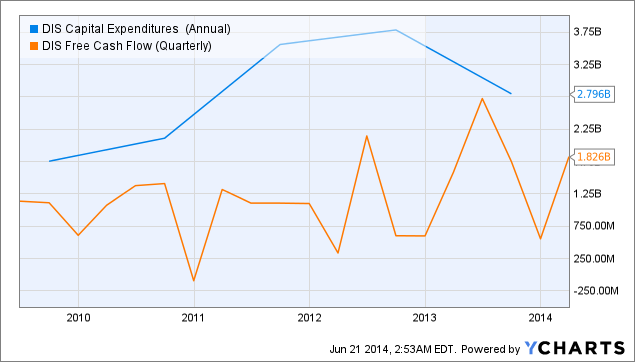 DIS Capital Expenditures (Annual) data by YCharts
Disney generates ample free cash flow and much of its CapEx comes from maintaining and expanding its parks, as well as building new ones - such as the Shanghai park opening in 2015/2016. The park will be, as noted by CFO Rasulo, located in the "most populous city in the most populous country in the world," with "330 million people that we believe are potential Park guests living within a 3.5 hour trip."
Rasulo expects CapEx for 2014 to be higher by roughly $800 million than it was for 2013.
Valuations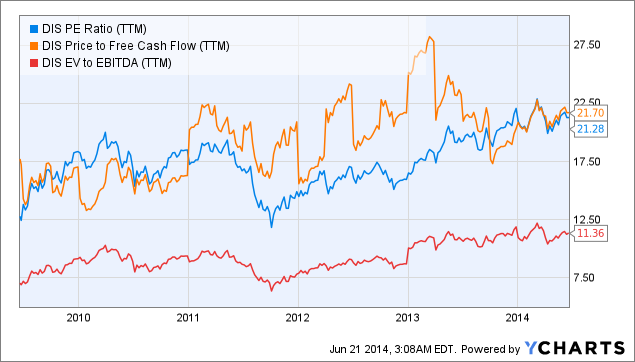 DIS PE Ratio (TTM) data by YCharts
Disney looks expensive now, but a little more reasonably priced going forward, trading at 17-18 times forward earnings, with a PEG of 1.23.
The company pays a dividend that yields a measly 1%, which is also paid annually, so there isn't much downside protection on that front, either.
Other future considerations
Disney has a robust pipeline filled with future films from Marvel, Pixar, and Lucas Film that will also carry merchandising and licensing revenues upward if successful.
Another big quarter could make shares even more valuable. Longer-term, it will also monetize and leverage its Shanghai park, adding another level to its moat and ecosystem in China.
The company recently acquired Maker Studios in an aim to transition into the digital era as well. Industry analyst Will Richmond wrote (via CNN Money) that:
Maker's YouTube-centric DNA would give Disney valuable insight into how to extend its star-making machine to the still quite opaque online realm... But star-making is just half of the equation. The other, equally important half is mastering (and quite possible shaping) how online video distribution works, and what role YouTube will play.
The Maker Studios acquisition adds yet another component to Disney's ecosystem that it can leverage with its massive amount of content.
Risks going forward
Overvaluation in the near-term with little dividend protection
A weak economy, leading to less consumer discretionary spending and a derailing of the growth story
Overall market correction
Conclusion
The House of Mouse is a great growth story, but an expensive one. At this price it might be best to wait for a pullback, as there isn't a margin of safety or the safety of a high-yielding dividend.
On the other hand, shares appear fairly valued when looking at forward earnings, especially if the company finishes the second half of this year as strong as it finished its (record) first half. I expect the company to continue to outperform the market, but will only be adding to my position on dips as a precaution.
Disclosure: The author is long DIS. The author wrote this article themselves, and it expresses their own opinions. The author is not receiving compensation for it (other than from Seeking Alpha). The author has no business relationship with any company whose stock is mentioned in this article.
Additional disclosure: Articles I write for Seeking Alpha represent my own personal opinion and should not be taken as professional investment advice. I am not a registered financial adviser. Due diligence and/or consultation with your investment adviser should be undertaken before making any financial decisions, as these decisions are an individual's personal responsibility