After a single down week, the Alerian MLP index gained 1.08% this week. The AMZ YTD total return climbed to 12.62%. The S&P 500 continued to set record highs and closed up 1.38% for the week. The number of new 52-week highs for MLPs and related companies climbed to 31 for the week compared to 20 new highs last week. There were no new 52-week lows.
A busy week for MLPs was highlighted by the major acquisition by Williams Companies, the rumored merger/acquisition of Targa Resources Corp. and the Enbridge IDR restructuring. Two MLP IPOs launched this week, Viper (NASDAQ:VNOM) and Foresight Energy (NYSE:FELP).
Unit Value Winners and Losers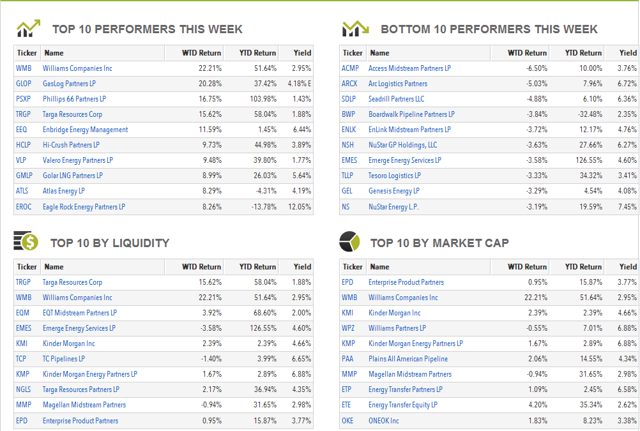 The biggest news of the week was the announcement that Williams Companies (NYSE:WMB) was buying for $6 billion 50% of the Access Midstream Partners (NYSE:ACMP) GP interest it did not own and also the ACMP LP units owned by Global Infrastructure Partners. ACMP posted the largest decline for the week, possibly on the news that Williams plans to merge Access Midstream Partners with Williams Partners (NYSE:WPZ).
GasLog Partners (NYSE:GLOP) climbed on a report from Credit Suisse stating that LNG shippers were the way to invest in nat gas exports and singled out GasLog as the best of the bunch.
On Thursday Targa Resources Corp. (NYSE:TRGP), the GP holding company for Targa Resources Partners (NYSE:NGLS), closed up 20.4% for the day on news of merger talks with Energy Transfer Equity (NYSE:ETE). However, a subsequent press release stated that discussions had been closed without any agreement and the TRGP share price declined by 9%. This fast growth holding company is up 58% YTD.
Valero Energy Partners (VLP) and Midcoast Energy Partners (MEP) moved higher on announced dropdowns. Enbridge Energy Partners (EEP) restructured their Partnership agreement which will convert their IDR rights into a Class D share and will receive 23% of future distributions above $0.5435 per quarter.
Distribution Rate Changes
No dividend announcements released this week.
Insider Trading
The sale of Amerigas Partners (APU) units by Enterprise Transfer Equity was the latest of several large unit sales stemming from the units ETE received as payment for the sale of Heritage Propane to Amerigas in January 2012.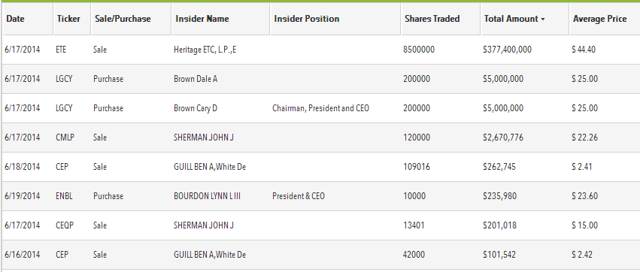 Share Issuance News
Two new MLPs launched with IPOs this week, with Viper pricing at the top of the range and surging on the offering. Viper is the first mineral rights MLP which will distribute cash flows derived from leasing Permian acreage to fracking operators. Also in the IPO news was a filing by Royal Dutch Shell (RDS.A) for an MLP to own Shell's pipeline assets. There were three secondary offerings this week including 11 million shares by Williams Companies which benefited from the 20% share price increase, making the ACMP GP acquisition further accretive to WMB.
Emerge Energy (EMES) had a secondary issuance from insiders priced at $109, but the market reacted negatively to those who were liquidating and drove shares lower.
Get the details of any offer of interest by clicking on the specific issue on the Issuance page of the MLPData Dashboard.




ETF, CEF and Mutual Fund Money Flows
MLP focused fund flows were little changed this week, taking in $337 million compared to $370 million added for the last week. Mutual funds added $214 million, $10 million less than last week and ETFs took in $123 million, down $20 million, week-over-week. With $66 billion of assets under management, MLP funds are steadily pulling in $1 billion plus of new money every month and over $16BB invested over the trailing twelve months.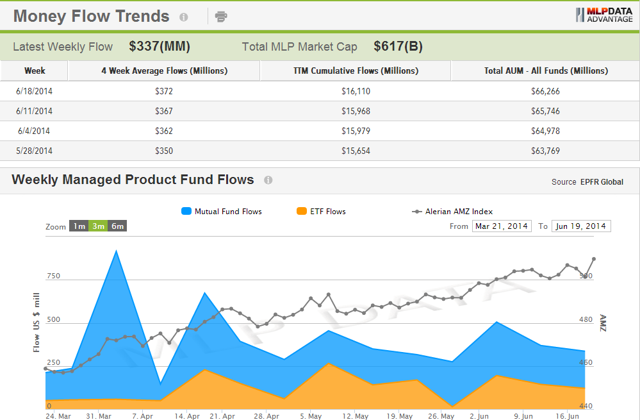 Next Week's Earnings Calendar
The 2014 Q2 earnings season starts afresh on July 17 with the Kinder Morgan companies scheduled to report.
To get this round-up each week, please make sure you are following MLPData here on Seeking Alpha.
All charts and tables provided by MLPData.com
Disclosure: The author has no positions in any stocks mentioned, and no plans to initiate any positions within the next 72 hours. The author wrote this article themselves, and it expresses their own opinions. The author is not receiving compensation for it. The author has no business relationship with any company whose stock is mentioned in this article.