There's not a whole lot to highlight from hump days US session: no economic data, no M&A, and very little company news. The S&P futures finished towards the bottom of their narrow daily range (1137-1143).
Today in Europe stocks catching the eye include Nokia Oyj which has rallied 3.5 percent today on news the world's biggest maker of mobile phones started shipments of its N8 smartphone.
Today's Market Moving Stories
TomTom (OTCPK:TMOAF) jumped 8.0 percent after Europe's biggest maker of personal navigation devices said it reached a supply agreement with Mazda Motor Corp. (OTCPK:MZDAF)
ThyssenKrupp (OTCPK:TYEKF) climbed 2 percent after CEO Ekkehard Schulz said steel demand from the car, electronic and household appliances industries is "very strong" and will be maintained into next year. He was speaking in an interview with the FT.
Accor (OTCPK:ACRFF) retreated 0.7 percent after the hotelier scrapped the sale of its 49 percent stake in Groupe Lucien Barriere after the offer didn't receive the expected interest from investors. The planned share sale, which valued the company at as much as €700 million, isn't in Accor shareholders' interests, the company said.
There was some weakness in European banking names this morning with Societe Generale (OTCPK:SCGLY) dropped 2.8 percent in Paris, even after France's second-biggest bank reiterated that it won't need to raise new capital to meet regulatory requirements. And Credit Agricole (OTCPK:CRARY), France's second-largest lender by assets, dropped 3.1 percent and Switzerland's Credit Suisse (NYSE:CS) 2.6 percent.
But bucking the trend was Deutsche Bank (NYSE:DB), which climbed 2.2 percent after CEO Josef Ackermann said Germany's biggest bank saw more "stability" in September and sales and trading revenue in the third quarter was at last year's level. He was speaking at a conference in London today hosted by Bank of America.
And the pre market open US data was a mild positive fillip today with both Q2 GDP growth at 1.7 percent and personal consumption data (at + 2.2 percent) coming in slightly ahead of market expectations while weekly jobless claims fell more than the consensus view to 453k (versus exp 460 percent) while continuing claims also fell giving the Dow futures a boost.
In Japan industrial production and retail sales weaker than previous and weaker than consensus. PMI slips into contraction territory: 49.5 (prev. 50.1). First time since June 2009. More ammunition for those who want to see BoJ easing next week. From the US we had 3 Fed speakers light up the wires overnight.

US: Boston Fed president Eric Rosengren said: "While the economy is growing, it is currently growing too slowly to significantly reduce the unemployment rate or stem disinflationary pressures created by the high degree of slack in the economy … My firm view is that it is important that policymakers be open to implementing policies consistent with achieving full employment, and an appropriate level of inflation, within a reasonable time frame."
Philadelphia Fed President Charles Plosser said: "Based on my current outlook, I do not support further asset purchases of any size at this time"
and added that it was difficult to see how additional asset purchase would have much impact on the near-term outlook for unemployment.
Minneapolis Fed President Narayana Kocherlakota states that the only economic effect that a new round of quantitative easing would have is signalling to markets the Fed's commitment to keeping rates lower for longer; but its ability to bring long-term rates closer to near-zero short-term rates would be more "muted" than earlier efforts.
The Senate approves Yellen and Raskin for the FOMC . Both to fill empty seats on the Fed's Board of Governors – the inner core of the FOMC. Very significant timing. Both are doves, Yellen especially so. So that increases the dove vote ahead of the Nov 3 FOMC, potentially tilting the FOMC majority in favor of QE. (Yes, Yellen is already a Fed President but she doesn't have a vote this year as the regional Fed presidents rotate. Making her a governor however, gives her a permanent vote for the next 14 years). Peter Diamond's fate (Obama's nominee for the third vacant seat) still hangs in the balance – some lawmakers think he lacks enough monetary policy experience. (more than a bit ironic that lawmakers who have no monetary policy experience themselves are in a position to make such a judgement!). Still, Bernanke will be happy to get 2 out of 3 on his side for now, and last night's events make a vote for QE on Nov 3 more likely.
And The US House of Representatives was busy too overnight. It passed the China Currency Bill. This was not a surprise that it passed, but the size of the majority in favour was impressive: 348-79, especially given this is a divided House. The Bill might eventually make it slightly easier for US government to press China on currency reform. But this bill has a long way to go before it ever becomes law – first the Senate has to approve a similar bill too (not likely before year-end). Then the House and Senate must write a compromise identical bill that both chambers subsequently vote on and approve. Then the compromise bill has to avoid a Presidential veto. Then finally the Bill will only have an impact if, after a long period of consultation, it is found that China is manipulating its currency to obtain export advantage. That final conclusion could easily be 18 months away. In short, last night's vote is *a step towards* possible tariffs, but it will *not*, on its own, prompt import duties, retaliatory import duties, or a trade war. China was quick to respond saying it is willing to make a concerted effort with the US to promote balanced bilateral trade. The sound of compromise? Perhaps, but then it followed up by insisting that China has never gained a competitive advantage through an undervalued CNY, and that the US can't judge that the CNY is undervalued simply on the basis of the bilateral trade deficit. (For the record, that is not the sole basis for the US opinion – the fact that China's FX reserves grew strongly over a three year period where the USDCNY did not move, is yet another indication). USDCNY fixed higher this morning, but the trend is still down.
Sterling has performed well today with investors taking comfort from the news that there was a record level of foreign buying of UK gilts (government bonds) , which helps to explain the recent sterling strength. However, despite this recent positive inflow which is likely driven by safe haven flows (UK retaining its AAA rating) and the prospect of the BoE returning to QE, the economic picture has continued to deteriorate. Indeed, the decline in consumer confidence overnight (Gfk consumer confidence declining to -20 in September from -18) was sharper than expected. While the Nationwide house price index for September was slightly better than expected at 0.1 percent m/m against the -0.3 percent m/m consensus, the Nationwide points out that the trend has turned negative. Moreover, MPC member Posen has been on the wires again suggesting that further easing measures are required.
GERMAN September Unemployment recorded its steepest fall since May as the number of unemployed fell 40K sa, easily beating forecasts for a 20K dip. This has taken the unemployment rate to an 18-year record low of 7.5 percent, down from 7.6 percent prev. So the miracle continues.
Portuguese Prime Minister Sócrates announced new austerity measures to include a 5 percent cut in state salaries and a 2 percent increase VAT to 23 percent. The package was "absolutely essential to defend the international credibility of our economy", he said. The package needs to be approved by parliament but the main opposition party, PSD, remained against the new tax hikes but does not rule out reaching an understanding on the 2011 budget. "We feel that the situation is serious. Portugal has to show responsibility," European Commission President Barroso said on Wednesday.
Moody's downgraded Spanish government bond ratings by 1 notch to Aa1 from Aaa and said the outlook is stable. Moody's said it expects the economy to grow 1 percent annually on average over the next few years. It also said further reforms were necessary as it may prove "very difficult" to reduce the deficit to 3 percent of GDP 2013. "As for the economy, there will be a drop in the third quarter due to a VAT hike in July, but it will return to grow in the fourth quarter," Economy Minister Salgado said in an interview with Italy's financial daily Il Sole 24 Ore. Spain's first nationwide strike in eight years took place yesterday against the austerity plans and labor-market overhaul. Industry ground to a halt, transportation services slowed and shops closed. Interesting piece on Alphaville stating that Spain has been over stating its GDP numbers for years.
Company / Equity News
Tate & Lyle (OTCQX:TATYY) reported a "good" operational performance, which gave them confidence for the full year. The performance was helped by solid demand in a number of their markets. The statement also reported that further progress had been made on debt reduction despite higher grain inventories and the payment of the FY dividend. This will be further assisted by the £211 million disposal of the sugar operations, which is completing today.
In their FY trading statement Compass, the worlds largest catering company indicated that the positive trading momentum seen in the first nine months of the year had continued in the fourth quarter. Organic revenue slowed slightly from 5.5% in Q3 to 4.5%, although this was still well ahead of the 0.4% reported in H1. The statement indicated that exchange rate would flatter profits by £25 million relatively to last year, whilst cash conversion continued to be strong. The Company also highlighted that more bolt on acquisitions were likely in addition to the £180m spent since March 2010.
Ahold announced that CEO John Rishton is to leave the Company in March 2011 to take up the same post at Rolls Royce. Rishton will be replaced as CEO by Dick Boer, who is currently COO of Ahold Europe. Boer was the architect of Ahold's successful trading strategy in the Netherlands/Europe, much of the principles of which were transferred to the US business.
Yesterday, BP's (NYSE:BP) new chief executive Bob Dudley announced a new organisation structure which includes the formation of a safety and risk division that will have new powers of oversight. This division will be run by Mark Bly who is currently the company's head of safety. The new CEO also announced a restructure of the management of its upstream operations, breaking it up into three separate divisions thereby removing the current head of upstream operations, Andy Inglis. We view these changes by the new CEO as a positive. It illustrates an impetus for change, however we do caveat that the establishment of the new safety division will only be a success if it has invasive enough powers to effect change at a high level.
Copper reached a new 52-week high yesterday adding to our conviction that the market continues to underestimate the earnings power of the Chilean based miner Antofagasta (OTC:ANFGF). Since the economic downturn ended, it has become apparent that miners have underinvested in copper supply projects and now are scrambling to bring production back online. This has created a supply and demand mismatch in the global copper market resulting in the recent rally in the price of the metal. A new report by Harbor Intelligence released yesterday reiterated these supply and demand dynamics and guided that the copper price would average $3.82 a pound in 2011. Antofagasta is in the unique position of being able to supply into a very tight market and it is actually currently increasing production through its new Esperanza mine due to be operational in Q4. As a consequence brokers continue to recommend buying this stock on any weakness.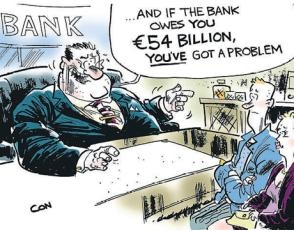 Ireland Kitchen Sinks It
This morning's announcement on the Irish Banking Sector provides clarity on the total cost of Anglo Irish Bank and also reveals further adjustments to the capital requirements of the other Domestic banks. The level of transparency delivered in the last 6 months on the Irish Banking sector is unprecedented within the Eurozone. In Poker parlance, Ireland has put all its chips on the table in an attempt to eliminate any further speculation on the Irish Banking Sector (which has driven sovereign and sub sovereign market volatility in recent weeks / months). The Government will starve the market of supply for the rest of year on the basis that it is fully funded until H2 2011 (Bond Auctions cancelled for Oct and Nov). The focus now shifts to the Government's strategy on future austerity measures and the growth targets required to deliver a 3 percent deficit by 2014. Today's news should normalise the Irish bond market in the interim period. This morning's reaction (knee jerk perhaps) demonstrates that so far the Government's strategy will be well received. Time will tell whether Ireland has a "full house" or needs to "cash in" for more chips. Will the market insist on equal transparency from some of Ireland's Eurozone peers? It would make for some interesting reading.
The details:
The Anglo Irish bailout cost was released this morning and it looks transparent and plausible and broadly within the expectations created by press speculation in recent weeks. €29.3 billion total required under base case and €34.3 billion under the worst case; senior bondholders ok, subordinate debt holders will take big hit but no details yet. Also, more significantly is that this has turned out to be another kitchen-sinking exercise for the whole banking sector with announcements and updates on all the banks in Ireland, notably an increased capital requirement of €3 billlion for AIB- overall for the sector this can only be a positive in the longer terms, with the key driver of spreads remaining sentiment towards the sovereign.
Anglo
The capital requirements for Anglo Irish's bad bank, the so-called Asset Recovery Bank, is €29 billion of which €23 billion has already been injected by the government into the bank. In a severe stress scenario, there may be additional losses of €5 billion at the bad bank. Anglo's good bank (Funding Bank) will only need €250 million of additional capital. The total bill for capitalizing Anglo amounts therefore to €34.3 billion – just shy of S&P's €35 billion threshold and more or less in line with market expectations. However, the bad bank will only apply the old Basel II capital standards, i.e. a total capital ratio of 8 percent of risk-weighted assets, and the central bank will not impose CEBS stress regulatory capital requirements which significantly lowers the capital requirements. The good bank will apply the new capital standards. In addition, the government will fast-track the transfer of bad loans to NAMA. The haircut for the remaining tranches of €19 billion will be 67 percent in the base case scenario well above the average of 58% for the first two tranches of together c. €16 billion. The total transfer of bad loans is projected to total €35 billion.
Minister Lenihan released a separate emailed statement which contained more references to the outcome for bondholders- reiterating what we've seen and heard in recent weeks, that senior bondholders will not be asked to take any losses, while the sub debt holders certainly will be asked to participate in a restructuring. Discussions on this are ongoing and it doesn't look like an announcement is imminent on this but it certainly won't be long before we should see a tender offer on the debt. Statement refers to holders making a "significant" contribution- if we assume the 20c average offer across the €2.4 billion of o/s sub debt, and a 75 percent take-up, they could raise in the region of EUR1.5bn.
Furthermore, minor curve ball to the proceedings came in the form of Allied Irish (whose share price is down 28 percent today to just 40c) needing an additional €3bn of capital on top of the original €7.4 billion. This is down to the NAMA haircuts, which have increased across the banks participating in NAMA transfers. While previous transfers were around 45 percent haircut level, the remaining €13.5 billion transfers will go at a 60 percent haircut. Total is now €10.4 billion to raise by the end of the year. This is broken down as €5 billion in asset disposals and €5.4 billion in equity capital. The equity capital raising will be fully underwritten by the National Pension Reserve Fund Committee (NPRFC) and offered to existing shareholders.
Irish Nationwide
Lenihan's statement says that sub bond holders of Irish Nationwide will be treated under the same approach as the Anglo sub holders. The recap cost has gone up from €2.7 billion to €5.4 billion, a doubling, which it will provide through an increase in the original Promissory note and spread the cash payments out over years. Likely outcome is a division of the bank into good and bad bank as well, with a wind down of the bad. Can't see anyone wishing to buy the whole bank in its current form.
EBS
Not a material impact on the overall sector but its Nama haircuts have increased to 60 percent. EBS is for sale, with Irish Life and a consortium led by Wilbur Ross in the frame.
Bank Of Ireland (NYSE:IRE)
No new capital required following the completion of its cap raising recently. Although the final NAMA loan haircut is a higher than average 42 percent it has enough capital under PCAR to cover this increase. Aggregate haircut for the NAMA loans is 36 percent.
To summarize: Irish headlines are dominating this morning as the government outlines the details of banking sector rescue. The key points are the cost of Anglo Irish will be near €30 billion on the core scenario and rise towards €35 billion in the stress scenario. Above this threshold and S&P has said that it could cut ratings again. This is close to expectations in my view. There is a negative spin however from the news headlines on Allied Irish as the government now says that the total capital need rises from €7.4 billion to €10.4 billion. This is negative simply because it reinforces the news flow but it does not mean higher issuance. For one, the government will backstop private equity and asset disposal initiatives, convert preference shares to equity (potentially) and use the National Pension Reserve Fund (NPRF) which is the sovereign wealth fund for any remainder. On a positive note, the NTMA has also announced that it will cancel the October and November auctions. Ireland is fully funded until August-11 on our calculations. This is positive because I think fast money is short and uses auctions to cover. The market is illiquid and spreads could push lower on this flow. In the big picture, I think Ireland has the resources to get thorough this mess but no country can live with funding rates 7 percent+. That is, the market dynamic is critical here. As I have pointed out before, a key difference between the performance of the Spanish and Irish debt markets is the absence of domestic buyers in the latter. This can change if the NPRF is allowed to buy IRISH debt given that the resources here can fund half the net issuance need to end 2014 or as if I have pointed out there are changes regarding the reference rate domestic pension funds use for calculating their liabilities (i.e. .a change from using German bond yields to Irish bond yields would mean domestic fund managers would have to buy Irish bonds) It could be the stabilization factor needed to buy the Irish time to execute reforms that we consider the most rigorous in the EU and last seen in the Nordic crisis of the early 1990s. Without this, or if the market takes Irish spreads higher anyway then the EFSF beckons for Ireland and Portugal. That would take the sovereign debt crisis to a new level and drag Spain back into focus as the next crisis country.
And after a cagey / nervy start the market has pushed ahead and Irish bond spreads have tightened by 15bp at the 10 year area of the curve.
Disclosures:
None