I did something late this week that I have not done in many, many years. I bought a stake in BlackBerry (NASDAQ:BBRY). To be truthful, I then sold some out of the money calls as a risk mitigation strategy and also to pick up some nice premium income.
The company reported results that easily surpassed quarterly expectations on Thursday. The company posted a loss of 11 cents a share, 15 cents a share above estimates. Revenues also slightly beat the consensus as well. Margins improved smartly, coming in up 500 bps over the previous quarter.
Critically, BlackBerry's cash on hand rose to $3.1 billion from $2.7 billion. This was boosted by a tax refund and sale of some real estate. Taking those items out and the company burned through $255 million in Q1, down from a quarterly cash flow burn rate of $784 million in previous quarter. Critically, leadership expects to break even on a cash flow basis by the end of fiscal 2015.
Also helping was Citron Research, a firm more known for its short ideas, practically gushing about BlackBerry's possible future after earnings. The research firm raised its price target from $15 a share to $20 a share and stated BlackBerry has the potential to provide software and services to help enable the "Internet of Things."
The technical picture is also turning positive on the stock of BlackBerry as the shares pushed through their 200 day moving average late this week (See Chart).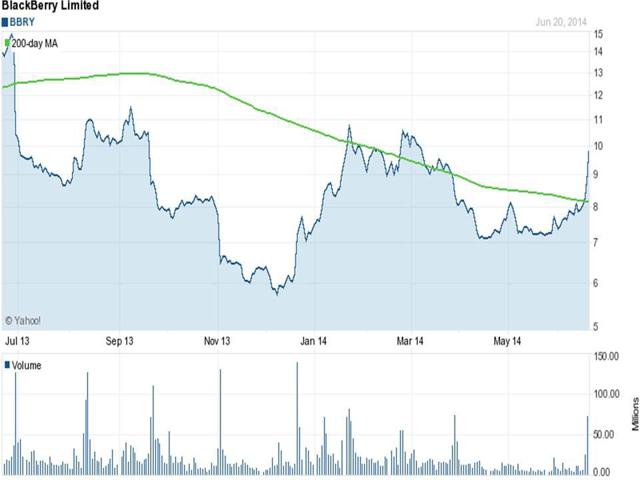 In addition, this latest earnings report and the progress the company has made should take some of the steam out of the shorts that have long targeted the stock. Some of the rally on Thursday and Friday was fueled by some short covering. Shorts held some 20% of the float before earnings were announced.
This could continue as the short case on the company took a serious hit this week. As BGC analyst Colin Gillis so neatly summarized after earnings: "The short trade is over in this name, for now. They've got enough liquidity, and they've given us clear profitability targets."
BlackBerry has made strides with its new CEO who has been in charge for seven months now. The stock has just over a $5B market capitalization now after last week's rally. Net cash represents ~one third of that market capitalization. Service revenues now make up 54% of overall sales, up from 26% this time last year. It appears long suffering shareholders have finally seen their stock put in a bottom. The company seems on track to leverage its core competency to securely manage corporate and government networks and get into new fields such as data analytics.
Where BlackBerry is now and what should give shareholders hope going forward is probably best expressed by one of the great leaders of the 20th century whose quote is below.
"Now this is not the end. It is not even the beginning of the end. But it is perhaps, the end of the beginning." - Winston Churchill (November 1942)
Disclosure: The author is long BBRY. The author wrote this article themselves, and it expresses their own opinions. The author is not receiving compensation for it (other than from Seeking Alpha). The author has no business relationship with any company whose stock is mentioned in this article.