Below is a table with performance numbers through the end of the third quarter for the key ETFs across all asset classes. For each ETF, we provide its 1-month, 3-month, and year-to-date percentage change.
In the 3rd quarter, the only ETF in the entire list across all asset classes that was down was the Natural Gas ETF (NYSEARCA:UNG). Nearly all ETFs were up 10% or more. In the US, midcaps outperformed largecaps and smallcaps, while growth outperformed value. Telecom (NYSEARCA:IYZ) was up the most of the ten S&P 500 sectors in the 3rd quarter with a gain of 16.77%. The Financial sector (NYSEARCA:XLF) was up the least. Internationally, Brazil (NYSEARCA:EWZ), France (NYSEARCA:EWQ), Hong Kong (NYSEARCA:EWH), Italy (NYSEARCA:EWI), and the UK (NYSEARCA:EWU) were all up more than 20% in Q3. Japan (NYSEARCA:EWJ) and China (NYSEARCA:FXI) were the only country ETFs shown that didn't gain 10% for the quarter.
While gold got all the headlines in Q3, the GLD ETF only gained 5.12%. Silver (NYSEARCA:SLV) was up more at 17.02%. Fixed Income ETFs were all up as well in Q3, although they mostly fell in September.
Looking at the year-to-date numbers, silver is up the most out of all asset classes with a gain of 28.85%. The India ETF (NYSEARCA:INP) is up the second most YTD with a gain of 18.26%. Natural Gas (UNG) is down the most at -38.81%, followed by Oil (NYSEARCA:USO) with a decline of 11.30%, and Italy (EWI) with a decline of 13.89%. (Click to enlarge)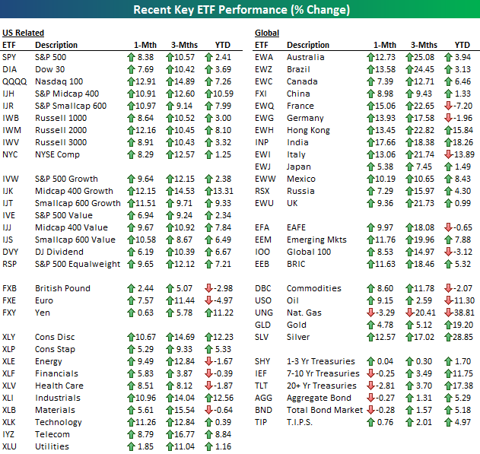 Click to enlarge
Disclosure: None