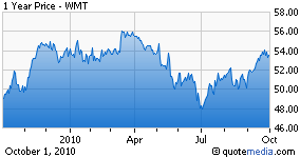 By Tony D'Altorio
Walmart (NYSE:WMT), the world's biggest retailer, is on the move again. This time, it has its sights set on Massmart ADR (OTCPK:MMRTY), South Africa's third-largest retailer with 290 stores. Massmart goes by a range of names on the continent and 13 other sub-Saharan countries. It focuses on general merchandise, including electronics, but also has a growing food sales presence.
The proposed acquisition represents Walmart's largest deal in an emerging market and its greatest overseas move since buying the UK's Asda in 1999. And since it's also the first such transaction by a global mass-market retailer in South Africa, it should certainly shake up the retail sector there.
Walmart's Emerging Market Strategy
Walmart's Massmart play highlights its increasing goal of pursuing international growth. This has become more important over the past few years as its US market slows.
Since 2007, Walmart's international store footprint has grown faster than its home market. Its international square footage matches that trend, as its US supercenter stores face increasing competition. Walmart already has stores in 14 countries around the world. Its revenues there account for a strong quarter of its total sales, up from 20% five years ago.
Meanwhile, its international sales rose about 11% last year, eclipsing $100 billion for the first time. Asda remains its largest and most profitable international business. But after pulling out of South Korea and Germany in 2007, Walmart seems to prefer emerging markets.
This year, it is expanding in Mexico, where it's already the largest retailer with hundreds of small convenience stores. Walmart is also adding stores in Brazil and China as well. Its most recent expansion into such countries began with Central America in 2005. Now it has 360 stores there, and doubtlessly wants to see similar success in Africa.
Shop Smart… Shop Massmart
Andy Bond, the chairman of Asda and the former head of Walmart's negotiating team, explains why the company likes Massmart:
[It has] an extremely strong general merchandise business; it has a very good wholesale business, and an emerging food retail business. It also has a platform for growth in other parts of southern Africa, and.not unimportantly, it has a good management team.
Sounds pretty reasonable, right?
Massmart sells the most general merchandise goods in South Africa. But it remains a fringe player in the country's food retail sector… something Walmart can certainly help it out with. Three companies currently dominate that area: Shoprite Holdings ADR (OTCPK:SRHGY), Pick'N Pay ADR (OTCPK:PKPYY) and the Netherlands-based Spar. So Walmart's entry could easily start a price war in the otherwise sleepy sector.
While the US knows Walmart's anti-union stance, the company has stressed its willingness to work with Massmart's largely unionized workers. It already works well with such groups through Asda, so it does have experience in that area.
And Walmart's plan to keep Massmart's management team also paves the way for a good relationship with the unions. Or, as Bond states, "They are an extremely good team."
Is Massmart the Right Move for WMT?
Admittedly, Massmart isn't quite up to snuff in certain areas. Last year, it generated a gross margin of 18.1% and an operating margin of 3.92%… well below Walmart's gross margin of 24% and operating margin of 6%.
Many analysts doubt that Walmart can really benefit from the deal, including Brian Sozzi, retail analyst at Wall Street Strategies, who said:
Walmart has quite a bit of work to do," he says, "just to bring margins up to the company average and then drive higher outcomes.
Of course, he thinks the company should focus most of its efforts on the US anyway. That theory hardly makes sense though, considering the new reality of slow market growth here in the States and fast growth in emerging economies.
Walmart won't instantly see amazing results from this venture. But it has little choice if it wants to grow much at all. The only really relevant doubt concerning its latest move is its overseas track record. The returns on most of those investments don't seem very impressive so far.
With that said, Walmart's limited disclosure makes it tricky to know one way or the other. And if it can pull off emerging markets like Africa, the company has a very bright future to look forward to.
Disclosure: No positions