One of Sempra Energy's (NYSE:SRE) facilities was recently approved to start exporting liquefied natural gas ((NYSEMKT:LNG)). Because of the drastic difference in price between American natural gas and LNG import prices in European and Asian countries, Sempra could see large amounts of revenue from the facility. As long as Sempra keeps its costs in check and starts marketing its LNG to Asian and European companies, the facility will help create long term value for shareholders.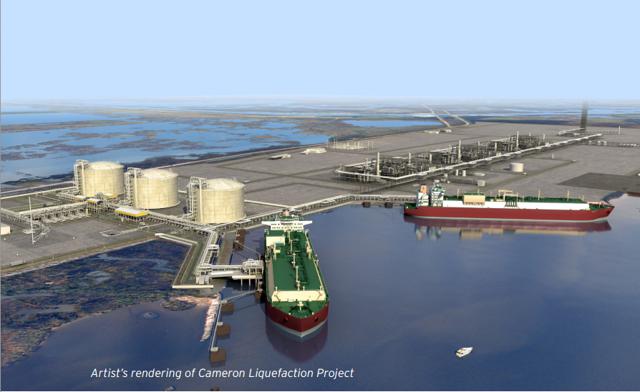 Click to enlarge
Source: Cameron LNG Factsheet
The Facility
Sempra's approved facility (known as Cameron LNG) is located along the Calcasieu Channel in Hackberry, Louisiana. Because it lies only 18 miles from the Gulf of Mexico, it is in good position to quickly liquefy natural gas and move it to whoever needs it across the globe. In terms of supply, Cameron LNG is within 35 miles of a pipeline hub that connects 5 natural gas pipelines which should be able to provide the facility with all the natural gas it needs.
The facility was first built to import LNG into the United States. However, once the fracking boom revolutionized the energy industry in the United States, it no longer made economic sense to import LNG. For this reason, Sempra began the process to become approved as an LNG export facility.
For LNG export facilities to begin construction, they must be approved by two government agencies. The first is the Energy Department, which approved Sempra's project back in February. The second is the Federal Energy Regulatory Commission (FERC), which approved the project on Thursday.
For the FERC to approve an export facility, the location must undergo a through environmental impact study. The FERC concluded that Sempra's facility won't cause major environmental damage and approved the project.
Octavio M.C. Simoes, the president of Sempra LNG, said the company is "pleased to have reached this important milestone successfully." He also said construction on the facility will begin later this year.
Sempra is only the second company approved to export LNG. Cheniere Energy (LNG) was the first company to have a facility approved by both government agencies. Cheniere's Sabine Pass facility was approved back in April 2012. Construction on the facility began in late 2012 and the project is expected to be completed by late 2015.
Once the expansion of Sempra's facility is complete, Cameron LNG will be comprised of three liquefaction trains capable of exporting up to 12 million tons of LNG per year. Below is a graphic of the proposed facility.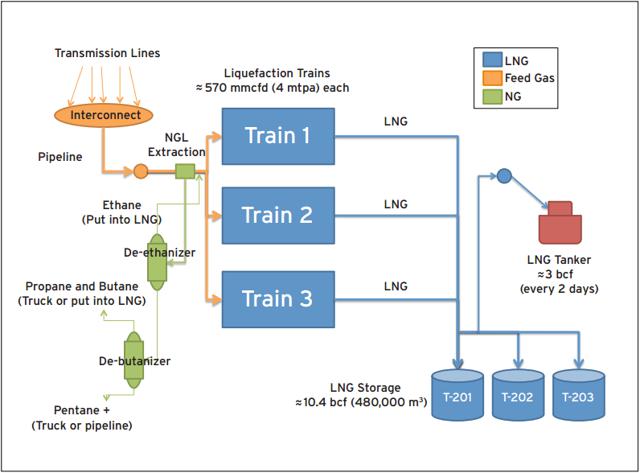 Click to enlarge
Source: Cameron LNG Factsheet
Sempra is hoping to keep the cost of the facility between $9 and $10 billion. It is important to point out that this cost only accounts for the addition to the facility which will make it capable of exporting LNG.
This multi-billion dollar investment will bring great benefits to the region. The company projects it will create approximately 3,000 construction jobs during construction and 140 full-time jobs once the facility is finished. Because construction of the facility hasn't even begun, it is hard to say if Sempra will be able to keep the project on budget.
Although Sempra will be operating the facility, Sempra is not the sole owner of the project. The ownership of the facility is as follows: Sempra owns 50.2%, a joint venture between French company GDF Suez and Japanese company Sumitomo Mitsui Financial Group Inc. own 16.6%, and another joint venture between Mitsubishi Corporation and Nippon Yusen K.K own the last 16.6%.
Construction is scheduled to begin in late 2014. The company hopes that the facility will be fully operational by 2018-2019.
Potential Upside
Because Sempra is only the second export facility in the United States to be approved by the government, the company will have an advantage over its competitors. Sempra can now begin marketing the LNG that will be produced by the facility, sign purchase agreements with companies overseas, and lock in prices while they are still high.
The graph below compares the Henry Hub spot price, which measures natural gas prices in America, to LNG import prices in Japan and Europe. Hydraulic fracturing has pushed natural gas prices very low within the United States. This has opened up a great opportunity for companies like Sempra.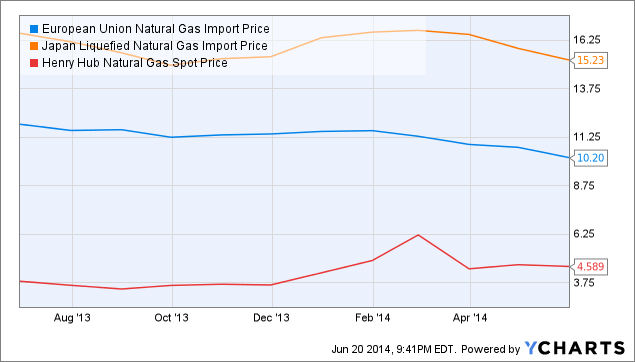 European Union Natural Gas Import Price data by YCharts
If Sempra sells all 12 million tons of LNG per year to either European or Japanese companies, the company will see between $3.1 billion and $4.7 billion in revenue at current prices. Considering the renovations for the plant are only projected to cost between $9 and $10 billion, the return on invested capital will be great for investors.
| | |
| --- | --- |
| Facility Output | 12 million metric tons |
| Converted Output | 620.4 million MMBTUs |
| Sempra's Share of Output (50.2%) | 311.4 million MMBTUs |
| Revenue from Japan ($15.23 / MMBTU) | $4,742,622,000 |
| Revenue from Europe ($10.20 / MMBTU) | $3,176,280,000 |
While prices remain high in Europe and Asia now, they might not always remain that way. James Hand, an oil and gas analyst from GlobalData, believes that the high LNG prices in the Asia-Pacific region could soon fall.
"As LNG projects come onstream over the next 4-5 years, most notably from Australia, but also from the Middle East, Africa, and North America, the supply of LNG into Asia is expected to increase considerably," concluded Hand.
It would serve Sempra best to start marketing its LNG and sign purchase agreements as soon as the company can.
Downside Risks
1. Inability to Hedge
A large risk for Sempra is the possibility of not being able to secure prices while they are high. If Sempra pays $9 to $10 billion to convert its import facility into an export facility and prices drop off because of an increase in supply from other companies around the world, it will seriously harm the company's return on the capital they invested. To solve this problem, Sempra can sign purchase agreements that lock in current prices.
2. Inability to stay on budget
In any large capital project, there is always a risk of construction delays, unforeseen government regulations, and inefficiency in the building process, all of which push costs up and return on investment down.
Chevron Corporation (NYSE:CVX) recently ran into a very similar problem with one of its export facilities. Chevron's Gorgon facility, an LNG export facility located in Australia, has seen prices increase by 46% to $54 billion. This has been attributed to expensive labor, low productivity, and poor planning.
Even though this is a risk for many LNG facilities, there are no signs (at least not yet) that Sempra's facility will fall victim to the same problem.
Conclusion
Sempra's newly approved LNG export facility presents a good reason for investors to be optimistic. If the company is quick to sign purchase agreements and lock in current LNG prices, Sempra could see an increase in revenue somewhere between $3 and $5 billion per year.
Disclosure: The author has no positions in any stocks mentioned, and no plans to initiate any positions within the next 72 hours. The author wrote this article themselves, and it expresses their own opinions. The author is not receiving compensation for it (other than from Seeking Alpha). The author has no business relationship with any company whose stock is mentioned in this article.