By Mike Yamamoto
Emerging markets have been on a tear for the last month, and traders are betting on further gains in the near future.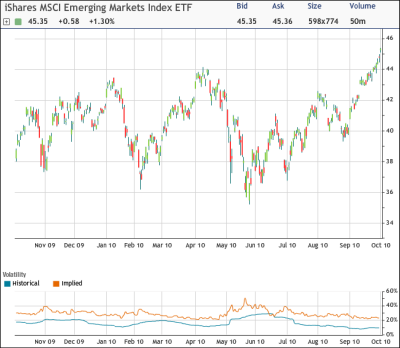 The iShares MSCI Emerging Markets Index (NYSEARCA:EEM) returned to pre-crisis levels nearly a year ago but had been largely range-bound since then. Today, however, the exchange-traded fund crossed above resistance around the $44 level that has been tested repeatedly since the beginning of 2010. The ETF is trading at $45.35 this afternoon, up 1.3 percent on the day.
Option activity is concentrated at the October 47 strike, where more than 24,500 calls have changed hands today, far above the open interest of 5,037 contracts and dwarfing the daily average volume of just 347. Nearly all of those options traded for $0.14 and $0.15 in a strong buying pattern within a 6-minute period this morning, according to optionMONSTER's Heat Seeker system.
For these calls to turn a profit, shares of the EEM must rise a roughly 4 percent by the time the contracts expire in two weeks.
Emerging markets in general have been showing strength recently as investors have sought to avoid economic uncertainties in U.S. and European markets. The trend has been reflected by growth in local currency capital markets in such countries as Peru and Malaysia.

Disclosure: No position