Illinois Tool Works (NYSE:ITW), a well-diversified industrial, is attractive at recent prices in the 47 area, based on the expectation that the company will be able to restore historical growth and margins as the world economy continues to recover. With a strong balance sheet, excellent access to capital, and a respectable pipeline of acquisitions, ITW is well positioned to participate in global recovery. The dividend, yielding 2.89% at current prices, assures the patient investor of a flow of income while waiting for share price appreciation.
I got the idea from an article here on Seeking Alpha by Alan Brochstein, who included it in a listing of stocks suggested for consideration by investors who are interested in dividend investing. It has been coming up regularly in articles along those lines, and deservedly so. This article presents the results of research conducted prior to making an investment.
Overview
The company's self-description, condensed from the 10-K:
Illinois Tool Works Inc. was founded in 1912 and incorporated in 1915. The Company is a multinational manufacturer of a diversified range of industrial products and equipment with approximately 840 operations in 57 countries. These 840 businesses are internally reported as 60 operating segments to senior management. The Company's 60 operating segments have been aggregated into the following eight external reportable segments:

Transportation, Industrial Packaging, Food Equipment, Power Systems & Electronics, Construction Products, Polymers & Fluids, Decorative Surfaces and All Other.

A key element of the Company's business strategy is its continuous 80/20 business process for both existing businesses and new acquisitions. The basic concept of this 80/20 business process is to focus on what is most important (the 20% of the items which account for 80% of the value) and to spend less time and resources on the less important (the 80% of the items which account for 20% of the value).
Managers at the subsidiary level are given considerable autonomy to respond to local conditions, a decentralized organizational style that has been used effectively by Magna International (NYSE:MGA), among others. It served them well during the downturn, as necessary restructurings were carefully tailored to local and regional conditions during the downturn.
Growth by acquisition is an ongoing process. There are multiple deals on a quarterly basis, and the 80/20 business process and degree of autonomy allowed to management at subsidiaries make the integration process reliable and routine.
The company produces a strong cash flow, which is deployed effectively for capex and acquisitions, with the excess returned to shareholders by dividends and buybacks.
Valuation
Five year average EPS, using 4&1/2 years actual and 2 quarters projections, works out to 2.85. Applying a multiple of 20, consistent with the company's historical average and valuations for similar quality, I arrive at a target of 57, within two years. Combining the potential for 10% price appreciation with the dividend, patient investors can expect to earn respectable returns on this situation.
Access to Capital
ITW is rated A+ by S&P and A1 by Moody's. Bonds maturing in 2019 are currently trading to yield 3.131%. Here is a snip from the FINRA website: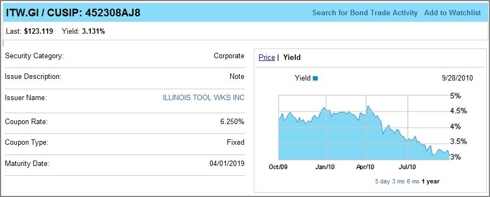 Acquisition Process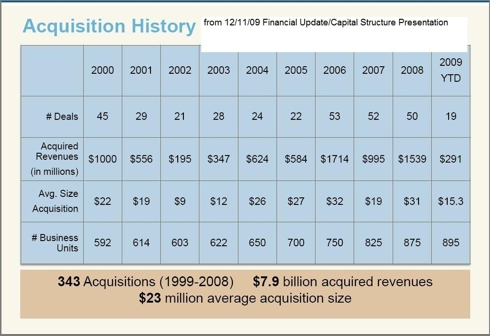 The company has a long history of successful acquisitions. Here is an update from the transcript of the 2nd quarter 2010 earnings conference call:
Acquisition activity notably picked up in the second quarter. We completed seven transactions in the second quarter for annualized revenues of about $253 million. That's considerably higher than Q1 when we completed only four deals for $26 million of annualized revenues.

As important, our pipeline currently is approximately $600 million of prospective deals. Additionally, we're optimistic that a number of acquisition conversations that we're having that are not part of the pipeline with many different sources including private equity and privately owned companies will ultimately show up in our official deal pipeline as the year continues to progress.
Dividend and Buybacks
Reviewing a 5 year dividend history, the dividend was increased 4 years out of 5 (2009 was the exception). Going from .165 to .34 over that time frame, it doubled. The guideline is 25 to 35% of trailing two years net income. The payout ratio for the past ten years averages 32%.
The board authorized a 3 billion dollar share repurchase program in August 2007, of which 1.2 billion remains unused. The program is open-ended, and is conducted consistent with a target debt-to-capital ratio of 20 to 30%, as a use of excess liquidity. Through the end of 2009, the average repurchase price was 44.72, well under my estimate of fair value, which ranged between 51 and 56 during the period.
Acquisitions are the preferred use of free cash flow. Management believes that the current climate is favorable for acquisitions and accordingly substantial repurchases are unlikely in the near future.
Strategy
This is a suitable investment for conservative or dividend-oriented investors. Today's prices present a reasonable opportunity for price appreciation. Positions can be monitored quarterly with earnings to confirm the expected steady progress.
Options
The stock is optionable, including LEAPS out to January 2012. Implied volatility is 27.2%. A covered strangle might be considered, along the following lines:
Buy 100 ITW @ 47.02
Sell 1 ITW Mar 19 2011 50.0 call @ 2.10 bid/2.25 ask
Sell 1 ITW Mar 19 2011 40.0 put @ 1.40 bid/1.50 ask
The thinking is, the 52 week range is 40.33-52.72, so the investor is being paid to agree to buy at the 52 week low and sell at the 52 week high. If assigned on the call, he will pocket at least 53.50 (assuming the options were sold at the bid) on an out of pocket investment of 47.02. If assigned on the put, the investor will own 200 shares at an average cost of 41.76, at which point the dividend will yield 3.25% on cost.
Calculating the return on a strategy that involves the sale of a put requires that consideration be given to the capital necessary to support the obligation. Here is how I calculate the return if the share price is unchanged at expiration: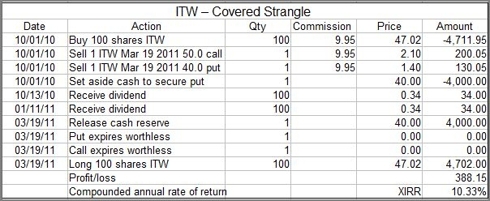 The covered strangle strategy yields 10% on a conservative basis. If the sale of the put is considered by itself, the return is 7% annualized on the 4,000 devoted to that portion of the investment.
My actual position is long ITW Jan 21 2012 35.0 calls and short ITW Mar 19 2011 50.0 calls, a diagonal call spread. This is a more aggressive and leveraged strategy, and reflects a risk tolerant approach to investing.

Disclosure: Net Long ITW