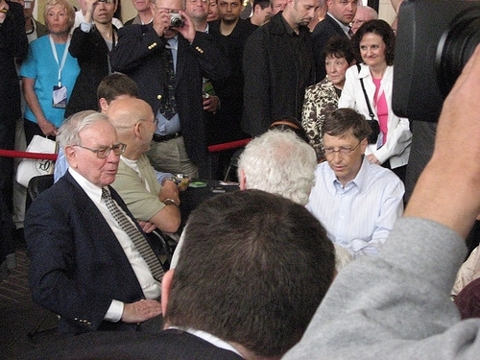 In a recent Businessweek article, Warren Buffett stated that Berskire was well equipped for succession. Buffett appears to be preparing Berkshire investors for his departure. Buffett said that the majority of the time in directors meetings " is spent talking about the succession question because it's enormously important." If Buffett was not at Berkshire Hathaway, would you still buy the stock?
I raised the issue of Why There Will Never Be Another Buffett in a previous post but never raised the question if Berskshire is still a good investment minus Buffett. I have owned shares of Berkshire Hathaway for years now. I do not own the Class A with its whopping six figure price tag! I bought the junior Class B shares when they were only around $3,000 per share. Since than the stock has split and is under $100 per share now. The main reason for my owning the stock was my trust in the investing prowess of Warren Buffett.
Owning Berkshire was a way of feeling as if Warren Buffett was investing for me. I could benefit from his investing decisions and have the greatest investing mind managing my money. His performance over the years has been excellent and he has brought lots of wealth to his shareholders. With no Buffett at Berkshire, I would have to think long and hard about whether or not to hold onto Berkshire's shares.
Would you buy shares of Berkshire Hathaway if Warren Buffett was not there?
Photo by: Ethan Bloch