By Carol Hua Cheng, CPA
About BBBY
Bed Bath & Beyond Inc.(NASDAQ:BBBY), incorporated in 1971 and publicly listed since 1992, is a chain of retail stores selling domestic merchandise and home finishing products under the names Bed Bath & Beyond, Christmas Tree Shops, Harmon and Harmon Face Values, buybuy BABY & World Market or Cost Plus World Market. In addition to retail sales, BBBY is also engaged in institutional sales. It has nearly 1500 stores located in mainly in US and Canada (Source: Reuters).
The market cap is $12.3B. The stock is heavily owned by institutional investors. According to Morningstar, top 10 institutions own 39% of the outstanding shares. After the Company released less than expected earnings in January and again in April 2014, the stock plunged heavily not once but twice.
Currently its stock price is $60.07 and 52-week price range is between $59.94 and $80.82. The stock price went down by 14% while S&P 500 increased by 23% for the same period of time. Morningstar shows less institutions purchased the shares (-27% based on dollar amount) quarter over quarter but a lot more started to short sell BBBY (+157% quarter over quarter).
BBBY will release Q1 2014 earnings after the market closes on Wednesday, June 25, 2014. Should we walk away from BBBY like everybody else or jump in right away?
Recent institutional shorting activities
Recent large amount of short selling may be caused by many reasons. (1) Due to lowered growth rate, some institutions may no longer think this stock fits in their strategy if based on growth or other similar measures. (2) Investors speculate and tend to overreact disregarding the size of portfolio.
So let's calm down and do our own research. I think BBBY is significantly undervalued mainly based on the following analysis.
Fundamentals
Earnings & P/E
BBBY didn't perform as expected last winter due to poor weather conditions. Year over year BBBY delivered 5.4% revenue growth with an increase in store sales and new store openings, but -1.44% in operating income and -1.49% in Net Income. Additionally BBBY's earnings estimate for Q1 2014 is below analysts' expectation.
However, the company makes over $1B net income a year and its trailing P/E is 12.5 and forward P/E only 11.0. Compared to other players in the home finishing industry such as Williams-Sonoma (WSM, Market Cap $6.6B, P/E 23.9, Forward P/E 19.3), Pier 1 Imports (PIR, Market Cap $1.4B, P/E 15.0, Forward P/E 10.4) and Restoration Hardware Holdings (RH, Market Cap $3.6B, P/E 185.2, Forward P/E 39.6), or compared to the giant online seller Amazon.com (AMZN, Market Cap $149.2B, P/E 500.0, Forward P/E 67.3) (Source: Morningstar), or compared to itself (P/E ranging from 12.5 to 21.1 over last five years), BBBY is a bargain on the market.
Its annual growth rate for sales is 10% over 5 years and EPS grows at 20% annually. Once a while (in this case once in five years or even longer) a company has a bad year of non-growing performance. That may give us an excellent opportunity to buy low.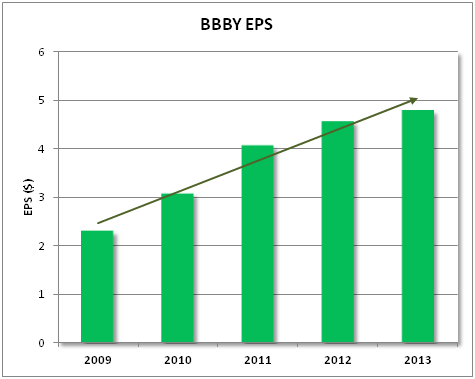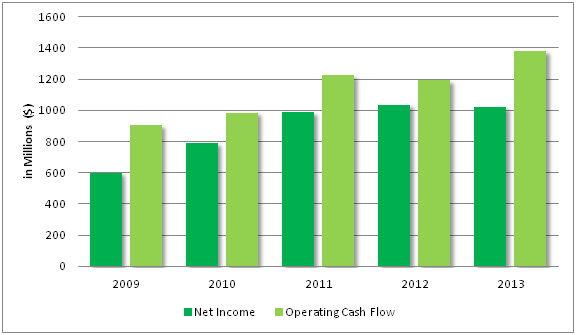 Data Source: Morningstar
No Debt and Good Cash Flows
BBBY has been using little or no debt in its capital structure and bears less financial risk than the industry. The company's Debt over Equity ratio is zero compared to the industry average 0.5 (source: Morningstar), and current ratio is 2.07 based on the most recent annual financial statements. The company generated a good amount of cash ($1.4B operating cash flow from 2013; cash and short term investments totaled $0.8B as of March 1, 2014) with no debt, which is ideal for new acquisitions to boost sales and earnings or becoming a target of leveraged buyout by another public company in related industry or private equity.
Earnings estimates
Another quarterly earnings is to be released on Wednesday June 25, 2014. Will investors be disappointed again like last time?
According to Yahoo Finance, the average EPS for Q1 2014 is $0.95, which is in line with the company's estimate of $0.92 to $0.96. Based on the earning release history, the company has been doing an excellent job on the estimates. The chart below lists the comparison of quarterly EPS estimates released by the company and the actual results. Based on the past three years, especially the last two years, the company delivered its estimates.
Please note that Q4 2013 earnings didn't meet analysts' estimates but the company provided the update on EPS one month before earnings release date. The company hasn't changed their EPS estimate since last release. We shouldn't expect another bad surprise.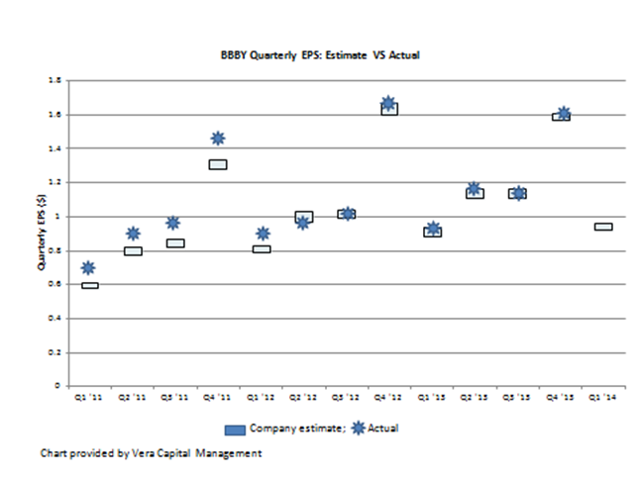 Stock Evaluation
If we use the P/E of 16.0 adjusted for the no-growth performance, we will have an estimated price of $75.26 or +25%. Using a Price/Cash Flow multiple of 11.6 adjusted to reflect the growth issue, the estimated price will be $74.09 or +23%.
On the downside, it seems that BBBY got a good support at $55 or -8%.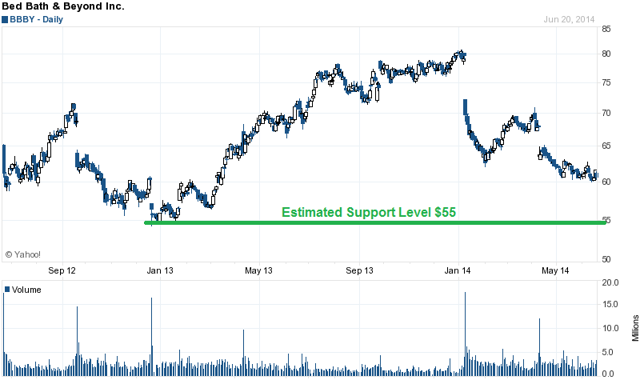 chart.finance.yahoo.com/z
Image Source: Yahoo Finance
Conclusion
Enough said, for BBBY, the downward trend this year has gone too far. My recommendation is BUY.
It is time to bring this stock back to its true value. Now the question is who will be rational enough to benefit from this low price.
Disclosure: The author has no positions in any stocks mentioned, but may initiate a long position in BBBY over the next 72 hours. The author wrote this article themselves, and it expresses their own opinions. The author is not receiving compensation for it (other than from Seeking Alpha). The author has no business relationship with any company whose stock is mentioned in this article.